Time for a Change in Green Bay?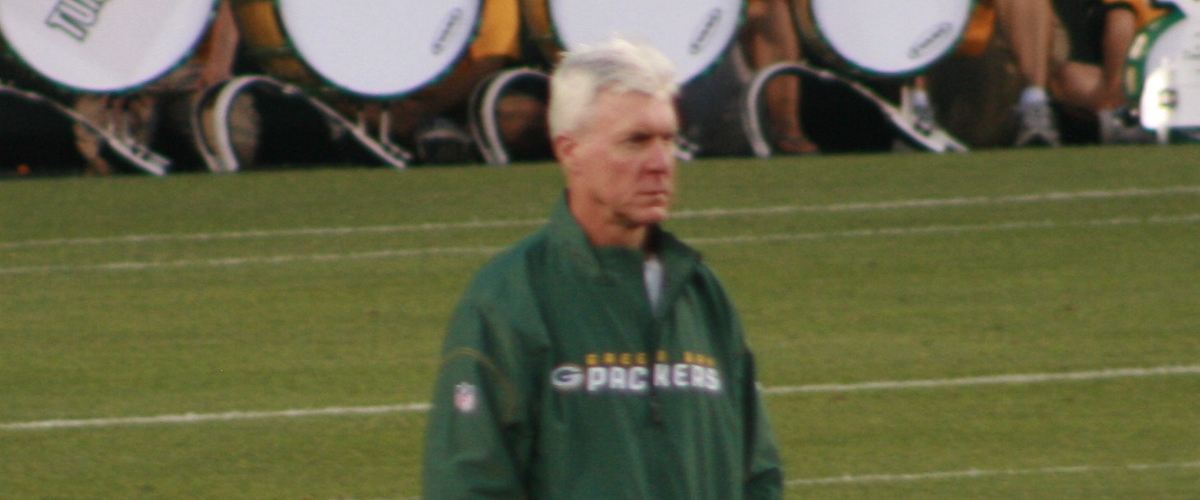 It's been an incredible for Ted Thompson in Green Bay and he has produced a number of talented teams who seemingly continue to fall short. Then again plenty of blame is heading towards Dom Capers who many fans hope to be adding former to his title defensive coordinator. A string of playoff heart breaks, and a lack of defensive production continue to signal the end should be near for Ted Thompson, and if this pressure was not enough the though of losing another top executive should push this decision over the cliff. The Packers have a young executive, with a "NFL royality" like blood line in Eliot Wolf. The 35-year old Wolf has long been speculated to take over the reigns once Ted Thompson retires, but the Packers will be missing the post-season this year, and it's really hitting a boiling point. This has been a team built on the mentality Aaron will save us, and while Aaron Rodgers gave it his best effort the Packers fell short of the prize once again. Maybe Thompson deserves one more year, but one thing is for certain change is needed, and the Packers can not afford to rob Aaron Rodgers once again.
Packers fans do not need a reminder of some of the playoff heatbreaks which have seemingly become the new tradition in Green Bay. Whether it was last years shellacking by the Falcons. Maybe it was the dancing into the endzone by Larry Fitzgerald after a spectacular two hail-mary drive to tie the game. Add in the 4th quarter collapse, topped with a ball off the helmet of Brandon Bostick, to end with a blown coverage as the Seahawks prance into the playoffs. Maybe it was the struggles against the 49ers or the Giants. One thing was certain, it was not Aaron Rodgers fault, and if he was not there this franchise would have likely been a laughing stock over these past couple seasons. As Stephen A. calls him the Bad Man, well it's time for the Packers to stop wasting "the bad man's" career. This season showed he was mortal, and things happen in this game and the Packers were caught in the middle of the road with their pants down outside of a police station. The defense which currently ranks 19th in DVOA is just another example of how Dom Capers should have been fired years ago. While it's completly plausable Capers is the sole scapegoat here, the move will only raise the temperature on the increasingly hot seats of Ted Thompson and maybe even head coach Mike McCarthy.
If this season proved anything, it proved how valuable the Packers MVP quarterback Aaron Rodgers it, but it shows another thing, how badly the Packers have stocked this team. While the offense was kept alive by the emerging running backs Williams and Jones, the Packers had the hot and cold experiment in Brett Hundley, and a defense which simply couldn't cut it once again. The strange thing is there is plenty of talent on the defense, and this does not all fall on Ted Thompson, but the NFL is about results and since that faitful day in Dallas, the Packers have produce very few. Lombardi has not come home and there have been teams which could have brought it home.
While it's fully expected that Dom Capers will be checking the classifieds, the move is a case of too little too late. While Capers may have been effective at one point, it's lost it's thrill and the Packers defense have allowed points at a similar rate as their star QB puts them up. When it came to crunch time they were about as stable as an egg thrown against a brick wall. While the draft and develop tactics have gotten the Packers to the playoffs, it has produced few championships, and along with Capers it may be time for Ted Thompson to join him.
While the Packers owe a tremendious amount to Ted Thompson, the long road is nearing it's end, and the list of reasons to keep him become smaller and smaller as the day goes by. With Dom Capers fans have been calling for his job for the past three seasons, and this season once again proved they were not wrong. The Packers have an oppertunity to keep Eliot Wolf in house after seeing a wave of promising executives John Schneider, John Dorsey, and Reggie McKenzie find success in other locations. The last remaining Thompson protege could soon join his former contemporaries if the Packers do not act fast. The Packers know what they have in Wolf giving him major raises each of the past three seasons preventing him from taking jobs elsewhere. While Thompson has earned the right to go out on "his own terms" a little nudge in that direction won't hurt. While Thompson may remain, the clock is ticking, and his window of oppertunity is closings. Maybe allow Thompson to "retire" or get one more chance, as for Capers, the door is wide up and he needs to be lead out of it. Not only is this a great oppertunity to shed Capers, but on the market will be Vic Fangio who would be a significant upgrade, and made the most of a lack luster Bears defense who ranks 14th in DVOA. The Packers have talent on this defense and it could be a Fangio who gets them in a position to excel. Be that as it may, change is needed in Green Bay before the Aaron Rodgers as we know it could be fading away. While Rodgers likely has a number of years left in the tank, why waste them, make the change, and get him the team he so desperately deserves.
---