Where is the Love for Scott Rolen?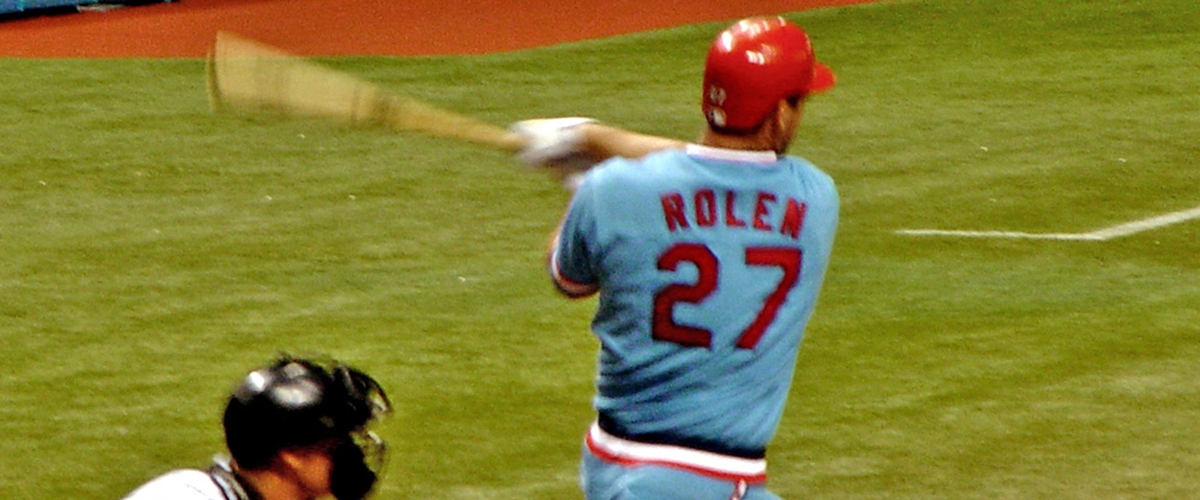 Despite the fact I often despised watching him play growing up for the rival St. Louis Cardinals for many of his peak year, there was one thing that I could not deny and that was the elite talent of Scott Rolen. Rolen smacking 24 home runs, 92 RBI's, and .340 OBP, add in the career .801 OPS. Those 24 home runs would rank third only to the 26 he hit against the Reds and the 25 against the Brewers. Simply put Scott Rolen was a heck of a player and he hit against most teams well. Not only could he hit well, but he was one of the best defensive third baseman in the game. His talent was so good he moved a young upcoming Albert Pujols to left field. When looking at his career numbers he looks like a surefire Hall of Famer, but for some reason early votes only have Rolen receiving around 10% of the vote, while enough to keep him on the ballot, it dangerously close to him falling off the ballot all together, one would think one of the games best two way players would fare better his first time around. While the final ballot is still a ways away from being released, the case for Scott Rolen in the Hall is quite compelling.
When looking at your tiers of third baseman there is Mike Schmidt and then the pack. Behind Schmidt would still be your uber-elite category Matthews, Boggs, Beltre, Brett, and the soon to be first ballot Chipper Jones. However, then you have the Hall of Fame worthy elite, Santo, Robinson, Molitor, and Scott Rolen. When looking at the numbers Scott Rolen ranks near the top of most statistical categories for third baseman, and while I will not argue the fact he is not a first ballot candidate, he certainly deserves more than 10% of the vote, and what is appearing to be an impending long wait for that call.
When looking at his Hall of Fame credentials he ranks above the JAWS average for third baseman which is 55.2, Rolen's is 56.8. His career WAR puts him in a solid tenth all-time and right behind one of the most prolonged Hall of Fame selections Ron Santo. What does not bode well for Rolen is the fact Santo a player who many believed to be a Hall of Famer waited until after his death to receive that call.
Rolen ranks 23rd among all third baseman in hits ahead of Hall of Famers Deacon White, George Kell, Jimmy Collins, and Home Run Baker. He ranks 15th all time in Home Runs, just 1 home run shy of George Brett and almost 75 more than Brooks Robinson. He ranks 14th well ahead of Wade Boggs. His career .364 puts him on par with Paul Molitor, George Brett, and Home Run Baker. Only five Hall of Fame 3rd baseman have an OPS higher than Rolen those being Schmidt, Matthews, Boggs, Brett, and John McGraw. His OPS+ numbers compare to Paul Molitor. These simply put folks are some Hall of Fame numbers, and this does not even get into how great of a defender he was.
The 8 time Gold Glove winner was one of the top defenders at the position. His 20.6 dWAR not only ranks near the top among third baseman, but it puts him among the games elite all time. He ranks 48th all time among all position players. His TZR as 3B ranks 6th all-time. He had the best range factor/game as third baseman, and ranks 32nd all time in RF/9. His fielding percentage puts him in the top 20 all time. Now I know I wrote about Omar Vizquel and his case against entering the Hall, but Rolen not only had the glove, but he had the bat as well. Despite having a career WAR almost 40 points higher than Vizquel, note they play different positions, Vizquel is projected to get higher support this coming ballot.
When Rolen arrived in St. Louis he became the missing piece of a St. Louis Cardinals team which made two trips to the fall classic between 2004-2006 and he became a key player for the Cinicnnati Reds as they returned to relevance for a brief period. While injuries shortened Rolen's career he nonetheless has a compelling case. He posted a stellar 114 career DRS, often posting elite level numbers, his career UZR was 109.0. Simply put he could play his position well, and his bat kept him among the games elite. 4 times he finished in the top 10 in WAR, 11 times he finished with a WAR above 4.0, and that includes his stellar 2004 where he posted a 9.0 WAR.
Rolen certainly won't get in on the first ballot, but that does not mean he does not deserve baseballs greatest honor. His candidacy may drag on, but it should not drag on for long because his Hall of Fame credentials are simply present. He was the model of consistency, and while his numbers are not in your face, the BBWAA needs to recognize greatness when it is before them. The seven time All-Star will likely be one of the candidates who's name is dragged on for years, much like his 2004-2005 teammate Larry Walker. Both players deserve a better look, and unfourtunately both players are the victims of a system which simply some times fails the players who deserve this honor.
---