Bump and Run - Edwards Wins Richmond On Historic Last Lap Pass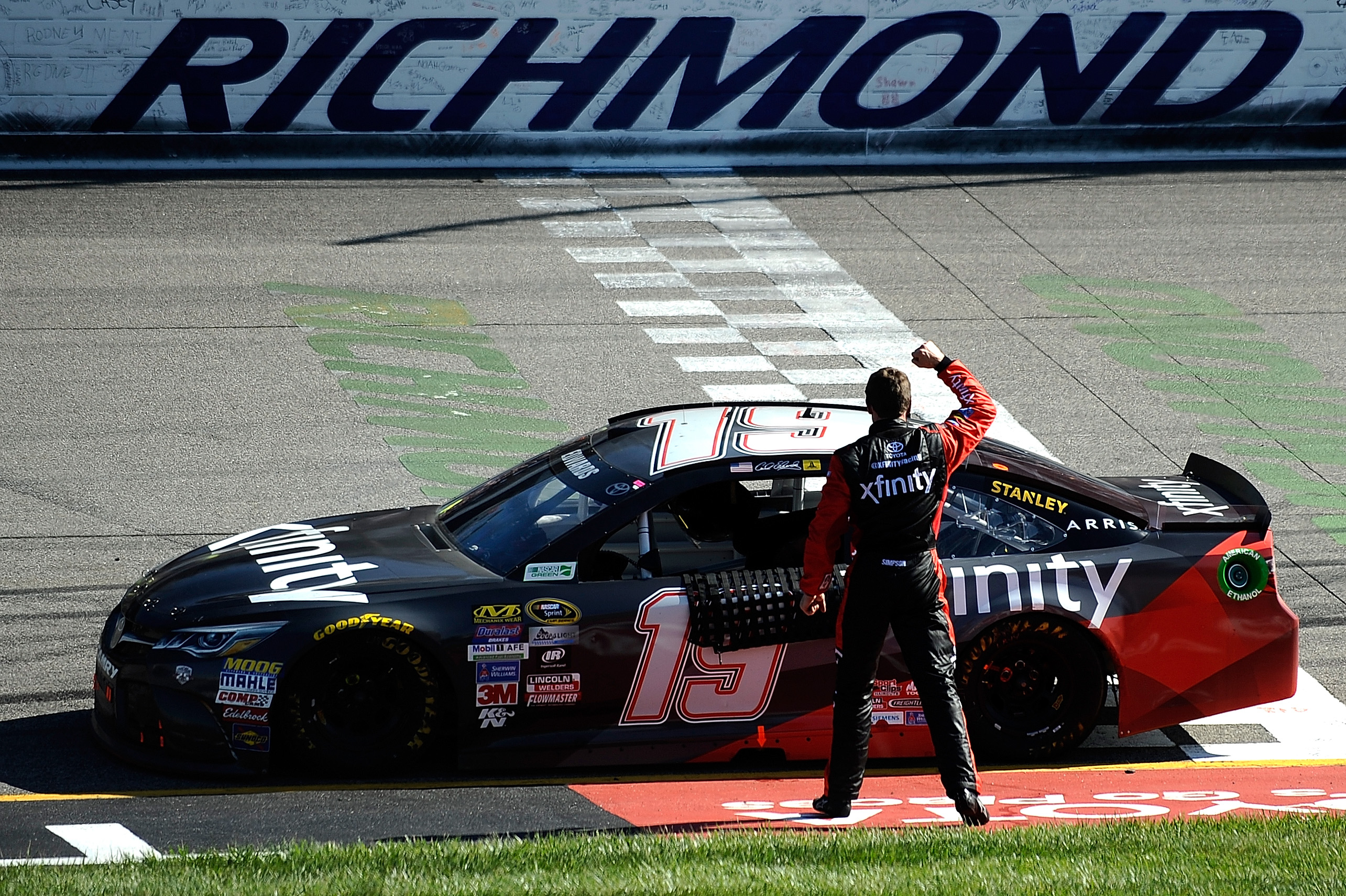 Carl Edwards wins the Toyota Owners 400 at Richmond International Raceway Photo: NASCARMedia.com
EDWARDS SCORES BACK TO BACK WINS AFTER DARING LAST LAP PASS AT RICHMOND
FIRST LAST LAP PASS IN THE HISTORY OF RICHMOND INTERNATIONAL RACEWAY
Today's NASCAR Sprint Cup Race was the first time since 1997 that the teams have raced on a Sunday, during the day. It was also the first time in the history of the track that the race was decided on a last lap pass.
After 8 cautions for 49 laps, Carl Edwards picked up his 2nd win in a row battling Kyle Busch for the win on what alot of fans would expect to be the 18 car's 3rd win in 4 races. Busch was silent on the radio after the race, after his team assured him that he did all that he could:
"We did everything right – be smart."
Edwards moved the No. 18 Toyota up the track Edwards applied the coup de grace in the next corner, nudging Busch out of the way to complete the first last-lap pass for the win in the history of the .75-mile track.
"Kyle's an amazing teammate, and it's like he got really slow there at the end," Edwards said in Victory Lane. "Something happened that last lap. It was like his rear tires went off or something. He went down into (Turn) 1 and I dove it in and I got to him and I thought, 'Man, I've got something.'
Asked whether he expected Edwards to use the bump-and-run for the win, Busch used a cookie cutter response to a previous question that was reminiscent of Marshawn Lynch in the Seahawks' locker room after the game.
"Our Banfield Camry was real awesome today," Busch said. "We had a great race car. My guys made some awesome adjustments to it. It was really good for us to have an opportunity to run and race for the win like that."
Jimmie Johnson's No. 48 Chevrolet was strong early and late and came home third, followed by Hendrick Motorsports teammate Kasey Kahne, who scored his first top five since the Chase race at Kansas last October.
Kevin Harvick finished fifth ahead of Denny Hamlin and Matt Kenseth, as JGR put all four of its cars in the top seven.
Tony Stewart started 18th and finished 19th, despite suffering a cut tire, in his first race of the season after a back injury and surgery. "Smoke" was up on the wheel from the outset, and from Lap 130 to Lap 145, he waged an intense battle with Edwards in an attempt to stay on the lead lap.
Here is the finishing order along with laps led and the top 16 in the point standings:
Toyota Owners 400 Finishing Order
| | | | |
| --- | --- | --- | --- |
| Car # | Driver | Manufacturer | Laps Led |
| 19 | Edwards | Toyota | 151 |
| 18 | Busch, Kyle | Toyota | 78 |
| 48 | Johnson | Chevrolet | 44 |
| 5 | Khane | Chevrolet | 0 |
| 4 | Harvick | Chevrolet | 63 |
| 11 | Hamlin | Toyota | 1 |
| 20 | Kenseth | Toyota | 2 |
| 22 | Logano | Ford | 0 |
| 78 | Truex | Toyota | 0 |
| 41 | Kurt Busch | Chevrolet | 55 |
| 2 | Keselowski | Ford | 6 |
| 24 | Elliott | Chevrolet | 0 |
| 88 | Earnhardt Jr | Chevrolet | 0 |
| 16 | Biffle | Ford | 0 |
| 42 | Larson | Chevrolet | 0 |
| 1 | McMurray | Chevrolet | 0 |
| 21 | Bayne | Ford | 0 |
| 31 | Newman | Chevrolet | 0 |
| 14 | Stewart | Chevrolet | 0 |
| 3 | Dillon | Chevrolet | 0 |
| 43 | Almirola | Ford | 0 |
| 27 | Menard | Chevrolet | 0 |
| 23 | Ragan | Toyota | 0 |
| 10 | Patrick | Chevrolet | 0 |
Points Standings - Top 16
| | |
| --- | --- |
| Edwards | 331 |
| Harvick | 324 |
| Johnson | 310 |
| Kyle Busch | 302 |
| Logano | 299 |
| Kurt Busch | 279 |
| Dale Earnhardt Jr | 278 |
| Hamlin | 258 |
| Keselowski | 255 |
| Truex Jr | 246 |
| Chase Elliott | 234 |
| Austin Dillon | 234 |
| McMurray | 224 |
| Khane | 222 |
| Kenseth | 212 |
| Newman | 205 |
---