JGR Dominant First 9 Races - Shift In The Tide Coming For HMS
Gibbs Dominance First 9 Races 2016
| | | |
| --- | --- | --- |
| Denny Hamlin | JGR | Daytona |
| Jimmie Johnson | HMS | Atlanta |
| Brad Keselowski | Penske | Las Vegas |
| Kevin Harvick | SHR | Phoenix |
| Jimmie Johnson | HMS | Auto Club |
| Kyle Busch | JGR | Martinsville |
| Kyle Busch | JGR | Texas |
| Carl Edwards | JGR | Bristol |
| Carl Edwards | JGR | Richmond |
It's time to flip the switch on JGR's dominating hold over the win column. Out of the last 9 races, JGR drivers have won 5, with the last 4 in a row between drivers Kyle Busch and Carl Edwards. Now it's time to turn the tables at Talladega, a 2.66 mile super-speedway with high banking in the turns an almost flat back stretch. With Harvick, Johnson and Khane the only pole winners at Dega, it's predominately a Chevy track, although with 22 wins Ford is a close second.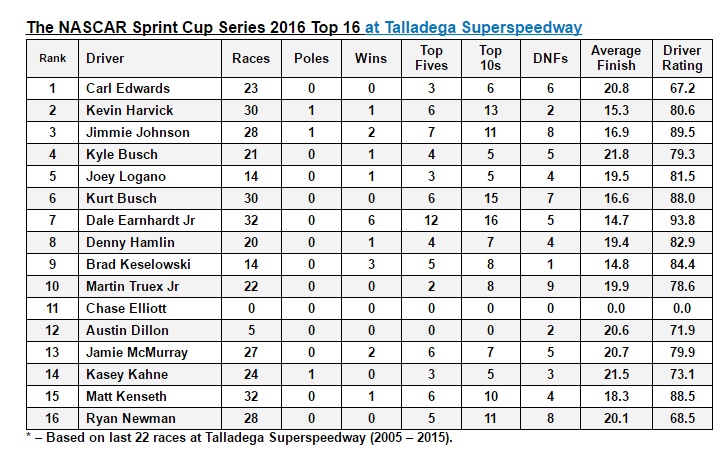 Here are some quick facts about Talladega you may or may not have known:

Chase Elliott seems to be the favorite sleeper pick for the fantasy boards; this will be his first visit to Talladega. I suspect he will be getting alot of pointers from Gordon and his crew on how to run well here. Dale Earnhardt Jr is the favorite with the most wins. Watch out for sleepers such as Ryan Blaney, Matt DiBenedetto and look for the Penske boys to rule over the RCR boys.
---