Dover Domination - Truex Wins, Stewart, McMurray Out Of Chase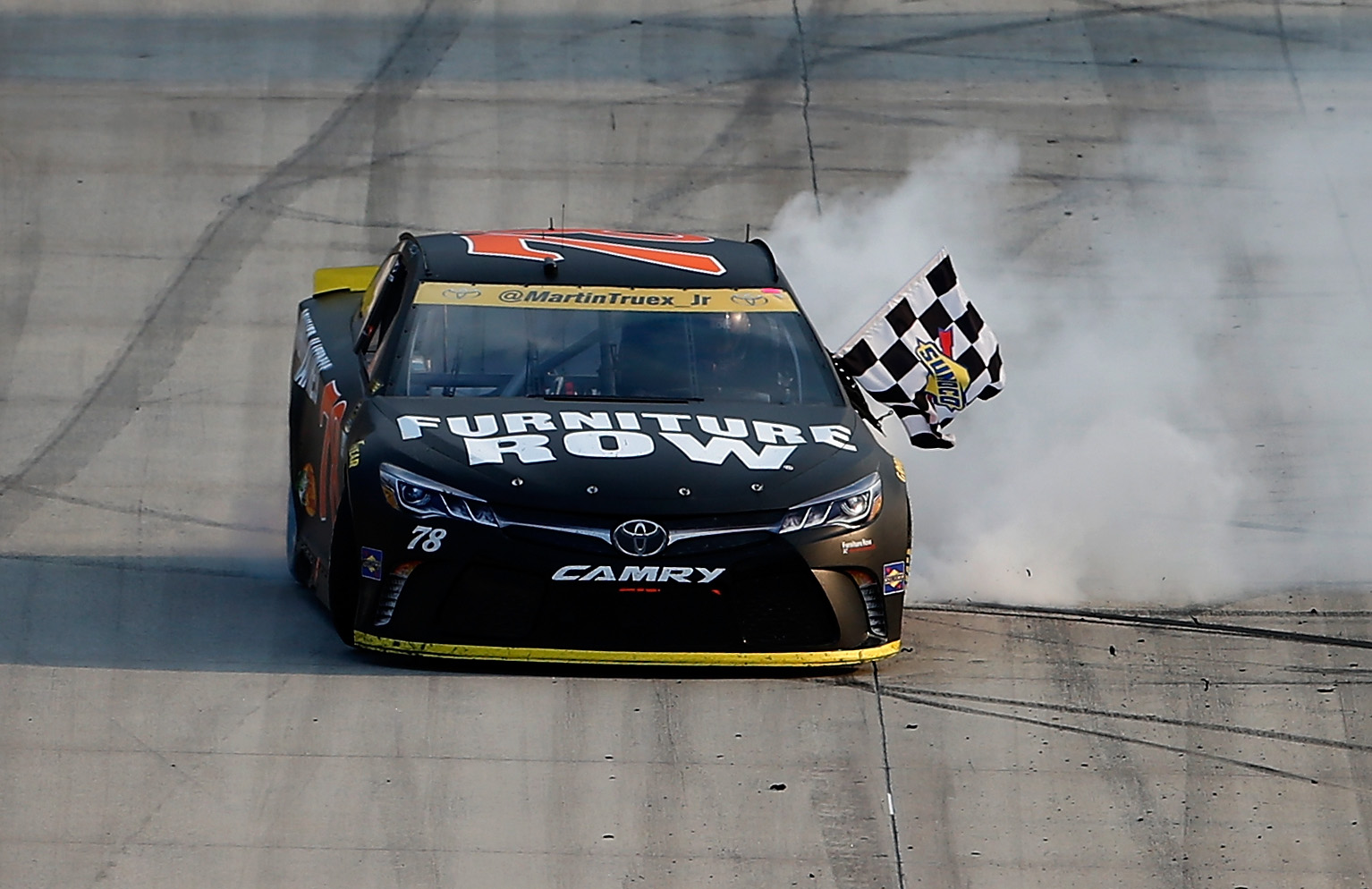 Martin Truex takes the checkered flag to win the first elimination race at The Monster Miile
For most of the chase field, Dover was the place where they could make it or break it in the Chase For The Sprint Cup - for Stewart, McMurray, Buscher and Larson, that couldn't catch the right break and were eliminated in the round of 16 after today's race at the Monster Mile.
Trouble started early for the 42 car of Kyle Larson when he was trapped on pit road with a battery issue. He ended up a lap down when joining the rest of the field, but then got called back to the pits after a penalty for too many men over the wall. With a pit road speed of just 35 miles per hour, he could not catch up to leader Martin Truex Jr and got relegated to 3 laps down. Then on lap 183 he blew a right front tire and would finish 25th and dropped to 14th in the standings below Tony Stewart, who was also eliminated.
Jamie McMurray suffered an engine failure on lap 193 after complaining 50 laps later that he was feeling a vibration in the car's engine return. He also radioed in that he had lost a least one cylinder, maybe two, and that he was smelling oil. At Lap 171 NASCAR had told McMurray to "pick up the speed" and that was not possible for him to do as he was running off the pace already. The 1 car dropped to 15th in the chase standings.
Jimmie Johnson took the race lead at lap on the restart at lap 189, and kept a commanding cushion until he had to pit at lap 279, after just lapping the cars of Kurt Busch and Tony Stewart. Johnson was penalized for having too many crew members over the wall (the Jackman), and had to come back to serve a pass through penalty. He would return to the track 1 lap down in 16th position. Martin Truex, who had been running 2nd, had taken over the race lead on lap 287 and ran away with the rest of the race.
Kevin Harvick was no less of a victim today, with early troubles bring out the caution at lap 33 for the 4 car. His trackbar mount broke on the right side where it was welded to the chassis, and sent him to the garage for repairs until lap 77, resuming in dead last position almost 34 laps down. Harvick would finish 37th but remains 2nd in the chase standings after winning in New Hampshire.
The top 12 to advance were Truex (2 wins), Harvick (1 win), Kyle Busch (+51), Keselowski (+51), Keneseth (+40), Logano (+34), Chase Elliott (+32), Johnson (+31), Hamlin (+27), Edwards (+21), Kurt Busch (+19), Dillon (+11).
The next round of 12 begins Saturday night when the teams move back home to Charlotte Motor Speedway for the Bank Of America 500 at 7pm on NBC.
---