California Dreamin' - Fontana Fast Facts - Auto Club Speedway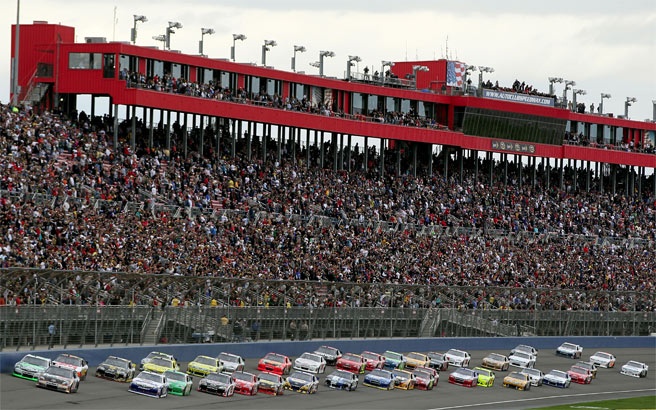 Auto Club Speedway is the last stop on NASCAR's West Coast Swing. Hendrick drivers Johnson and Earnhardt lead the list of drivers with most wins (9) at the 2 mile track
NASCAR wraps up it's West Coast Swing with it's final dog leg, Auto Club Speedway in Fontana, California. Look for drivers like Jimmie Johnson (an El Cajon native) to be a heavy favorite (sporting a superman paint scheme) vs Dale Earnhardt Jr showing off his Batmobile (cleverly disguised as the 88 car). This is all to promote the new movie Batman vs Superman, coming out in theaters on March 25th. Also coming home to their California roots are Kevin Harvick (Bakersfield) and Kyle Busch, as well as Kyle Larson, Casey Mears, Josh Wise, AJ Allmendinger, Matt DiBenedetto and Cole Whitt. More drivers from California compete in the Sprint Cup Series than those from any other state.
Brad Keselowski returns to Auto Club Speedway the defending winner. Last March, the No. 2 Ford driver closed from 18th to first in the closing laps, leading just the last lap for the victory.
Jimmie Johnson is the undeniable "Man of Steel" at Fontana. He ranks first all time at Auto Club Speedway in wins (five), top fives (12), top 10s (15), average finish (6.4), average running position (6.0), driver rating (119.4) and laps led (955).
If Johnson takes the checkered flag Sunday, he will surpass Dale Earnhardt Sr. for seventh on the all-time list with 77 career victories.
Fresh off a loss by 0.01 seconds to Kevin Harvick at Phoenix, Carl Edwards has the perfect track for a revenge win.
Other than Jimmie Johnson, Edwards is the only Cup Series driver with a single-digit average finish at Fontana (8.9). In 18 starts there, Edwards owns one win, eight top fives and 14 top 10s. His 97.1 driver rating ranks fourth among active drivers at the track.
Recent winners at Auto Club include Keselowski (2015), Kyle Busch (2013-14), Tony Stewart (2012) and Kevin Harvick (2011).
Here are the odds for this weeks race at Fontana:
Driver

Odds

Analysis

Kevin Harvick

5-1

He's performed his best at Fontana since 2010, the last season the track held two race dates. He's finished 13th or better in six of his last seven starts, including four with finishes of fourth or better. Another top-five should be expected.

Jimmie Johnson

5-1

One more win and he'll pass Dale Earnhardt for seventh on the all-time wins list, and Fontana would seem to be an appropriate fit. No one has been better at Fontana since the track opened in 1997. Five wins, five other runner-ups in 21 starts for an incredible 6.7 average finish is some pretty legendary stuff. He's also led a track record 955 laps.

Kyle Bush

6-1

He missed last year's race, but won the previous two years.

What makes him such a strong candidate to win is that he's been the best on intermediate tracks with an 8.4 finish since 2014.

Joey Logano

8-1

He led seven times for 74 laps before settling for second at Las Vegas, and it's probable he'll be just as good Sunday. His career-best was third in 2013 and finished seventh last year.

Matt Kenseth

8-1

He's a three-time winner, all with Roush Fenway Racing, with the last coming in 2009. In 2006 he won from the 31st start position, the furthest back a driver has won from. His 10.7 average finish in 23 starts in fourth best among all active drivers.

Dale Earnhardt Jr

10-1

He's had the best run of career at Fontana happen in the past four years with a 5.7 average. For what ever reason, he had some rough outings to begin his career and has only a 18.9 average.

Brad Keselowski

12-1

He grabbed his first top-10 at Fontana last year when winning — he led only one lap, the last lap. It was his only win of 2015. His Las Vegas win two weeks ago is really the only excuse you need to grab the 12/1.

Carl Edwards

12-1

Won in 2008 for Roush Fenway Racing and his 8.8 average finish in 18 starts is second only to Johnson among all drivers. He's been 13th or better in his past five starts there.

Denny Hamlin

15-1

Career-best third in 2008 with 19.3 average in 14 starts. This year on the big downforce tracks he's finished 16th at Atlanta and 19th at Las Vegas. He led 56 laps in last years Fontana race.
STORYLINES TO WATCH:
Busch is back: Kyle Busch never got a chance last year to try for his third straight win at Auto Club Speedway. He was forced to watch the race from his North Carolina home while recovering from a broken right leg and left foot. But Busch makes his return to the 2-mile oval this year, and he should be a threat at a track where he hasn't finished worse than third since 2010.
Lower downforce should shine: The Fontana race has been excellent for several years now, thanks to increasingly worn-out asphalt that has baked in the California Inland Empire sun. The lower downforce rules package should only add to the show, and expectations will be high for drivers to put on one of the best races of the year.
Young guns: At Phoenix, Chase Elliott, Austin Dillon and Ryan Blaney finished eighth, ninth and 10th, respectively. Two of those drivers — Elliott and Blaney — are rookies, while Dillon is in his third season. All three are running well enough early in the season to be Chase for the Sprint Cup contenders, and it wouldn't be a total shock if one of them won a race soon.
Another for Harvick? Last year's Fontana race was one of 13 runnerup finishes for Kevin Harvick in 2015. He couldn't beat eventual race winner Brad Keselowski on a green-white-checkered finish after Keselowski had fresher tires. But Harvick should be a threat again this year and has renewed momentum coming off his win Sunday at Phoenix.
Close finishes: Just four weeks into the season, NASCAR has already had two of the eight closest finishes since the advent of electronic timing and scoring in 1993. The Phoenix race tied the Daytona 500 with a 0.010 second margin. Keselowski (2015) and Busch (2013) have made last-lap passes to win Fontana in the last few years and Busch had to hold off a charging Kyle Larson in 2014, so another tight finish isn't out of the question.
Big crowd: Expect another well-attended race in Southern California. The track was the butt of attendance jokes a decade ago, but it has sold out two straight races — though capacity was reduced from 92,000 to 68,000 before the 2014 race. With good weather forecast for Sunday, don't be surprised if Auto Club Speedway makes it three in a row.
WHERE TO WATCH/LISTEN:
FRIDAY, MARCH 18:
ON TRACK
-- 1:30-2:55 p.m.: NASCAR Sprint Cup Series practice, FS1 (Follow live)
-- 3-4:25 p.m.: NASCAR XFINITY Series practice, FS1 (Follow live)
-- 5:30-6:25 p.m.: NASCAR XFINITY Series final practice, FS1 (Follow live)
-- 7:45 p.m.: NASCAR Sprint Cup Series Coors Light Pole Qualifying, FS1 (Follow live)
PRESS CONFERENCES (Watch live)
-- Noon: Brian Vickers
-- 12:30 p.m.: Kevin Harvick
-- 1:05 p.m.: Brandon Jones
-- 1:15 p.m.: Daniel Suarez
-- 3:30 p.m.: Carl Edwards
-- 4:30 p.m.: Kyle Larson
-- 4:45 p.m.: Austin Dillon
-- 9 p.m. (approx.): Post-NASCAR Sprint Cup Series qualifying and Brad Keselowski
GARAGECAM (Watch live)
--1 p.m.: NASCAR Sprint Cup Series
--2:30 p.m.: NASCAR XFINITY Series
SATURDAY, MARCH 19:
ON TRACK
-- 11-11:55 a.m.:: NASCAR Sprint Cup Series practice, FS2 (Follow live)
-- 12:15 p.m.: NASCAR XFINITY Series Coors Light Pole Qualifying, FS1 (Follow live)
-- 2:30-3:25 p.m.: NASCAR Sprint Cup Series final practice, FS1 (Follow live)
-- 4 p.m.: TreatMyClot.com 300 by Janssen (150 laps, 300 miles), FS1 (Follow live)
PRESS CONFERENCES (Watch live)
-- 6:30 p.m. (approx.): Post-NASCAR XFINITY Series Race
SUNDAY, MARCH 20:
ON TRACK
-- 3:30 p.m.: NASCAR Sprint Cup Series Auto Club 400 (200 laps, 400 miles), FOX (Follow live)
PRESS CONFERENCES (Watch live)
-- 7 p.m. (approx.): Post-NASCAR Sprint Cup Series Race
---