How Sweep It Is - Busch Takes Both Xfinity and Cup Poles and Wins at Brickyard
[ Kyle Busch dominates to win Brickyard 400 at Indy]

Domination. That is the only word that can describe both Kyle Busch's wins and poles this past weekend at the Brickyard. Busch has swept the track the last 2 years in a row. He led 149 of 170 laps in what can only be JGR's way of flexing their muscles and showing the word that they are in it to win it all. Busch held off the field behind him on multiple restarts after the 8th caution of the race brought out NASCAR's Overtime 

But he wasn't the only show this weekend. Jeff Gordon, an Indiana native, as well as Tony Stewart, shared a ceremonial last lap and a hug as they both ran their last race - actually, it was Jeff's last race again, as he came out of retirement to sub for Dale Earnhardt Jr. Gordon said after that race that he was "too old for this". Jeff and Tony shared a goodbye hug after the race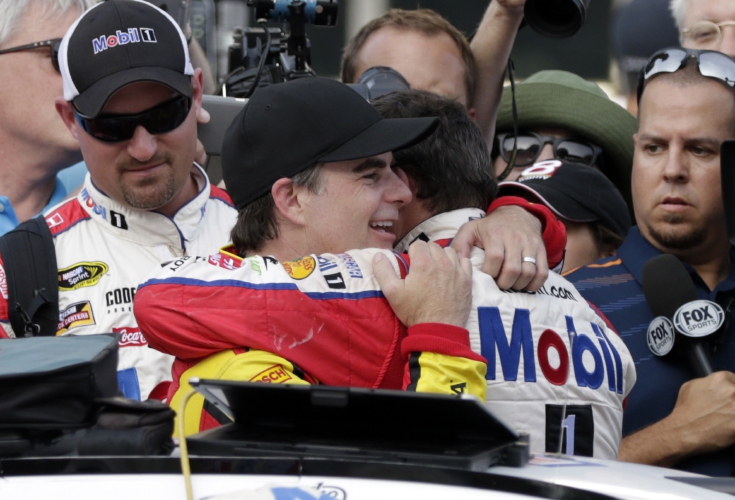 TIMING IS EVERYTHING
Several drivers got caught speeding on pit road after NASCAR added 4 extra timing lines as a deterrent. On lap 87, Jimmie Johnson and Denny Hamlin both got caught and and had to do a pass through penalty. Tony Stewart got caught speeding during the caution flag brought out by the 23 of David Ragan, and since it was during a yellow there was no pass through, and he was not eligible for the wave around. He had to line up for the restart at the tail end of the longest line. 
PIT NOW? NO, LATER
Early in the race the cautions came out on lap 4 when the 83 of Matt DiBenedetto came on the radio and said "it blew up". Then Greg Biffle slams into the wall hard on the right side. Team Penske drivers Brad Keselowski and Joey Logano continued their off the cuff pit strategies they started when they didn't first pit until lap 42 and 43 - everyone else came in for green flag stops at lap 24. AJ Allmendinger continued his bad luck streak with a blown engine at lap 73. He experiened a loss of water pressure that forced him behind the wall again. 
LET'S START AGAIN (AND AGAIN, AND AGAIN)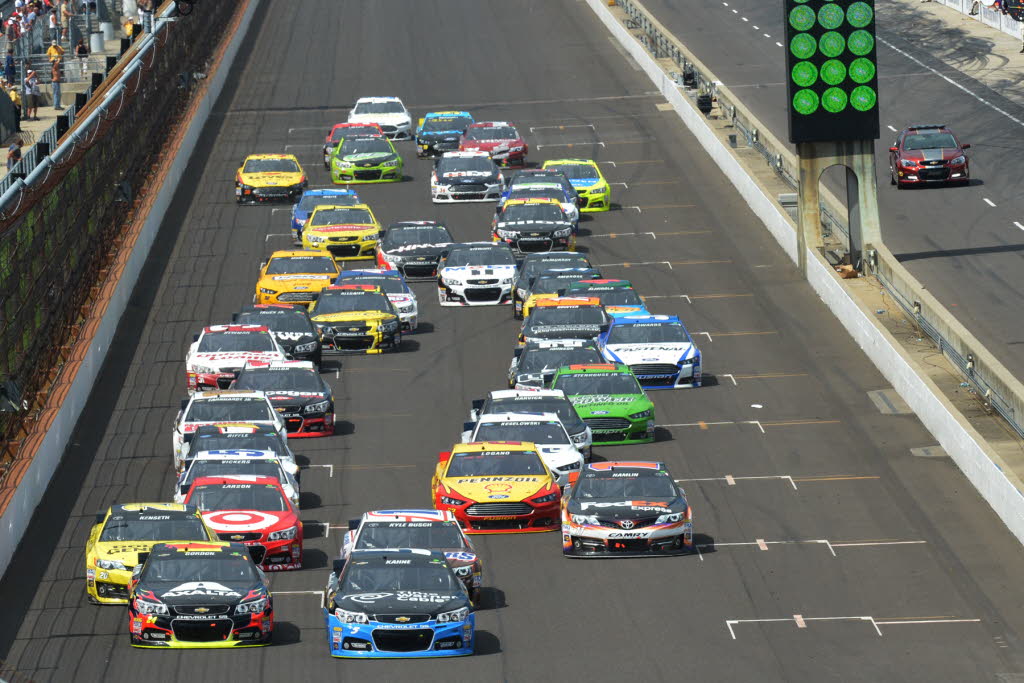 Multiple restarts put the race into Overtime starting at 30 to go with the crash by the 7 car of David Ragan, a debris caution with 10 laps to go when a piece of metal side skirt or exhaust skirt had to be cleaned up, and then a multi-car wreck with 7 laps to go, collecting Brad Keselowski, Danica Patrick, Ricky Stenhouse Jr, Carl Edwards, Ryan Blaney and Ryan Newman. This was triggered by the 19 car of Edwards when he connected with the 31 of Newman, and then into Keselowski's 2 car. The red flag was thrown to clean up the carnage.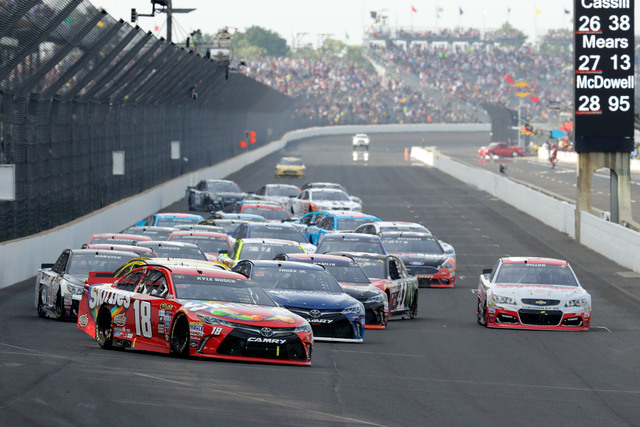 Next week NASCAR heads to the Pensylvania 400 at Pocono Raceway in Long Pond, PA. Here is the schedule for next weeks race. 

The Pensylvania 400 at Pocono Raceway
---