None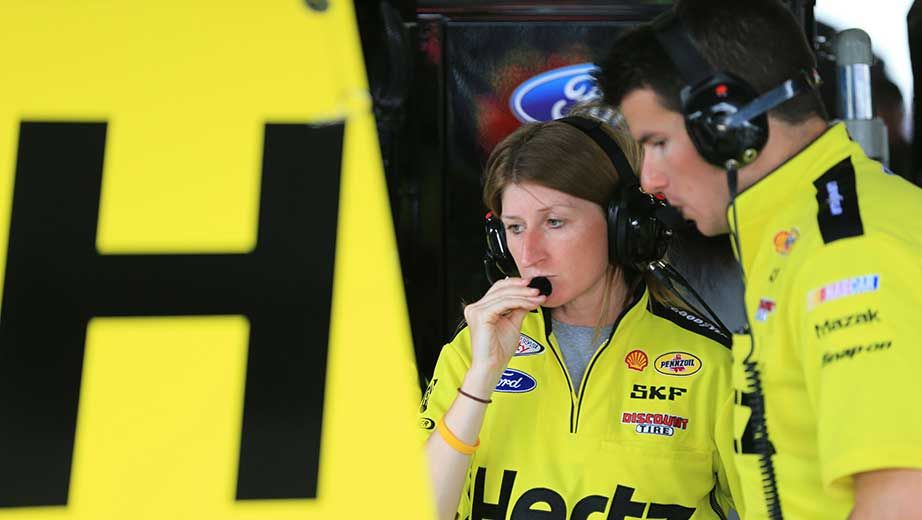 Imagine being a rocket engineer. You get to work with NASA on their Space Shuttle Program. Now imagine leaving a job with NASA to become one of the few women that get to work in the garage area for a NASCAR Xfinity Team. This is a reality for 35 year old Andrea Mueller.
Working for the Penske racing team, Mueller is responsible for contributing to the engineering crew for the 22 of Joey Logano and has been a pivotal part of Penske's 2013 and 2014 back to back owner championships. When asked what she tells people what her job is, she just chuckles and says "It's kind of funny, even when (rocket science is) what I was doing and we would go out at night or whatever I would always tell people I was either a teacher or a gardener.'' Now she can say she is an important piece of the Team Penske puzzle.
In 2007, Mueller left a successful job working with NASA's shuttle program in which she worked on engine components. Since she has joined Team Penske in 2012 full time, she has had a hand in 25 of their 50 victories.
Competition Director Greg Irwin says that "Andrea is kind of the central point of everything we do from an informational and a setup-based environment. She's the most pinpoint, focused, thorough individual with her craft that I've ever been around. She's really, really a gift to the program. I'm thankful to have her."
Andrea is a former quarter and micro-midget racer, hailing from Fesno, California. She's always insisted that she's just been "one of the guys"
"I realized early enough, as much as I wanted to be a professional race car driver, it just wasn't going to work out and quickly switched gears to race as long as I could and just have fun,'' Mueller explained. "Then mechanical engineering became my focus."
Mueller acknowledges there are still few women working on cars in the garage, but the numbers are growing. And she's hopeful her opportunity and success will attract others.
"At the end of the day, sometimes you have to pinch yourself," Mueller said. "Am I really working on race cars for Mr. Penske and this is really my job and I'm getting paid to do this? That's outstanding."
Did You Know?
The first female driver was Sara Christian, racing in the inaugural NASCAR race at Charlotte Speedway, even though she had Bob Flock finish the race. Unlike in the Indianapolis 500, where female participation during the early days was discouraged, NASCAR has allowed female drivers since its start in 1949.
6 Races Left Until The "Chase For The Sprint Cup"
---