Lucas Oil racer Richie Crampton ready to start tough four-week stretch
EPPING, N.H. (June 1) -- The upcoming stretch of races in the NHRA Mello Yello Drag Racing Series can tax the best drivers and teams since they'll compete four times in four successive weekends, starting with the NHRA New England Nationals this weekend at New England Dragway, but Lucas Oil Top Fuel driver Richie Crampton welcomes the four-week stretch.
"I love it," Crampton said. "You get lots of runs in quick succession, week after week. I like it. I don't like getting away from the racetrack for too long."
Crampton has a reason for looking forward to this stretch of races, especially since his Morgan Lucas Racing team is carrying some momentum going into Epping and beyond. After a tough start to the year, the team found speed and consistency over the last two races. They qualified No. 2 and raced to the second round in Atlanta and then qualified No. 4 and went to the semifinals in Topeka, Kan., two weeks ago.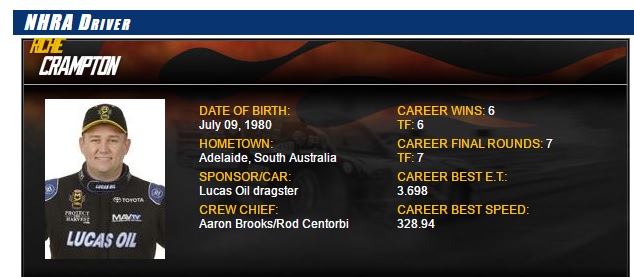 "In Atlanta, although it didn't show it on Sunday, we had a really good race car," Crampton said. "We had a fantastic car in Kansas as well, so that's what we want. We want to have that confidence within the team and myself to go into the start of the busier period of the year. This is where you can start to get your points in line and try and make a run for this thing."
Crampton's recent run has moved him into seventh in the Top Fuel standings, and he's only 22 points out of fifth place.
After Epping, the NHRA tour will make stops in Englishtown, N.J.; Bristol, Tenn.; and Norwalk, Ohio. Crampton knows it's vital to stay sharp behind the wheel and to be ready for anything.
"For me, it's important to be on point on the starting line and do my job at getting the race car from point A to point B, particularly coming into these summer months, when it could be hot," Crampton said. "There could be some tire smoke and pedaling required."
For his Morgan Lucas Racing team, it's crucial to stay focused on continued improvement.
"The guys are focused on consistency and leaving no stone unturned," Crampton said. "They're going to work as they always have and try to give (crew chief) Aaron (Brooks) a great race car to work with on race day."

Top Fuel qualifying sessions are scheduled for 5 and 7:30 p.m. ET, Friday, and 2 and 4:30 p.m., Saturday. Eliminations start at 11 a.m., Sunday. FOX Sports 1 will carry live qualifying action from 2:30 to 3:30 p.m., Saturday. Eliminations will air from 3:30 to 6:30 p.m., Sunday.

---