Maine Track Owner Beaten, Driver and Accomplice Charged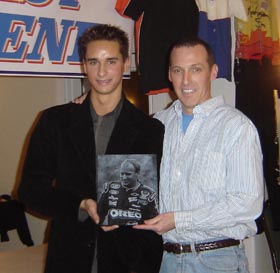 Sean Caisse (L) accepts an etched drawing of one of his rival drivers presented to him as an early Christmas gift by Beech Speedway owner Andy Cusack (R). The two were in a bidding war when Sean quit after his last bid of 144.44 (his car # was 44). Andy outbid Sean at 145.00 during a 2007 charity snowmobile ride and silent auction.
Court documents and police reports reveal the hidden story of how the bond between a talented young driver and his NASCAR-affiliated Maine mentor came to a violent end.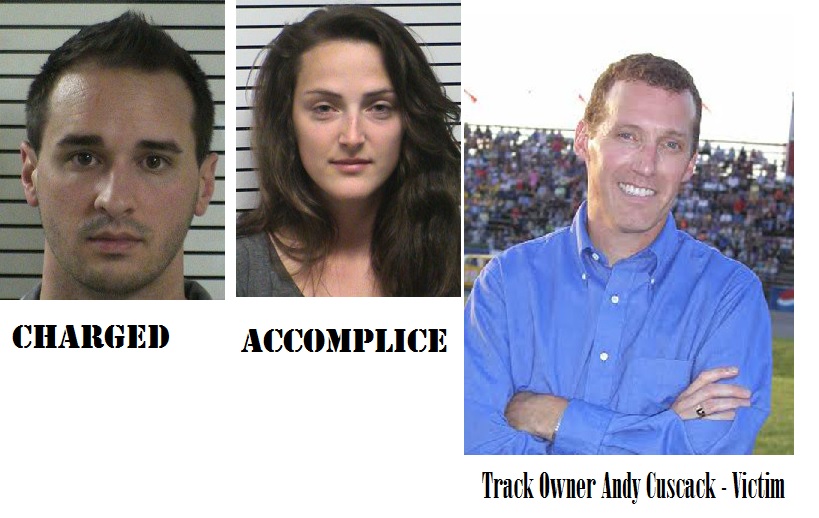 On a chilly night in 2014, Andy Cusack woke to the ringing of his cell phone at 4am. It was his old friend, Sean Caisse. He sounded upset, as he would later explain to police.

He called Cusack, telling him that a group of men had roughed him up and robbed him. Caisse was already parked outside Cusack's home on Holmes Road in Scarborough. Could Cusack help him?

The track owner put on a robe and went to the front door. Soon after he stepped outside, the beating began, according to a police report obtained by the Maine Sunday Telegram.

"Sean, it's me," Cusack pleaded, according to the report. "It's me, Andy, stop." Caisse did not stop.He sicced his German shepherd, Reece, on Cusack, opening up a wound on his calf. Caisse then grabbed Cusack by the genitals and dragged him into his house, blood spattering the wall of his entryway.

Caisse forced Cusack to sign a check for $7,500, stole cash from Cusack's safe, forced Cusack to sign a bill of sale for his silver Corvette, and made Cusack agree to send Caisse $7,500 each month for a year, the report says. If Cusack went to the police, Caisse threatened to have him killed, Cusack later told police.

Along for the confrontation was Caisse's new girlfriend, Chelsey Delabruere, 24, of Mooresville. They berated and cajoled him, trying to get him to confess to something. (In an interview with police later, Cusack said he felt as if he was being secretly recorded.)

All the while, the beatings continued intermittently, as Caisse's mood fluctuated between calm and enraged.

Six hours later, when police arrived, they found Cusack covered in his own blood from head to toe. He had a broken nose, cuts on his face, deep lacerations on one leg, several broken ribs and a punctured lung. His pinky finger was broken so badly that bone protruded from the skin. He told police he had been dragged around the house, duct-taped and tied to a chair and beaten all over his body. His silver Corvette was missing from his garage, along with a couple of thousand dollars in cash.

Less than 48 hours later, Caisse was arrested in Mooresville, North Carolina, and later extradited to Maine on charges of robbery, theft by unauthorized taking, and two counts each of aggravated assault and elevated aggravated assault. He faces 30 years in prison if convicted.

"Andy and Sean were friends," said Felicia Knight, a public relations professional hired by Cusack to handle questions about the attack. "Sean betrayed that trust in myriad ways, not the least of which was this criminal beating."

Now, prosecutors and Caisse's attorney appear to be girding for a trial, potentially dragging a convoluted, bizarre story into the public light.

Scarborough police have declined to release the paperwork generated by Caisse's complaint and would not discuss it, and a judge in Cusack's assault case ordered the documents kept private.







---