NASCAR: 5 Things Wrong With The New Charter System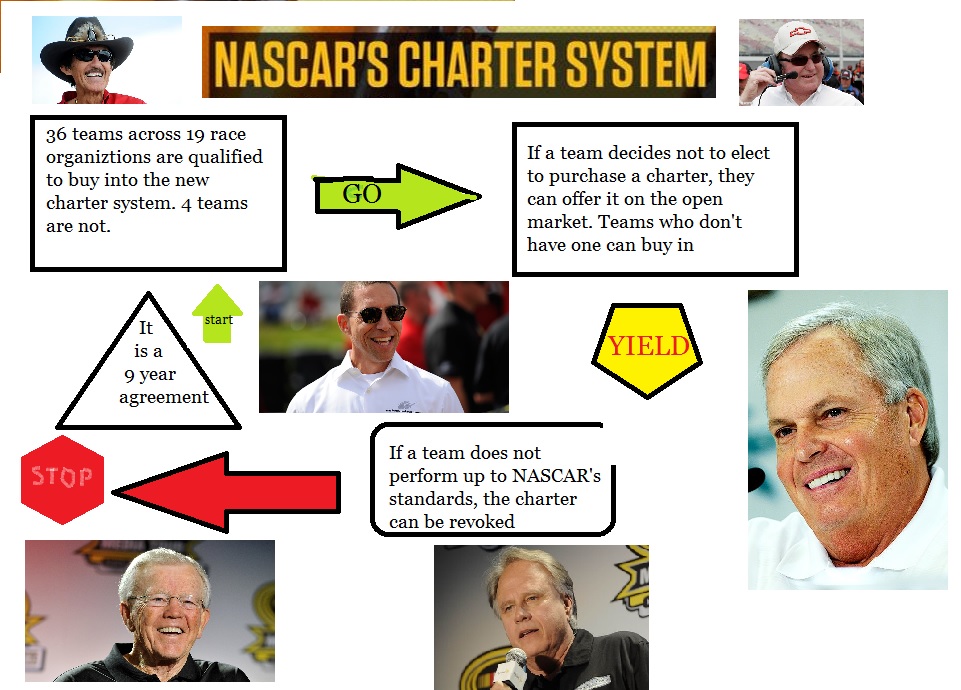 NASCAR announced today a new charter system that "guarantees entry into every points race". That is, if you can afford a charter.
NASCAR announced today the news of it's new "Charter System" in which 36 different teams across 19 organizations have the ability to enter into a 9 year, long term agreement in which the teams will be guaranteed entry into every points race. With exceptions, of course.
The teams that are not qualified for the charter system, based on failure to qualify every week over the past 3 years, are the following: #19 Joe Gibbs Racing (Carl Edwards), #21 Wood Brothers (Trevor Bayne), #41 Stewart Haas Racing (Kurt Busch) and #46 HScott Motorsports (Michael Annett).
Here is a breakdown on how the charter system will work:
• The field will be reduced to 40 cars (including the 4 non charter entries) from 43. Charters can be transferred one time over the first 5 years for one full season.
• If a team finishes in the bottom 3 of the owner standings among the field of 36 for 3 consecutive years, NASCAR has the right to revoke the charter.
• Teams can sell their charters in the open market.
• There is a cap of 4 cars per team - no fifth car or rookie drivers.
• Michael Waltrip Racing is eligible for 2 charters, but they closed up shop at the end of 2015. There is no word on who will get those charters.
Right off the bat I can think of a handful of things that aren't sitting well with me.
1) Big teams like Hendrick, Gibbs, Haas and others have the chance to "purchase" charters for their organizations if they go on the open market (like MWR's will)
2) There is a 4 car limit - So if you're an up and coming rookie like Ryan Blaney or Chase Elliott, and you don't already have a car # waiting for you (thanks to Jeff Gordon), then you can't be part of the new charter system.
3) It's only for 9 years. What's happening in 2024? Is the world ending? Or is NASCAR losing one of it's partners? Oh wait, thats when Rick Hendrick will be rich enough to buy out NASCAR.
4) Charters can be transferred in the first 5 years. This is not a title to your dad's 79 station wagon (the one with no seat belts). Why would someone want to transfer a charter, unless they are just "trying it out" figuring that it's not really for them.
5) If you finish in the bottom 3 of the owner standings, your charter can be revoked. That's great, NASCAR, hang a carrot in front the of the rabbits face and then yank it away. Based on that theory, the little guys (the tortoise) will never win the race. Or a championship.
Although the charter system was put in place to create a "level playing field" for all teams across the sport, it's the ones who have the fattest bank accounts and control the most chips that will come out on top. I would caution NASCAR to carefully monitor the "purchase" of "medallions" so as to not let one organization (*cough cough hendrick cough*) be allowed to be Rich Uncle Pennybags.
---