NASCAR: Truck Series To Debut 20 Minute Caution Clock At Daytona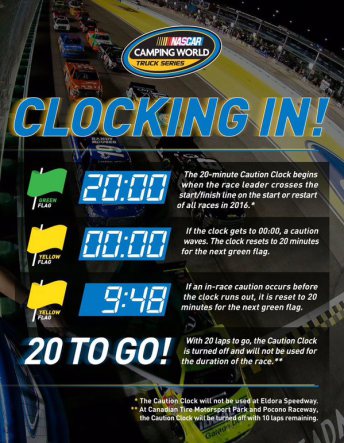 Credit: NASCAR
Starting with the season-opening event at Daytona International Speedway on Feb. 19, Camping World Truck Series races will use a 20-minute timer that begins counting down at the start of each green-flag run. If no caution period occurs before the 20-minute limit elapses, the yellow flag will fly, giving teams the opportunity to make pit stops and adjustments under caution.
NASCAR's Executive Vice President Steve O'Donnell explains how the caution clock will work, and how it will benefit young drivers in the early learning time of their careers.

Why is it important for us? We think it's going to add to the strategy during the race," said Steve O'Donnell, NASCAR Executive Vice President and Chief Racing Development Officer. "If you look at the Camping World Truck Series, that is an area where some of our younger drivers, our newer teams really can use the competition caution to be able to adjust on the truck.
Acccording to NASCAR.COM writer Zack Albert, the rules change will have variations at a handful of tracks. At most tracks, the Caution Clock will be turned off with 20 laps to go. The exceptions are events held at the longer layouts of Canadian Tire Motorsport Park and Pocono Raceway, where the Caution Clock will be discontinued with 10 laps remaining. The Caution Clock will also not be used at Eldora Speedway, where the series' annual race on dirt has traditionally been broken into three segments. Additionally, there will be no free-pass truck for competition cautions at the end of the 20-minute run; other "naturally occurring" caution periods will adhere to the beneficiary rule.
---