Rocketman Snaps 127 Race Dry Spell at Phoenix With Overtime Restart
It has been 127 races since "Rocketman" Ryan Newman has won a NASCAR race - since July 2013 to be exact. His crew chief Luke Lambert kept him out on the track when leader Kyle Busch and the leaders came to pit road. Newman shot out of the gate at the final restart in NASCAR's Overtime and could not be caught by the hard-charging rookie Kyle Larson, who has finished 2nd for the third consecutive time.
Kyle Busch came in third after his all but certain victory was foiled by the 22 of Joey Logano who blew a tire to setup the final green white checkered finish. The caution flag flew at laps 75 and 150, with Logano picking up the stage 1 win and Chase Elliott winning the stage 2 points.
Busch led 114 laps until Matt Kenseth brought out a caution for a right front tire exploding sending him hard into the outside safer barrier, forcing him out of the race.
Scorching temperatures recorded at 96 degrees when the green flag dropped affected tire wear and driver comfort as several requested ice and extra water during pit stops.

Dale Earnhardt Jr stays cool in the 96 degree heat during Sunday's race at Phoenix International Raceway Credlt: NASCAR.com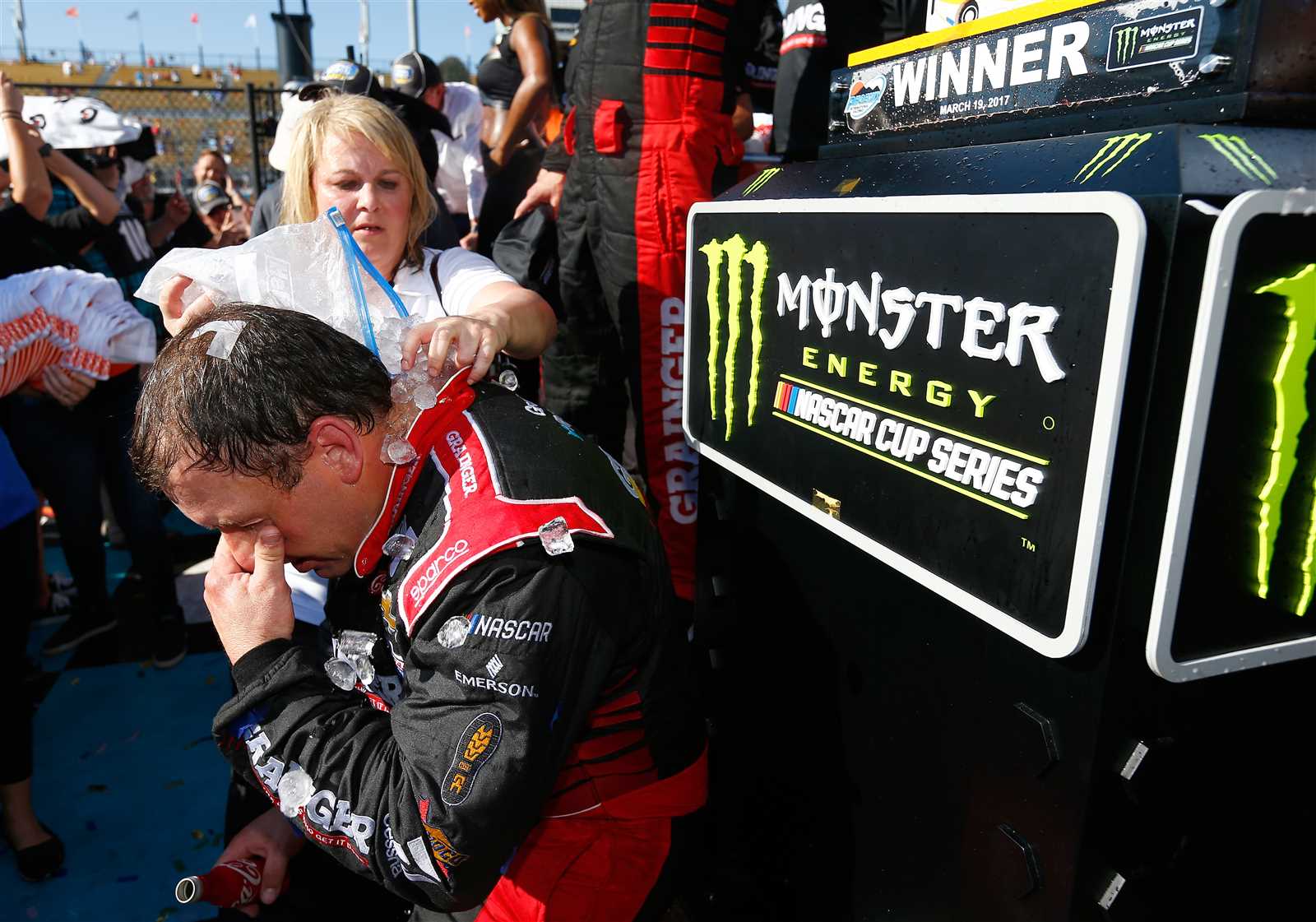 Ryan Newman gets iced down as he takes a rest in victory lane at PIR - Credit: NASCAR.com
Newman's 18th career victory was his second at Phoenix but his first since he won the Brickyard 400 on July 28, 2013, driving for Stewart-Haas Racing. The win was RCR's first since Kevin Harvick took the checkered flag on Nov. 10, 2013 at Phoenix before departing for Stewart-Haas the following year.
---