Josh Rosen to the Patriots Doubtful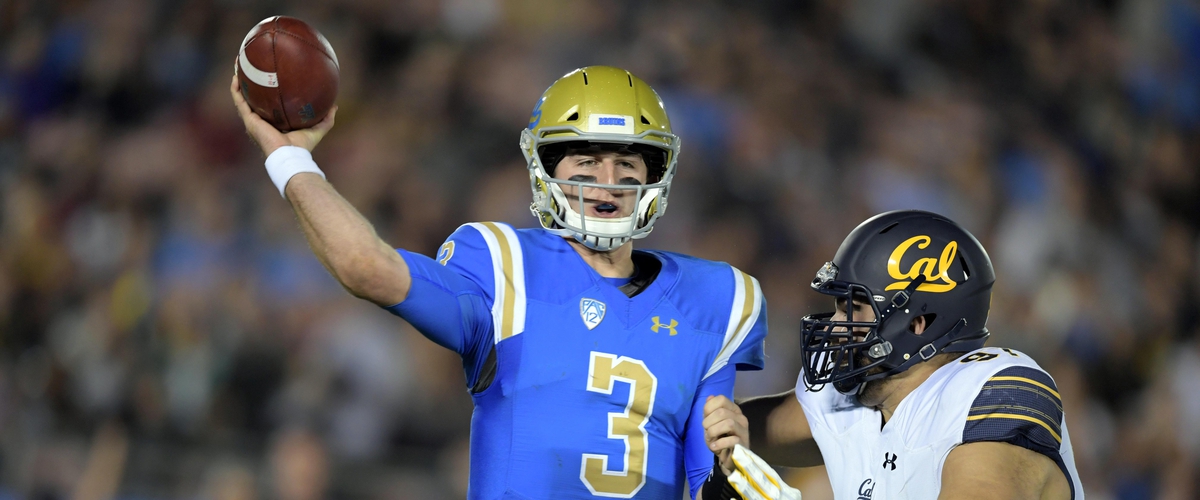 Punxsutawney Phil didn't see his shadow so lyin' season started early.
And it's a rookie tryin' run some game.
New Arizona Cardinals head coach Kliff Kingsbury has a jones for Oklahoma QB Kyler Murray and everybody knows it. Last October Kingsbury said to KLBK-TV's Eric Kelly, "I would take [Murray] with the first pick of the draft, if I could."
Betcha Kingsbury didn't see his future taking him from Texas Tech to Arizona months later and in position to select Murray with the first pick overall.
There might be one hiccup to Kingsbury fulfilling his desire. The Cardinals drafted Josh Rosen 10th overall in 2018 to be the face of the franchise. And to get Rosen's potential out of him, Arizona hired Kingsbury, a college quarterback guru.
Kingsbury can't discard the franchise player after just one season and select the signal-caller of his dreams, can he?
"Josh (Rosen) is our guy," Kingsbury said February 12th. We'll see if that holds true.
NFL franchises have had poker faces long before the Raiders agreed to move to Las Vegas. And Kingsbury is bluffing out the gate. Good one, kid.
What better way to create a bidding war than by creating doubt: Who will be Kingsbury's QB? How much for Rosen? What would it take to pry the first pick overall from the Cardinals to take Murray before Kingsbury does?
Arizona is playing a good hand.
As the Cardinals play subterfuge, former NFL tight end and current ESPN analyst sparked the rumor mill by suggesting the Patriots could trade for Rosen and make him the eventual heir of Tom Brady's New England kingdom.
From there, the conspiracy theorists ran with it.
Back in April 2018, NESN's Doug Kyed said a source told NESN.com that the Patriots had expressed an interest in Rosen before the draft. It would had required trading up from the 23rd and 31st selections to possibly make that happen.
Whether that was a smokescreen or not, New England ultimately stood pat and selected OT Isaiah Wynn and RB Sony Michel, the latter a valuable contributor to the Patriots Super Bowl LIII season.
New England did select a passer last year, but no one thinks Danny Etling is the heir apparent.
Is Rosen a fit for the Patriots? Maybe. But why in the world would the Cardinals make a deal with the Patriots?
Arizona is rebuilding and they want as many good selections possible to turn the team around. The Cardinals would be OK with moving down a handful of slots if they acquire some quality picks this year and in the near future. But going down from first overall down to 32nd is absurd.
Even if the Cardinals keep the first pick and trade Rosen, his value hasn't diminished to being worth the last pick in the first round. Arizona can do much better than that for Rosen.
In a draft that experts say is weak at quarterback, Rosen arguably would be the best passer if he was in this year's draft. With various mocks projecting three QBs could go within the top 10 picks, Arizona would have no problem getting a nice return that includes another top-10 pick.
New England's other option would be to package a player(s) with picks for Rosen. As badly as the Cardinals need talent, who on the Patriots roster is viewed as an elite player that they'd want? And would New England want to give up a valuable contributor for Rosen? A package starting with franchised LT Trent Brown still feels like a lot more needs to be included.
That's not to say the Cardinals and Patriots won't strike a deal. Arizona could jump back into the first round if a player they like is available late in the first. Some combination of a 2019 pick and a future selection(s) could entice New England to trade out of the first round.
But a deal between the Patriots and Cardinals that includes Josh Rosen seems very unlikely.
Questions? Comments? Send to [email protected]. Follow @NE_Arena on Twitter.
---