Make Pass Interference a 15-yard Penalty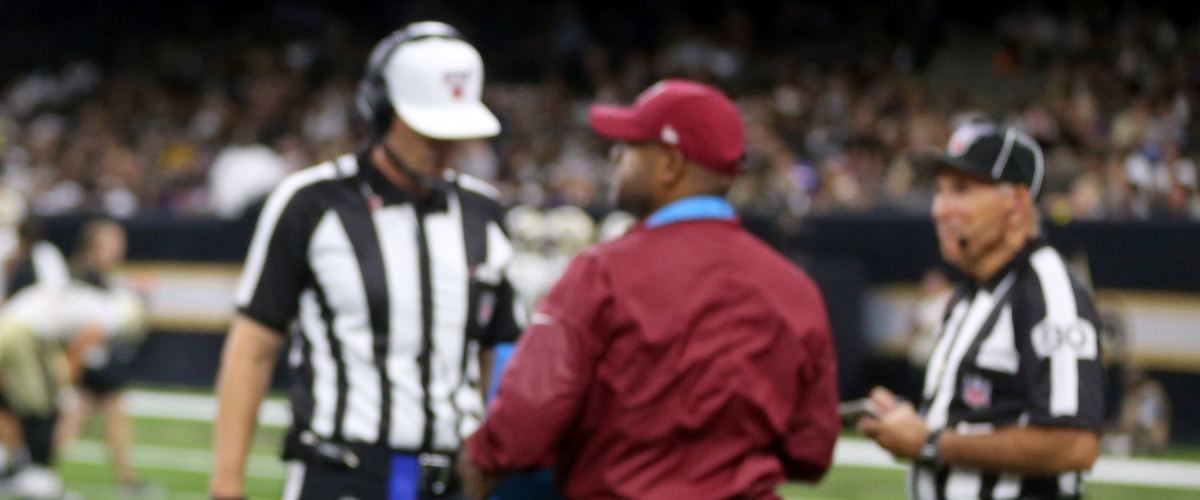 Local conspiracy theorists didn't hesitate after seeing the NFL's new pass interference rule in action. The belief is offenses would try to take advantage of the new rule by throwing up prayers and hoping a second look in slow motion would flip non-calls into game-changing penalties.
Whether or not such scenarios begin playing out once the season starts, an additional change to the pass interference rule should be applied that would discourage possible abuse: Change pass interference from a spot foul to a 15-yard penalty.
It's simple: Pass interference would be a spot foul if the infraction is within 15 yards. Any penalty beyond 15 yards is 15 yards and a new set of downs. Just like the college game.
This change should had happened years ago. But with the addition of another rule that favors the offense, something should be done to balance things out.
Over the years we've seen new rules or renewed emphasis of rules already in place to help offenses put points on the board. Pass interference, hitting a defenseless receiver, leading with the helmet, can't hit a quarterback too high, can hit a quarterback too low, and maybe more I failed to mention.
This, combined with the rise in passing offenses, has disproportionately tilted the advantage.
One way to reflect the change is by looking back 25 years. In 1994 the San Francisco 49ers changed the game with their West Coast Offense. That year they averaged 31.6 points per game en route to a Super Bowl championship.
Last year the Kansas City Chiefs lead the league in scoring with 35.3 points per game. Right behind the Chiefs were the Los Angeles Rams with 32.9 points and the New Orleans Saints with 31.5.
The second best scoring offense in 1994 was the Dallas Cowboys with 25.9 ppg. They were one of 13 teams to average at least 20 ppg. 25 offenses crossed that threshold in 2018.
In 2018 24 teams had at least 300 first downs, up from 13 in 1994. All these numbers are trending up.
Offenses have exploded is because airing it out has become the NFL cheat code. Dan Marino set the single-season passing record way back in 1984 with 5,084 yards. From 2008 through last season there have been 10 5,000-yard seasons. After holding the record for 27 years, Marino is now ninth eight years after his record was first broken.
Spread offenses are killing defenses. Receivers have become bigger, faster and more physical. As for smaller receivers, blazing speed and/or quickness make up for less than ideal size. Meanwhile, defensive backs are allowed limited contact to defend, enabling receivers to flourish.
When the actual game is putting up Madden-like numbers, then you know something's wrong.
If defenses weren't already screaming, "Give me a break," the new rule may literally have players and coaches waving white towels in surrender. To mitigate the potency of this penalty, the league should had included a 15-yard maximum for all pass interference calls.
Offenses generally don't have problems moving the ball in the present day. So why gift wrap them 30, 40, or 50-plus yards on an infraction? It doesn't make sense a personal foul is limited to 15 yards but pass interference, which is unlikely to cause injury, can go as far as a quarterback can heave the ball.
It's time to put an end to pass interference as a spot foul. Offenses don't need anymore help.
Questions? Comments? Send to [email protected] Follow @NE_Arena on Twitter.
---