Meyers the Favorite RFA for Patriots Roster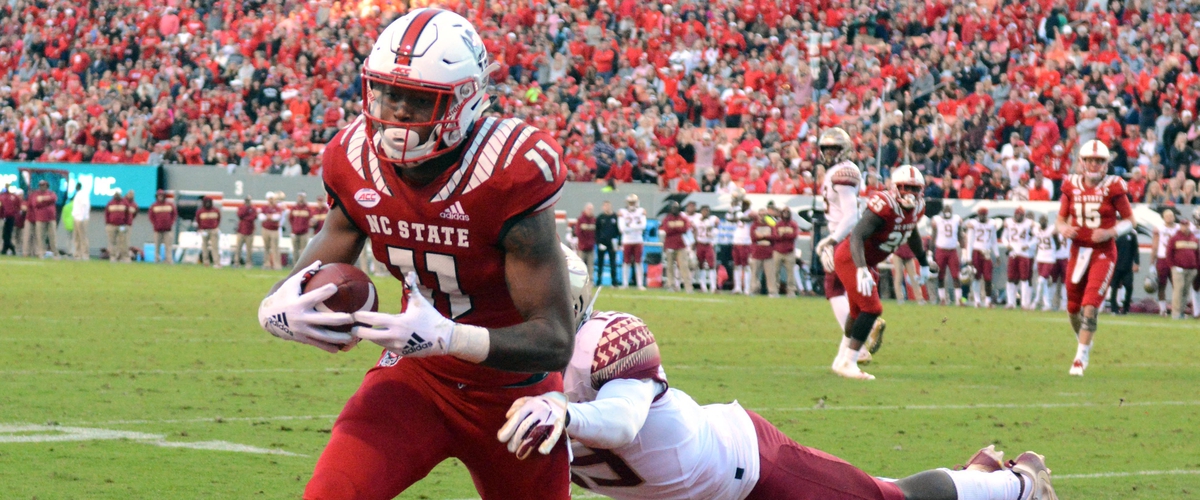 Whether it was good behavior or the first three days were very productive, Patriots head coach Bill Belichick cancelled the rest of minicamp and took the team paintballing.
Chemistry isn't built just on the football field. This little play date could help bring QB Tom Brady closer to his new group of receivers.
Getting first round pick N'Keal Harry on the same page as Brady is of high importance for the new look offense in 2019. Harry had his moments during minicamp, but Harry wasn't the only rookie receiver getting attention.
NC State's Jakobi Meyers isn't the prospect Harry his. Meyers wasn't even drafted this past April. Despite not checking the desired boxes for scouts, Meyers does what really matters to the Patriots - he just makes plays.
Talent isn't paramount for New England. On paper the Patriots don't have the best talent in the league, but the coaching staff knows how to put players in position to succeed and how to get the most out of their abilities. If any team is going to get the most out of Meyers, New England will find a way.
And as the Patriots learn what Meyers brings to the table, he should emerge from the 2019 rookie free agent class and make the team, despite a very crowded and competitive receivers group.
Meyers might stand out for what he lacks. He doesn't have straight line speed to stretch the field or have great quickness in and out of cuts. What he will do is find ways to get open enough to present a target. And if the ball is anywhere within his range, Meyers will catch it.
That's how Meyers succeeded at NC State against talented ACC defenses. In 2018 he led the Wolfpack with 92 receptions and was second on the team with 1,047 yards and four touchdowns. But that didn't matter much to scouts that valued 40 times. A 4.63-second time likely factored into Meyers getting calls after seven rounds were in the books.
"I was shocked, frankly," Senior Bowl executive director Jim Nagy said to Yahoo! Sports' "The Next Pats Podcast."
"Jakobi is a really good player. Kelvin Harmon was their other [receiver who] got picked in the sixth round. In my mind, Jakobi was a better player," Nagy said.
Nagy worked for seven years as a Patriots scout, so he has an idea what New England looks for in a prospect. "It really surprised me [he wasn't drafted]," he said. "That's a heckuva free-agent get."
Meyers was one of the last additions to the Senior Bowl, and he made the most of the opportunity. Meyers reportedly was impressive during practices. For Meyers, it starts under the helmet.
"A lot of times," Nagy said, "when you do college receivers, and I know I've heard [Patriots] coach [Bill] Belichick comment about it publicly over the last few months here, and we used to get preached this when I worked there: Projecting college receivers is one of the hardest positions because the college passing game is so different.
"All those routes are locked. Those kids don't have to read coverage. But that's the first thing you see in Jakobi Meyers…he's got a really nice feel for coverage and adjusting stuff when he has to. He's got a savvy about him. That's the first thing that jumps out at you."
Meyers' instincts are enhanced by his experience playing quarterback. Meyers made the move from under center to the slot in 2016 and took to the new position quickly because he sees coverages from both perspectives. This should help Meyers get on the same page as Brady quickly.
Once Meyers understands New England's option-based passing offense and knows where to be and when, he will make plays.
Meyers' hands are reliable, even when he has to extend from his body. His 6'2" 203-pound frame gives Meyers a very wide catch radius and the ability to shield away defenders to make contested catches. And Meyers has great body control to make difficult catches.
According to reports, Meyers was included in a side session with Brady, Brian Hoyer and Harry after one minicamp practice. Maybe it's a mistake to read too much into that, but that's some good company for Meyers to be in.
The goal for Meyers is to remain in their company through 2019. New England has a 15-year streak of at least one RFA making the team. Meyers has a good shot of extending the streak to a 16th year.
"I just can't believe how that guy could go undrafted what he put on tape this year for NC State," Nagy said. "He's a guy that I definitely think could make that 53-man roster coming out of camp."
I couldn't agree more.
Questions? Comments? Send to randolphc82@comcast.net. Follow @NE_Arena on Twitter.