Keep Rozier or Smart: It's Not Close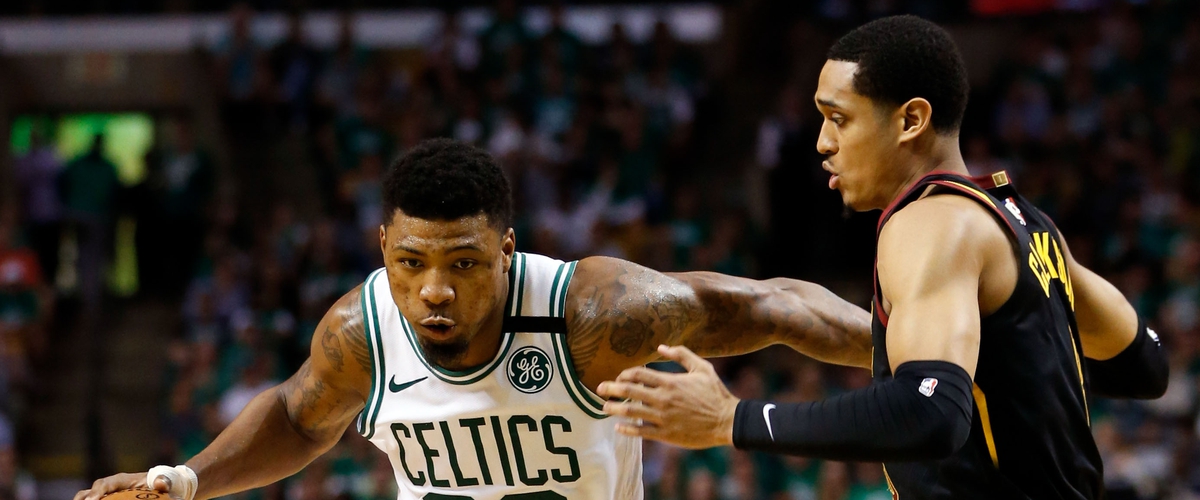 Would you include Terry Rozier as part of a package to move up in the NBA Draft? It's a rumor right now, as some report the Celtics are interested in defensive center prospect Mohamed Bamba. Or would you rather sign-and-trade Marcus Smart?
Celtics president of basketball operations Danny Ainge said he wants the same team next year, with a few tweaks made. That scenario currently includes Smart as Ainge said he wants Smart back. And if money isn't an object for the Celtics, Smart will get the more than $12-14 million a year he believes he's worth.
Smart and Rozier have proven their values to the Celtics. But going forward, Smart's value is worth more to Boston than Rozier's.
The above statement might not make complete sense coming from me considering I said last year that Rozier could be a better point guard than Smart as recently as last year. Rozier has certainly made his case in 2017-18.
When Kyrie Irving was sidelined following knee surgery, Rozier was promoted to the first five. In his first career start, Rozier dropped a triple-double. The very next game, Rozier exploded for 31 points. Boston's regular season record when Rozier started was 11-5.
And in the playoffs, Rozier was even better. He averaged 16.5 points, 5.3 rebounds and 5.7 assists with just 1.2 turnovers.
Boston's concern is Rozier will be a free agent after the 2018-19 season. And now that Rozier got a taste of running a team, he may be hungry to do it full time. He can't have that with Irving set to return next season. Does Rozier want to remain Uncle Drew's nephew for much longer? Probably not.
If Boston can keep Rozier long term, the Celtics would have arguably the best PG depth in the league. In today's NBA, Rozier is a better point guard than Smart.
Rozier's edge starts with is his ability to shoot/score in a league that has a high value on offensive point guards. That will never be Smart. What Smart does is run the offense effectively and play some of the best defense in the league.
Though Smart isn't taken very seriously as an offensive threat, he does a great job of setting the table for his teammates. Smart has mastered running pick-and-rolls with Al Horford. It's almost a guarantee Smart will connect with Horford on a lob at least once per game.
And while a lot has been said about Rozier's low turnover rate, especially in the playoffs, the gap between Rozier and Smart at protecting the ball is small. Rozier edges Smart 1.4 TOs per 36 minutes to Smart's 1.6. Per 100 possessions scales Rozier's advantage (1.9 vs. 4.0).
But Smart out-paces Rozier in assists. The 4.8-to-2.9 regular season advantage isn't exaggerated. It becomes 5.8-to- 4.0 in per 36 minutes and 8.0-to-5.6 according to per 100 possessions.
Rozier has the clear advantage in assist-to-turnover ratio (2.90-to-2.01) thanks to his low turnover rate, but it shouldn't take a lot away from the playmaker Smart has become.
The offensive comparison between the two is competitive, but Smart wins the defensive battle. A case can be made Smart's return to the rotation in the playoffs shifted the series against the Milwaukee Bucks back in the Celtics' favor.
Smart can capably defend multiple positions, from point guards to small forwards to some power forwards, and sometimes centers. He certainly won't back down from any challenge.
What sets Smart apart is his defensive awareness. The box score says 1.3 steals per game, but it doesn't detail the significance of the play. It doesn't say it was a back-handed steal made with his back to the passer, or that Smart dove for the ball and tapped it to a teammate, or a forced turnover clinched the game in the closing seconds.
Smart has a way of coming up big in the biggest moments. While you'd look to Rozier to take a game-winning shot, Smart has a knack for making pivotal plays. He followed a Jayson Tatum missed layup for a critical offensive rebound and bucket against the Philadelphia 76ers in game five of their playoff series. And after Smart blew a free throw that would had sealed the win, he made up for it with a sideline steal on the 76ers final heave inbounds pass.
Rozier isn't a slouch defensively, but he can't defend multiple positions like Smart can. In game four of the Eastern Conference Finals, the Cleveland Cavaliers went after Rozier, and LeBron James had his way with the much smaller Rozier. The additional two inches and 30 pounds that Smart has on Rozier works heavily in Smart's favor.
Rozier deserves a chance to prove he can start somewhere. Smart won't get that shot anywhere. His scoring ability isn't good enough in today's NBA. But the intangibles he brings off the bench is what would appeal to a team with their eyes set on the Larry O'Brien Trophy.
Smart is a difference-maker with or without the ball. Championship teams often have that one guy opponents hate playing against. The agitator that gets under opponents' skin with physical play, doing the little things that almost cross the line, frustrating players by drawing charges.
That's Marcus Smart.
In 2008 that was Tony Allen when the Celtics won the championship. Ainge wished he could had re-signed Allen back in 2010. Ainge will do all he can to prevent history repeating.
A healthy Celtics will be championship contenders with Rozier and Smart backing up Irving. Will Rozier be happy in that situation or will he be thinking he could be somewhere else starting?
Questions? Comments? Send to [email protected] Follow @NE_Arena on Twitter.