Patriots Could Had Done Better in a Garoppolo Trade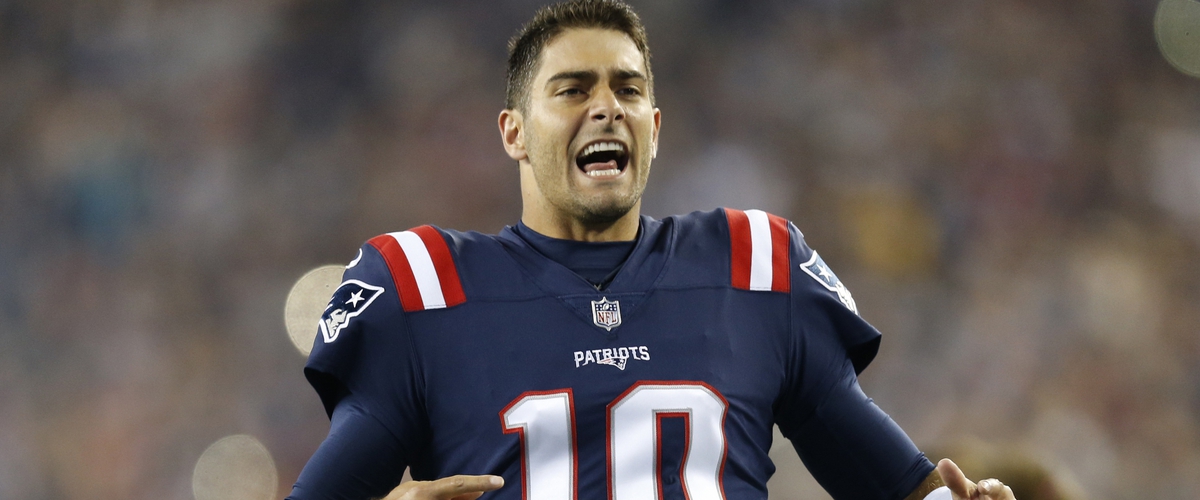 "We probably had, in my opinion, the best quarterback situation in the league in the last, call it two-and-a-half years, it's just not sustainable given the way that things are set up. It's definitely not something that we wanted to walk away from and I felt like we rode it out as long as we could.''
– Bill Belichick on trading Jimmy Garoppolo
From an outsider's perspective, of course the New England Patriots couldn't sustain their quarterback situation much longer. It was going to expire in 2018, no matter what Belichick and the Patriots wanted.
Garoppolo was going to become a free agent at the end of the 2017 season. If New England wanted a shot at securing his services, the Patriots would have to pay him like a franchise quarterback. If negotiations were going nowhere, New England could slap the franchise tag on Jimmy G.
That doesn't mean Garoppolo would sign with the only team he knew until Monday.
Nobody wants to be a career backup, especially a quarterback drafted in the second round. After beating the Arizona Cardinals and carving the Miami Dolphins for two quarters in 2016, Garoppolo believes he can play in the NFL. I doubt he's interested in waiting his turn.
It would be extremely unlikely Garoppolo would re-sign with the Patriots, no matter how much money was offered, as long as QB Tom Brady keeps giving Father Time the finger. If Garoppolo was going to play sooner, it wouldn't be in New England.
The Patriots trading Garoppolo isn't a surprise. It's when. Throughout the off-season the Patriots stayed true to their word when they said Jimmy G wasn't available before the 2017 NFL Draft, despite the speculation of what New England could get for him.
In an off-season that seemed so win-now, waiting until a day before the NFL trade deadline to ship Garoppolo to the San Francisco 49ers for a 2018 second round pick doesn't make sense. Think about it:
WR Brandin Cooks and a 2017 fourth round pick from New Orleans Saints for 2017 first and third round picks.
DE Kony Ealy and a 2017 third round pick from the Carolina Panthers for a 2017 second round pick.
TE Dwayne Allen and a 2017 sixth round pick from the Indianapolis Colts for a 2017 fourth round pick.
TE James O'Shaunessey and a sixth round pick from the Kansas City Chiefs for a 2017 fifth round pick.
And WR Phillip Dorsett from Indianapolis for QB Jacoby Brissett following the preseason.
With all these moves passing on rookie prospects for seasoned veterans, waiting until now to trade Garoppolo, when logically the chances of re-signing Jimmy G after the season seemed next to none, it doesn't make sense. If Garoppolo really was Brady insurance, the Patriots should had kept Garoppolo for 2017 then slap the franchise tag on him to get whatever they could for him in a trade after the season.
But if the Patriots were all-in for a 2017 championship push, they should had traded Garoppolo before the 2017 draft. Maybe Garoppolo wouldn't had netted a first round pick, but a package of picks that included a second round pick doesn't seem out of the question. Or New England could had exchanged Garoppolo for a picks and a veteran player.
Yes, all but one of the above trades have been failures so trading Garoppolo for a player sounds like a very bad idea. But it would had been consistent with many of the moves made in the off-season.
At the very least getting a player that could help the Patriots now for Garoppolo made more sense than trading him for a future pick, regardless of how good of a selection it is. A pass rusher, linebacker depth or offensive line help would benefit New England greatly right now.
A complication for any trade would be keeping Don Yee happy. Yee is the agent for Brady and Garoppolo. To keep the relationship on good terms, New England would have to find a landing spot that satisfies both Garoppolo and Yee.
That may rule out certain franchises and diminish the potential return. But a deal that satisfies all parties, including the Patriots sending Garoppolo somewhere he won't hurt the team much, if at all, could be found.
Instead, the Patriots went from the best quarterback situation in the league with Brady, Garoppolo and Brissett to signing discarded QB Brian Hoyer.
If it's true that the Cincinnati Bengals were going to get the Cleveland Browns' 2018 second and third round picks for QB A.J. McCarron, then the Patriots could had got at least as much if they traded Garoppolo before the 2017 draft.
Questions? Comments? Send to [email protected]. Follow @NE_Arena on Twitter.
---