Top Four Receiving Groups in the NFL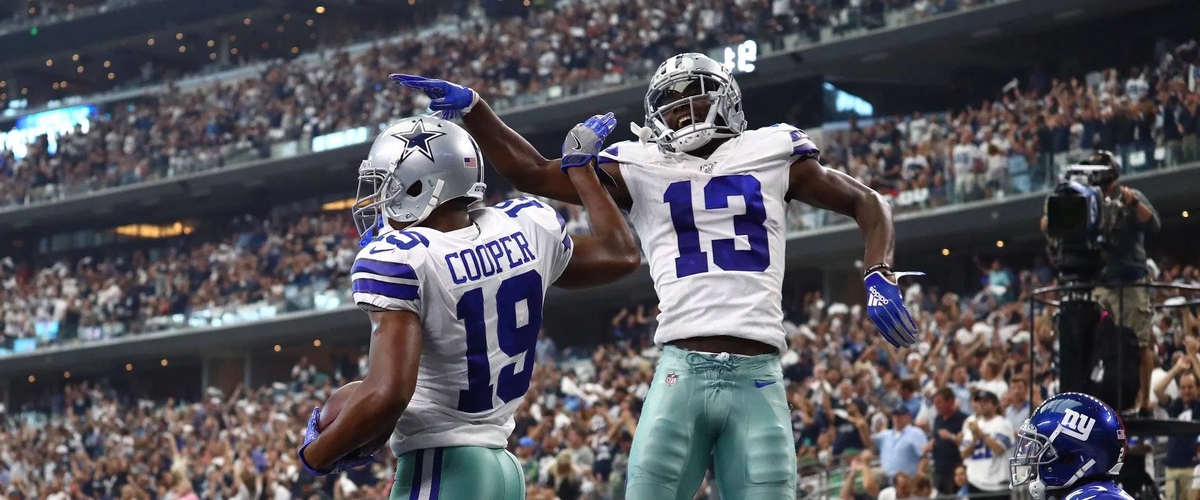 Passing the ball is the name of the game in today's NFL. The days of consistently running the ball 30 plus times a game are long gone. With teams scoring more and more points it's essential you have enough weapons to keep up. In this article, I'll tell you the four teams with the best-receiving groups in the NFL.
Tampa Bay Buccaneers
Projected Starters: Mike Evans, Chris Godwin, Tyler Johnson
The Bucs don't have much depth at wide receiver, but they do have the best wideout duo in the NFL. Chris Godwin is one of the most underrated receivers in football. If you haven't seen him play, go watch some of his highlights right now. Godwin had 86 catches for 1,333 yards last season. He and Brady will work wonders this season. When you can say Mike Evans is your second best receiver you're doing something right. Evans finished the 2019 season with 67 catches and 1,157 yards. If you throw it up, Evans will go and get it.
The number three wideout is up in the air, but I think rookie Tyler Johnson grabs the spot. I think he's a steal after being drafted in the 5th round. He can play the slot, which will help him get on the field quicker. This unit may not be deep but it's too strong up top to not make the list.
Dallas Cowboys
Projected Starters: Amari Cooper, Michael Gallup, CeeDee Lamb
Just like the Bucs, the Cowboys are top-heavy at the wide receiver position. Coming off a big 2019, Amari Cooper received a massive extension. Cooper put up 79 catches, 1,189, and 8 touchdowns in his contract year. Cooper putting up numbers was expected, but his running mate Michael Gallup had a breakout 2019 season. Gallup had 66 catches for 1,107 yards. Gallup is a major deep ball threat. Gallup and Cooper are good, but they needed one more guy to make the group great.
The Cowboys prayers were answered when CeeDee Lamb fell to them at pick 17. I expect Lamb to produce right away. He'll have plenty of one-on-one opportunities in an offense featuring Cooper and Gallup. If Lamb's potential matches his play this will be a deadly group for years to come.
Buffalo Bills
Projected Starters: Stefon Diggs, John Brown, Cole Beasley
The Bills receiving core was overlooked last year because of Josh Allen's accuracy struggles. It got even better this offseason when the Bills added Stefon Diggs. With Diggs on the roster, nobody should overlook this Bills' group. Diggs had 63 catches and 1,130 yards in 2019. The threat Diggs poses to a defense will only open up more opportunities for the other Bills wideouts. John Brown is one of those wideouts. Brown had the best season of his career in 2019. He had 72 catches for 1,060 yards. As far as slot receivers go, Cole Beasley is one of the best in the business. Beasley just knows how to get open. Diggs, Brown, and Beasley just fit; it's a perfect combination of what you want in a receiving core.
The Bills also have Andre Roberts, Isaiah McKenzie, and Robert Foster for depth. With this group of receivers, there are no excuses for Allen, it's time to prove he's the guy.
Kansas City Chiefs
Projected Starters: Tyreek Hill, Sammy Watkins, Mecole Hardman
How could I forget the Super Bowl Champs? Not only do the Chiefs have the best quarterback in the NFL, but they also have some of the best wide receivers. We can start by looking at speed demon, Tyreek Hill. Hill had 58 catches for 860 yards in only 12 games last season. Hill just outruns people like its backyard football. The speed doesn't stop with Hill, because in last year's draft the Chiefs selected Mecole Hardman. Hardman had 26 catches last season, 538 yards, and an insane 20.7 yards per reception. I expect Hardman to have an increased role in the offense this season.
Joining Hill and Hardman, the Chiefs have Sammy Watkins. In this offense, Watkins doesn't need to be the number one, two, or even three option, he's just icing on the cake. Watkins will get all kinds of 1 vs. 1 coverage. But it doesn't end there for the Super Bowl Champs, Demarcus Robinson also plays a key role in the offense.
Who do you think has the best wide receivers?
---