Falcons Blow Another Big Lead; It's a Culture Thing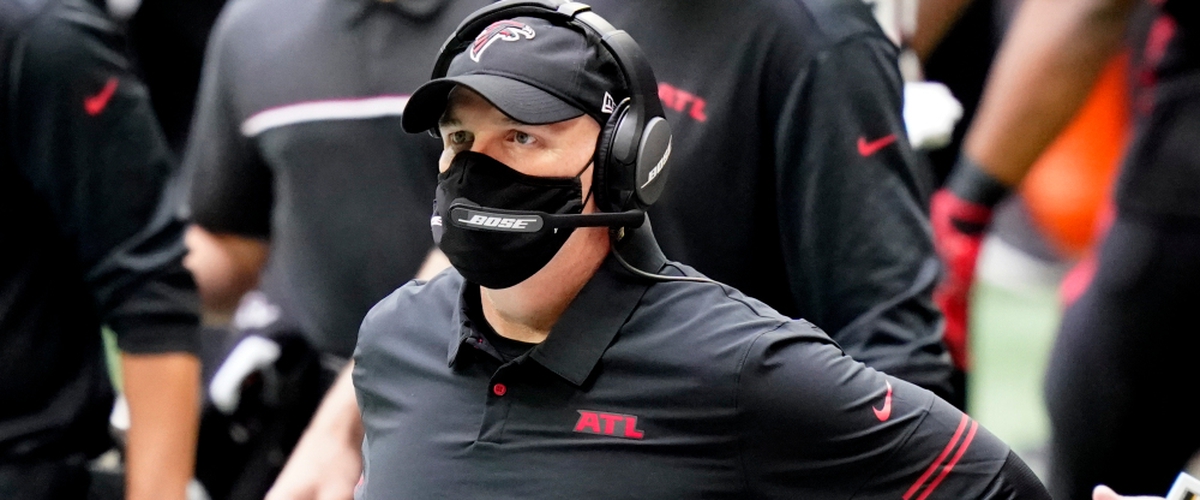 It has been a nightmare for Falcons fans this season.
No wait...
It has been a nightmare for Falcons fans since 2016.
Nope.
It has been a nightmare for Falcons fans for nearly a decade.
The Atlanta Falcons blew a 15+ point lead for the second straight week against the Chicago Bears. Many fans have screamed for head coach Dan Quinn to be fired. Honestly I'm right with them.
BUT....to say this has completely fallen all under Quinn, well, has it?
The honest answer has been no. Since 2010, the Falcons have been doing some sort of blown leads time after time after time. It was just nobody watched it and/or they did but it was lost in the echoes of time because they still pulled out the W in the end. All's well. Little history lesson: since 2010, the Falcons have had a 15-point lead or more in 14 times and either blew the game or won by the skin of their teeth. Prior to the Super Bowl the biggest choke was the 2012 NFC Championship where the Falcons blew a 17-point lead to the SF and lost that one. The week before was nearly disaster too, nearly blowing a 20-point lead to Seattle only to be bailed out by Matt Bryant at the end.
Since the Super Bowl it has been scoped tremendously in Atlanta and has become a national meme for the Falcons epic collapse then. And many think this has been a Dan Quinn thing and a Dan Quinn thing only.
Not close. If there has been a common denominator to the Falcons implosions since 2016 and the ones prior from 2010-2012 when the Falcons were a playoff team then, it has been three people mostly: Quarterback Matt Ryan, GM Thomas Dimitroff, and owner Arthur Blank.
For Ryan, I give him a pass. He can't play defense. He also hasn't taken stupid penalty on defense after stupid penalty over the times. Yeah, we can think he's made some questionable turnovers in those stretches, but honestly he shoulders little, if any of the blame.
Thomas Dimitroff, different story. Aside from hitting home runs on Ryan in the 2008 Draft and then moving up to get Julio Jones in 2011, his draft report card is less than impressive. In fact, it really stinks. Before you go "well, what about the picks in the Quinn Era? They were hits." On the defensive side, the Falcons got Grady Jarrett, Keanu Neal, and Deion Jones, all of whom were Quinn picks. I don't believe Dimitroff had any say in that matter. I'll give credit for Dimitroff with the Freeman, Coleman, and Ridley, picks but they were on the offensive side. The offensive line picks have been a wash at this point. I don't want to hear about how Jake Matthews has been a solid one. He's been average at very best and has costed this team on a few instances with blown blocks over the years. So really the decisions Dimitroff makes have been less than appealing overall. So if Dimitroff isn't really calling the shots anymore what is his use now?
Let's move shall we? To today's issues of the Falcons: the coaching.
Yes, Quinn has to be blamed for this mess in these senses: 1. Schematics. 2. Discipline. 3. And "Mr. Nice Guy."
The first and last are kind of tied. Quinn's hands-off approach with the Offensive Coordinators over the years, first with Shanahan, then with Steve Sarkisian, and now with Dirk Koetter have been a failure. Shanahan's style in 2016 worked like a gem, but is also ridiculed in Atlanta for the late play-calling in the Super Bowl when they could have a ran the ball out and won the game. Sarkisian's play-calling was flat as flat got out for the entire 2017 season and a chunk of the 2018 season. So the Falcons brought back Dirk Koetter, who worked with Ryan early on and getting the offense rolling. And today, he showed he lost his touch. The Falcons were running the ball solidly against the strong Bears defense, both Brian Hill and Todd Gurley had some nice runs. Then for some inexplicable reason Atlanta opted then to pass all over the place with a TWO-SCORE LEAD IN THE FOURTH QUARTER. Chicago's defense pinned their ears back and went after Matt Ryan which worked as he overthrew his receivers or came up short on throws. Why? Run the ball, take time off the clock and/or make Chicago use their timeouts. Instead, Koetter's schemes failed. And the Falcons...well, you know. 46 seconds was one total drive the Falcons had in the 4th when they were up. But it doesn't stop with Koetter. Raheem Morris, the defensive coordinator who the Falcons placed in charge in the second half of last season and got the defense to respond better, has been nothing but a disaster this season. 3 games, 30 or more points allowed. Today was the straw for me though. Falcons had Chicago on a 4th down in the fourth. What does Morris call? A blitz package? 5 man rush? 4 man rush? No silly! 3 man rush! And the defense gave up a huge gain. These schemes are ultimate recipes for failure. So the coordinators have to take a large load of the blame for putting the players in these spots. And Quinn does need to also shoulder it because he has to start telling Dirk and Morris what he really wants. This team blew it on those horrible schematics.
Discipline....honestly that's all on Quinn. Had this been a one-time thing where the Falcons imploded, then yeah, ok. But this keeps going on time after time, especially with that defense, the reason why the Falcons brought in Quinn in 2015. Dumb late hits. Poor tackling skills. Silly mistakes. We can go on and on. And it isn't the young players only making the dumb mistakes like Isaiah Oliver who blew a tackle for a big touchdown late. It isn't rookie Jaylinn Hawkins using his head and getting a 15-yarder. It is silly blunders such as Deion Jones upending Oliver on an easy interception late as he wanted to fly off the ball (and Jones as much as I love the guy, has made his share of silly penalties over the seasons), Grady Jarrett for as excellent as he is, has had moments of oopsies that shouldn't be made buy guys like those. They have to be leaders and step up. But if Quinn is being "shake it off, it'll be ok" instead of "quit doing this nonsense and play smarter!" then yeah, this falls on Quinn too.
Which kind of brings me to the last thing. And it has been very annoying for the last 3 seasons now in Atlanta and that's the "everything is fine and dandy here! We all get along and we are sticking together like the brotherhood that we have!" coming from the Falcons players. That and the "well it isn't Quinn's fault-it's our fault! We need to play better for him!" Well, you know what Falcons players, SHOW IT! I'm tired of the players keep defending them and taking responsibility for their losses and then show the same nonsense on a weekly basis. This team is not learning from their mistakes and if what the players are saying is true, then they aren't acting like they want to change and want to right the ship. The silliness of what this team put out in the 4th quarter agianst Chicago was indicative that they aren't making any effort of correcting their mistakes. At all. But if nobody wants to put this group's feet to the fire, then yes, it does fall on Quinn.
Which brings me to the last guy I mentioned: Arthur Blank. Before I begin I honestly don't think Atlanta has a football team had Blank not bought them. Prior to 2001 when it coincided with the Falcons drafting Michael Vick, Atlanta and being a pro football town was a joke. You would be able to get a ticket on gameday in Atlanta for very cheap for a long time. Even the Falcons Super Bowl run in 1998 you could net a gameday ticket, lower level for $35 and the Georgia Dome still had many seats unfilled. Blank came in and bought the team, made the statement of "we are going to be a legit NFL town with great NFL fans and I want to bring the Super Bowl to Atlanta. Early on, Blank canned Hall of Fame head coach Dan Reeves after a letdown season in 2003 (didn't help that he lost Vick to injury early on). He let go of Mora 3 seasons in as the Falcons were disappointing at 8-8 or 7-9 after the 2004 season where he took Atlanta to the NFC Championship. Mike Smith was gone after back-to-back losing seasons and with Matt Ryan/Julio Jones as his guys. Now all of a sudden we've seen Atlanta have two straight losing seasons where Ryan and Jones are still in their primes and not many years left and a third consecutive one is becoming very likely with an 0-3 start. Yet Blank does not want to pull any trigger and not make a "rash decision" for the team involving Quinn or any other coach (Morris, Koetter). When did Blank deal with this nonsense and be ok with it? I grew up in Detroit and still follow the Lions and seeing the Ford ownership constantly fail to make necessary moves and show a willingness to win has been something Lions fans are getting frustrated for 60+ years now. I do not want Arthur Blank to go and keep guys around because "he likes them." We already saw a certain ownership group do that with a team in Atlanta and they are now in Winnipeg. Blank has to decide whether or not if he really wants any kind of winning in Atlanta for the Falcons before this goes bass ackwards again and fast. But it may honestly be too late.
People who are still sunshiney feel the Falcons are good enough to get to recover from this mess and be maybe 7-4, 6-5 and put themselves in great position for a playoff push in part because they have a "soft" schedule after Green Bay next Monday Night (anyone wanna bet the Falcons blow a 15 point lead and lose on a Rodgers Hail Mary?). They *should* beat the Panthers. They *should* beat the Vikings. They *should* beat the Lions. They *should* beat the Panthers again. And they *should* beat the Broncos. Honestly, they should have beaten the Cowboys last week. They sure as heck should have beaten the Bears. But the players, coaches, front office, and ownership have now done the most insane thing: expect different results by still doing the same things over and over and over. And that's why the Atlanta Falcons are the Atlanta Falcons.
-Fan in the Obstructed Seat
---