Giancarlo Stanton Traded to Yankees: Obstructed Thoughts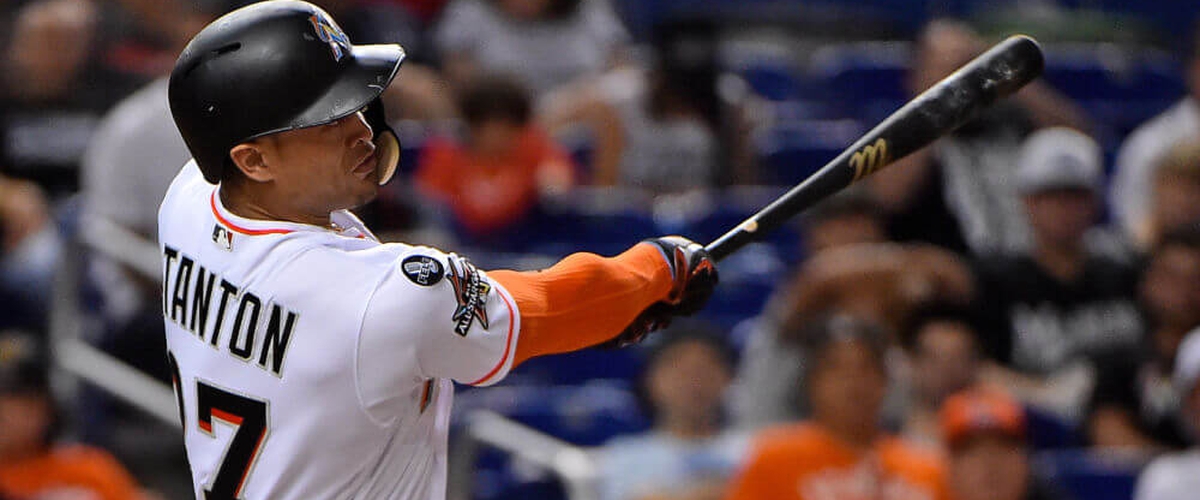 Over the weekend, the Giancarlo Stanton Sweepstakes came to an end. Originally it seemed like the St. Louis Cardinals and San Francisco Giants were the key places Stanton would wind up at. However, with his no-trade clause in play, the deals the Marlins had with the Cards and Giants were rejected by Stanton. Stanton didn't want to really play in St. Louis as his preference was the West Coast and I guess Stanton's preference was to play in Los Angeles, not the Dodgers chief rival. So he goes to New York and join the youthful Yankees and alongside Aaron Judge, to form as what all the Northeast media crews of Mantle/Maris 2.0.
The joys.
So what does this mean for 2018? What does this mean for the Yankees, Marlins, and everyone else involved?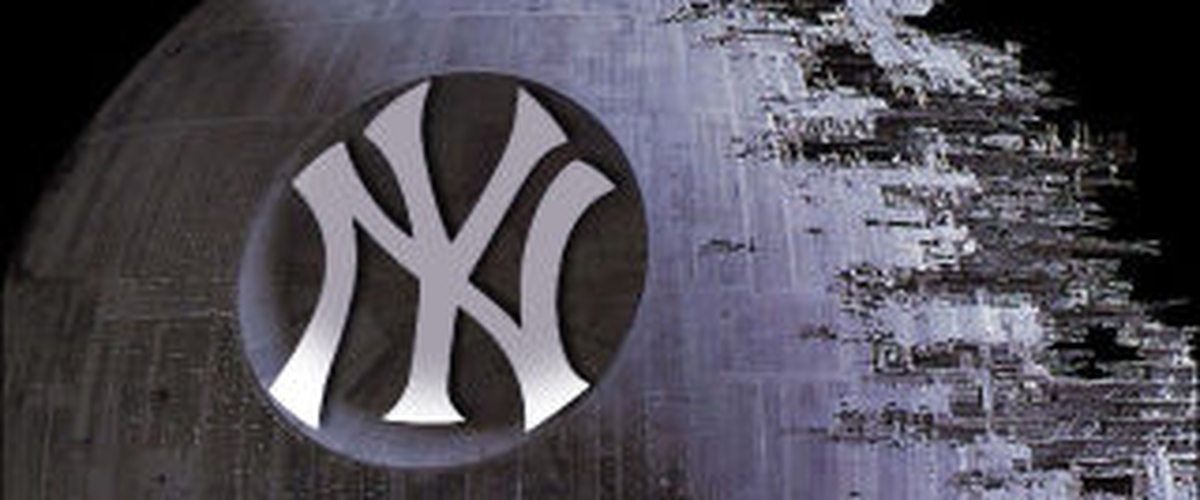 1. YANKEES HAVE RECLAIMED THE "EVIL EMPIRE" MONIKER FROM THE RED SOX.....OR THEY ARE NOW SHARING THE LABEL: For a good while New York had stood pat of making lavish signings and mega trades. Yes, they gave Jacoby Ellsbury a big deal a few years ago, but it seemed like the Yankees were "one of the boys" as other teams spent more on other and probably better players, including losing Robinson Cano to Seattle. The farm system had been fairly weak in this time so acquiring a stud player at the deadline like David Price, Josh Donaldson, or Chris Sale wasn't in the cards. They shipped Brian McCann to Houston and got prospects. They traded Carlos Beltran to Texas and got a prospect. They moved Andrew Miller and got prospects and they moved Aroldis Chapman to the Cubs and got prospects. And in no time their farm was rolling again. They used some of the pieces to get Sonny Gray from Oakland. Then with money off the table from years prior of CC Sabathia, Mark Teixeira, Alex Rodriguez, etc. So the Yankees, with the money available, spent it on baseball's top slugger to go along with a future top slugger as well. And while the Yankees are a young crew, you're starting to see that swagger fans have hated about them, whether it is through Gary Sanchez, Dellin Betances, and Clint Frazier. And the Bronx Bombers came oh-so-close to making it to the World Series last year before losing to the Astros in 7 games. Does the move put them above the world champions now? Perhaps....if they can net some pitching. Gerrit Cole is available.....wouldn't be surprised if New York makes a huge splash for him too. So the Yankees are back to what we were reminded of from 96-09. Boston on the other hand has had that moniker for winning 3 world championships in the last 13 years to the Yankees 1. And they used the Yankees Evil Empire approach with winning a lot and having unlikeable guys too (you either loved David Ortiz or hated him, Sale has been a headcase at times, and Price has been very outspoken in his short time in Boston). So for fans elsewhere, maybe the Rays are the lone Jedi of the group. Go Rays! Wait, Rays....Rey? Hmmmm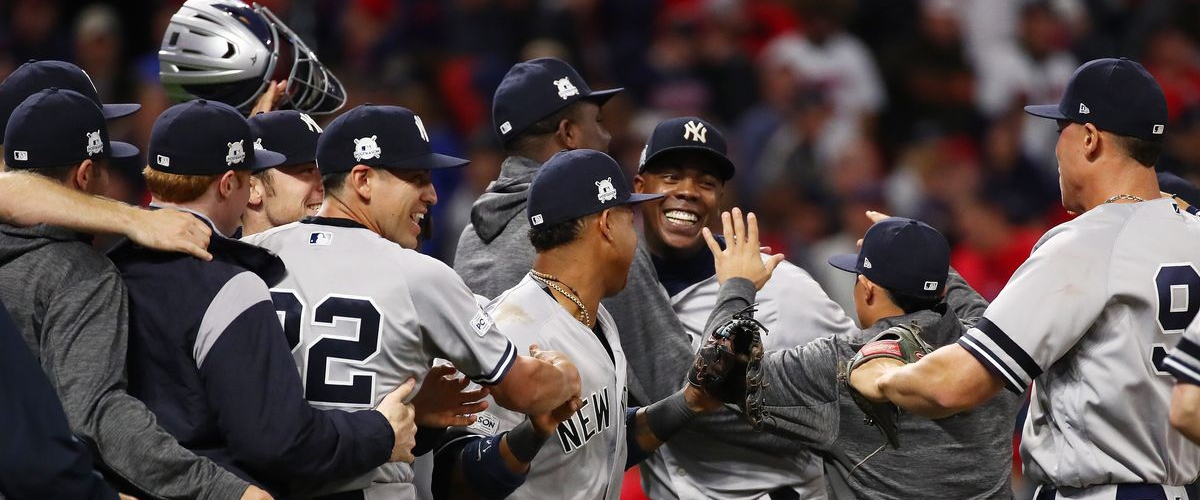 2. THE YANKEES, PENDING ON MOVES TO THE PITCHING ROTATION, ARE THE FAVORITES TO WIN IT ALL IN 2018: Let's face it, the Yankees have a blunt force lineup that has more roster moves to deal with. Adding Stanton is huge, but your outfield is overloaded. Judge, Stanton, Frazier, Gardner, Hicks, and Ellsbury are all there. Common sense would have Gardner and Ellsbury probably finding new homes and you wonder if Stanton with his injury issues will be moved to DH and have a Frazier-Hicks-Judge outfield, that is if they trust Frazier to be there everyday. One theoretical trade that was laid out in the 2017 season was a possible Jacoby Ellsbury to Detroit for Jordan Zimmermann in a overpaid contract for an overpaid contract move, but I think the Yankees would rather use it to get Cole out of Pittsburgh and the Tigers want to clear as much payroll as possible. Just my thoughts.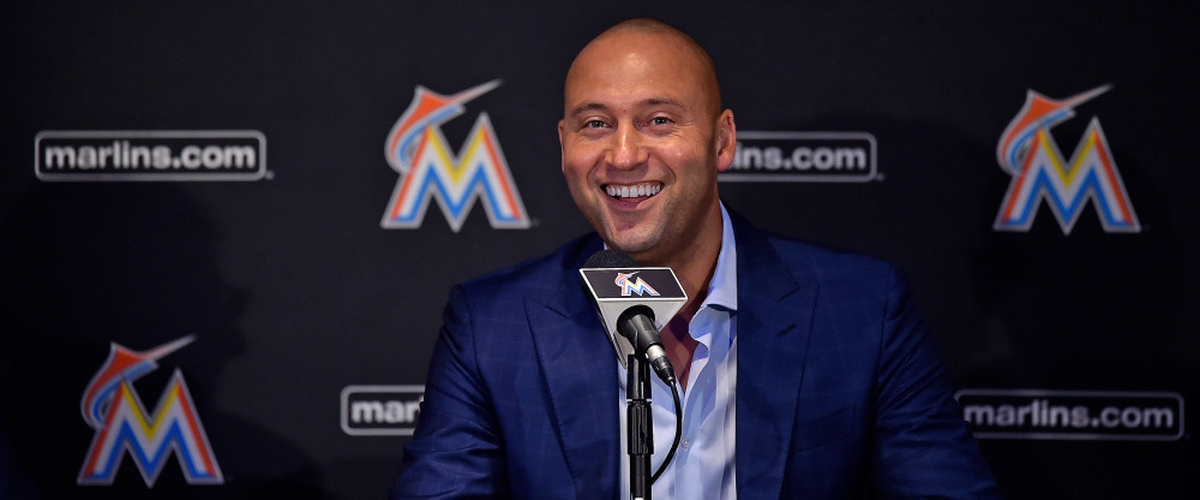 3. DEREK JETER CONTINUED THE YANKEE DYNASTY WITH THIS TRADE: Jeter, now part of the Marlins ownership and pretty much purged Stanton's contract to the team he was made a legend by. Many have ridiculed and blasted Jeter for this move, saying that with what the Marlins got in return was Starlin Castro and 2 prospects that are not anywhere in the top 100. Castro's stay in Miami may be a relatively short one and the Yankees can run out and either sign Neil Walker or trade for Ian Kinsler. But the Yankees are in great shape thanks to Jeter, who is NOT a Yankee anymore.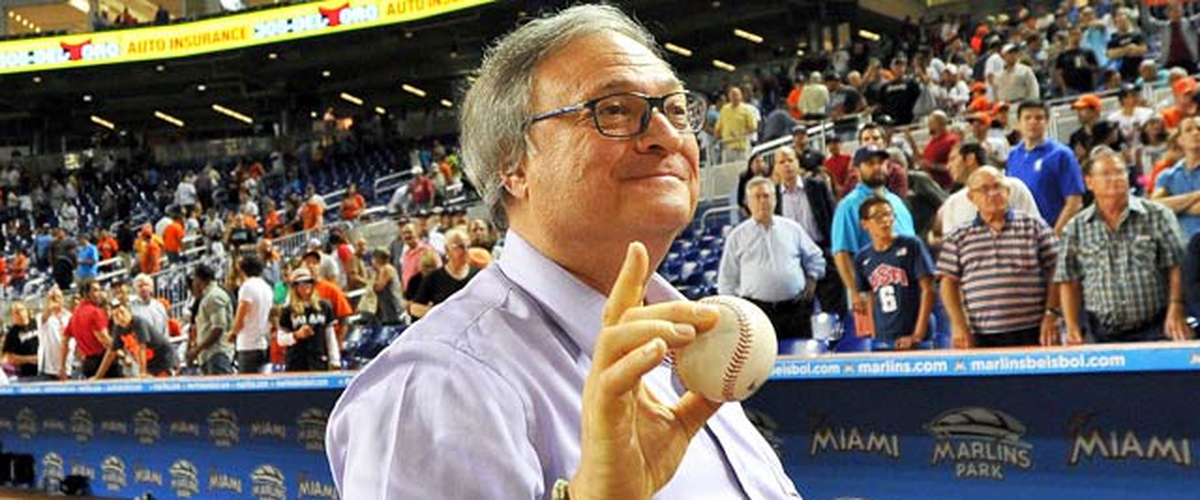 4. DEREK JETER DID THE UNTHINKABLE: HAVE MIAMI FANS MISS JEFFREY LORIA: Needless to say, Loria though his time in Montreal and with the Marlins. You can make the argument he was a cold-hearted SOB who lacks any compassion and pretty much forced two cities to pay for the stadium (failed in Montreal, but succeeded in Miami). He burned the team to the ground one year in after Marlins Park was opened after giving out lavish contracts to Mark Buehrle, Jose Reyes, etc. among others, thus alienating the fan base. Instead, he opted to keep Stanton around for a VERY. LONG. TIME with a near $300 million contract. Adding on, Loria would probably have given a nice contract to Jose Fernandez, the other face of the franchise. At least in the past when the Marlins traded their guys, they got a lot in return. Instead this was like trading a pair of brand new Jordans for 5 bucks. So right now I think what is left of the Marlins fan base is wishing Loria was back. Sad too because you had to figure many were excited to see Loria leave and a guy like Jeter come in. So far, nope. Adding to the exit of Stanton was he exodus of popular Marlins figure Jeff Conine among others. He seems to clear house his way. Many I bet are wishing Jeter goes too.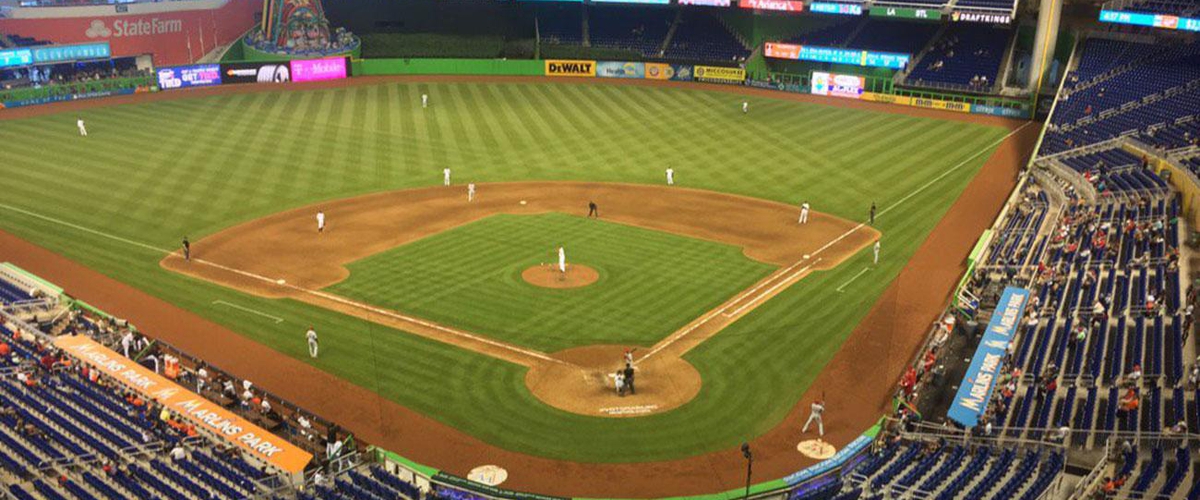 5. MARLINS PARK MAY HAVE LESS THAN 1,000 FANS A FEW GAMES IN 2018: This franchise is quite possibly snakebit with being unable to keep their players, but even when this team is winning, they do not draw well. The only games that the Marlins packed it in was whenever Jose Fernandez pitched. And the thing was, you had two cornerstones in Fernandez and Stanton to whip the fan base and build off of it. Nope. Not anymore. Fernandez is not on this earth and Stanton is in New York. And while I like Marcell Ozuna, he isn't necessarily a gate attraction to most casual baseball fans. And that hurts in a place that suffers with gate attendance.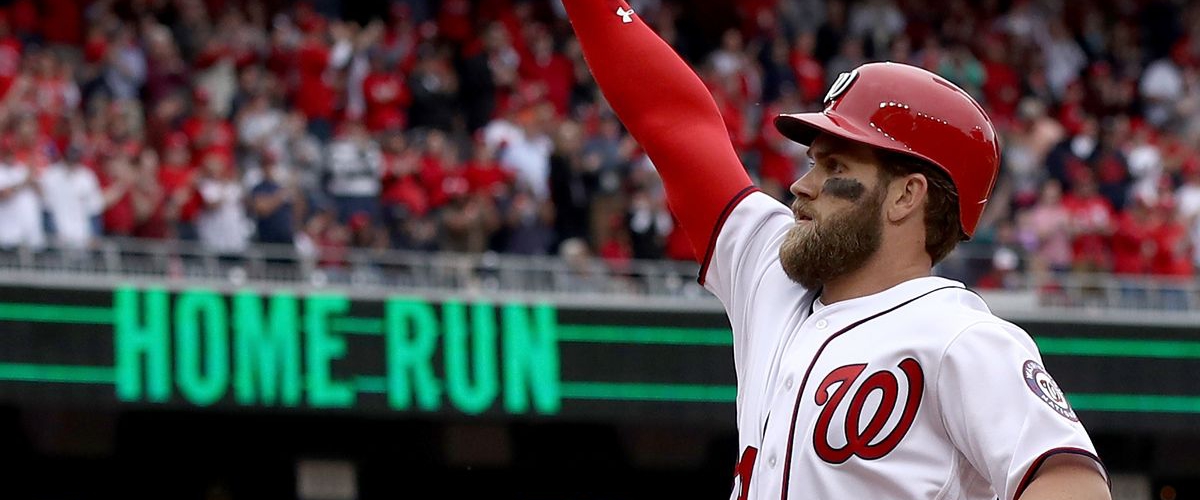 6. BESIDES THE YANKEES, THE REAL WINNERS OF THIS TRADE WAS THE WASHINGTON NATIONALS: Not because Stanton is out of the division and they don't have to see him 19 times anymore, but because it may have spiked their chances of keeping Bryce Harper after 2018. For the longest time it seems like Harper to the Yankees in 2019 was a foregone conclusion. Growing up, Harper was a die-hard Yankees fan and perhaps Washington was only a stepping stone for Harper to get to New York and become the next Yankee legend. With Judge in RF, Stanton and his heavy contract on the roster now, and you have to figure Judge will command a massive contract when he gets to bee a free agent and already has a huge cult following in New York, as well as probably a similar story can be made for Sanchez, it doesn't seem like the Harper to the Yankees will happen now. Other teams that could vie for Harper would be the usual suspects of the Cubs, Red Sox, and perhaps Dodgers. But similar to the Yankees, the Cubs will have major contracts to handle (Rizzo, Bryant, Contreras while still handling Heyward's deal as well as Baez) and I don't think the Cubs would meet Harper's contract demands with it. The Dodgers are also an interesting spot, but again, heavy deals or heavy deals coming to Kershaw, Bellinger, Seager, and Turner may nix that chance. And Boston isn't one who wants to invest in a player for 10 years though I can see them bending that around. So it may be Bryce Harper stays in Washington, unless a "surprise team" comes in and stuns everybody with a deal.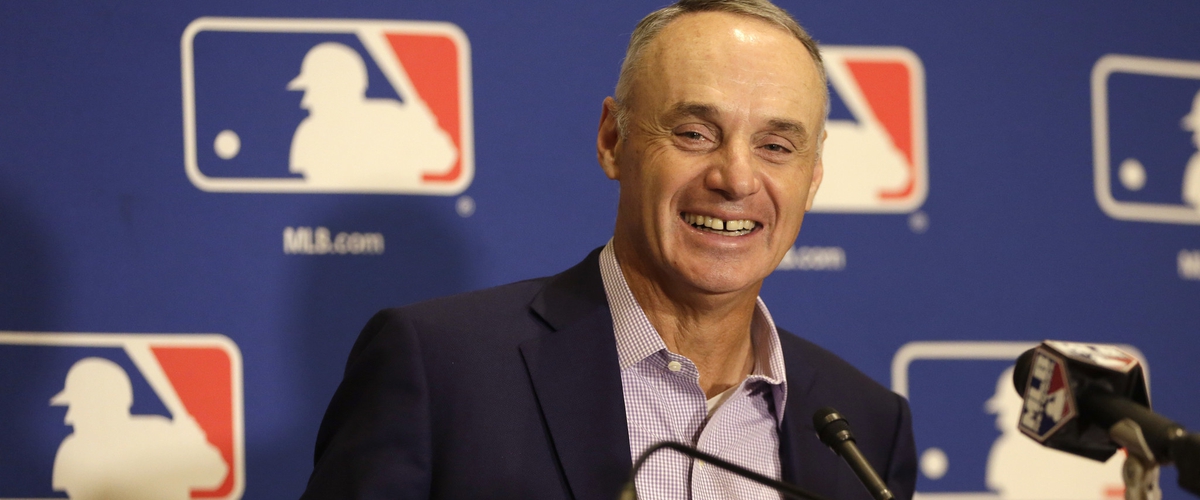 7. ROB MANFRED NEEDS TO GET INVOLVED WITH NOT ACCEPTING SALARY DUMPS: This was a salary dump, regardless of how you look at it. The Marlins excuse was the "old ownership gave him that contract, not us!" The Yankees got an MVP for practically nothing. Not good. I thought when the Marlins did the first salary dump in 2013 they said "no more of it," but I guess because it was Selig that time and it is Manfred this time, he let it pass. There had been talk of Detroit doing a salary dump with Verlander and Kinsler, thus negating to replenish their barren farm, but the Tigers got key pieces back in the trades of Verlander, Avila/Wilson, and that's it (not saying they got any key pieces in return for JD though).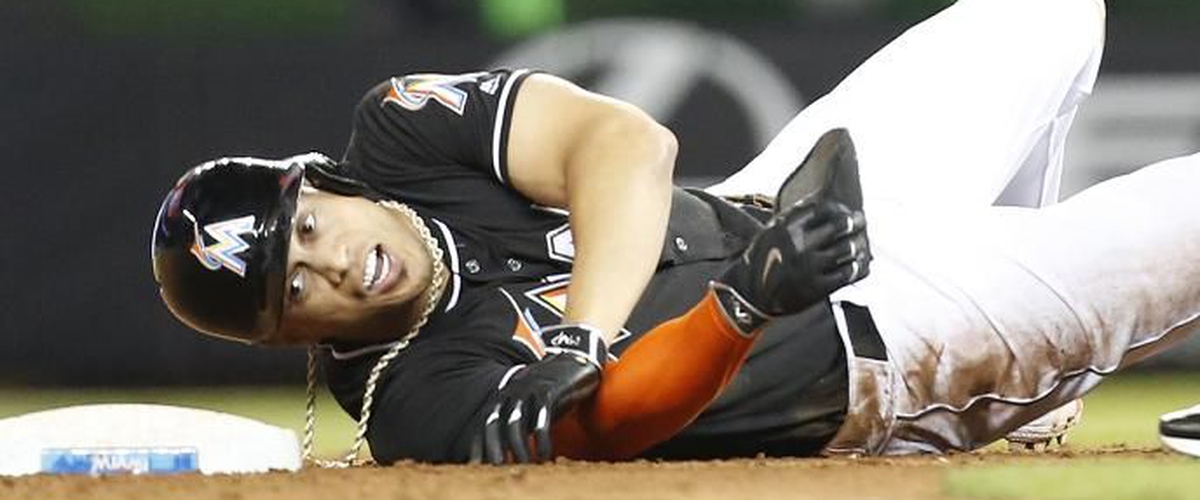 8. THIS WILL BE GREAT AND LOPSIDED FOR THE YANKEES IF STANTON CAN KEEP HEALTHY: 5 of his 8 years in baseball, Stanton has missed a considerable amount of time with injuries. But many are shying away about the move for that. It could be disaster for teams facing the Yankees with a healthy Stanton, but if Stanton misses a heavy amount of time, it will be more disastrous for the Yankees.
But time will tell on how this trade pans out but we can easily say that this is "lopsided" so far.
-Fan in the Obstructed Seat
---