What To Do With (and For) Andrew Luck?
We are only 3 weeks in the 2017 NFL season. And it may already be a lost cause for the Indianapolis Colts.
I normally don't ever say a comment like that and when I do, I normally jinx it and look like an idiot. But with the Colts this year and this situation with Andrew Luck, it is hard not to believe that things will get better.
Don't get me wrong, I think Luck is a franchise quarterback when he is out on the field and is healthy and none of the mess is his fault. He got injured in part because of a crummy offensive line over his time with the Colts. Does he have weapons? Yes. TY Hilton and Donte Moncrief are solid while Frank Gore is reliable. But Luck really made Hilton and Moncrief what they are. And that defense is one giant mess. But the Colts constant failed drafts and horrid off-season moves have gotten them to the point that the minute Luck gets injured at any point, the team is a house of cards. And it has shown so far this year, getting demolished by the Rams and losing to the Cardinals at home. And they are underdogs against the Cleveland Browns....and the game is in Indianapolis.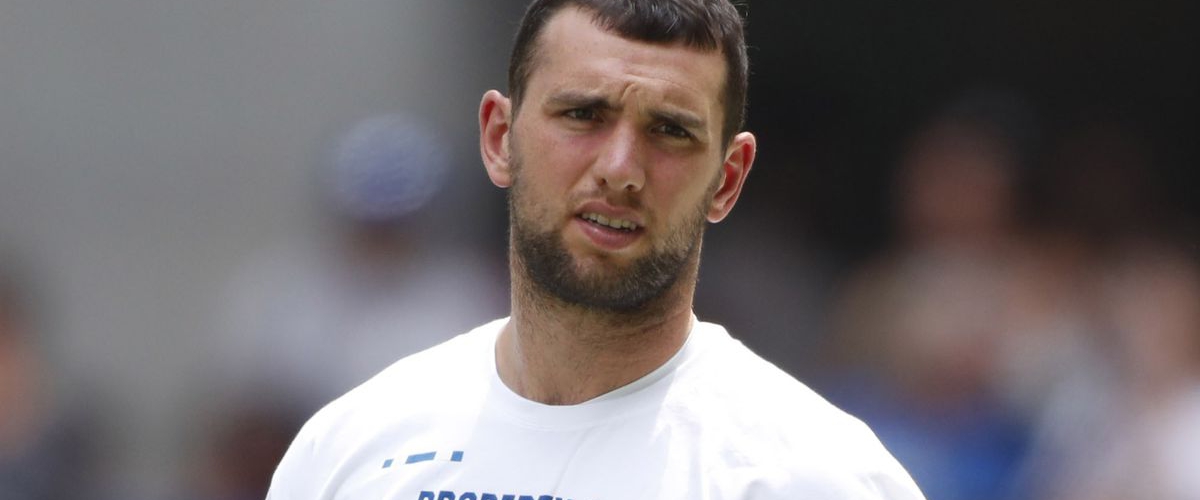 And, much like the first two weeks of the season, no Andrew Luck.
In fact, there may not be Andrew Luck in Week 4, 5, or 6. And they chose not to put him on the IR.
So to that is "what are the Colts thinking?"
Unfortunately for Indianapolis, nobody knows. If we really want to re-hash the Colts years from the early 90's to pre-Manning, it was not a memorable time. The Colts suffered years of 1-15, 4-12, and 3-13 and save for those mid-90's years of Jim Harbaugh and Captain Comeback, they were considered a bigger joke than the likes of the Browns and even Rams. But now they are heading back to that direction.
One can make an argument that the Colts are quite possibly the NFL's worst franchise right now. At least the likes of the Browns and 49ers who are in rebuilds, have a vision for the future. The Jets are at least trying to clean the slate to fully start over. And the Bears have at least promising youth to get them going. But the Colts? You don't know if they're coming or going.
And it is all because they have really thrown their eggs in one basket with their franchise quarterback again in Luck (they did it with Manning and when he was out for the season in 2011, look what happened then). Yes, we can blame Ryan Grigson for the giant mess Indy has in front of them. Chris Ballard does have his work cut out for him, though so far early dividends have paid out with Malik Hooker. But this has been going on for years and it seems like there isn't anybody behind the wheel it seems on top of him. And with Chuck Pagano's future in question that hasn't been addressed, it may only get worse.
So the question begs, what should the Colts do? Even with Luck, are they a playoff team? Probably not with the roster they have. I mentioned the Colts would be 6-10 with Luck in the lineup as there are just far too many holes to really be competitive. Obviously, the question would be: should the Colts just start over from scratch and try to trade Luck? That answer may be yes. But given his contract he just signed last year and the issue of not being on the field, teams who would be interested would probably shy away on the move as it would take a large portion of a team's salary cap and lose draft picks for the foreseeable future. And that would be a problem. So should Andrew Luck ask for a release and move to a team that is in a better condition? Seems obvious, but if the Colts released him, he would cost $20 million for a cap hit for the Colts, which would ultimately handcuff Indianapolis for a while.
So unfortunately, there is no good answer for the Colts. The best answer is for Ballard to just be smart with draft picks, signings, and trades while hopefully develop players to be quality NFL players instead of the mess we have seen so far this season.
Hopefully for Colts fans and Luck, Ballard does everything well soon.
-Fan in the Obstructed Seat