Where Will Yo Go? The Possible Landing Spots for Yoenis Cespedes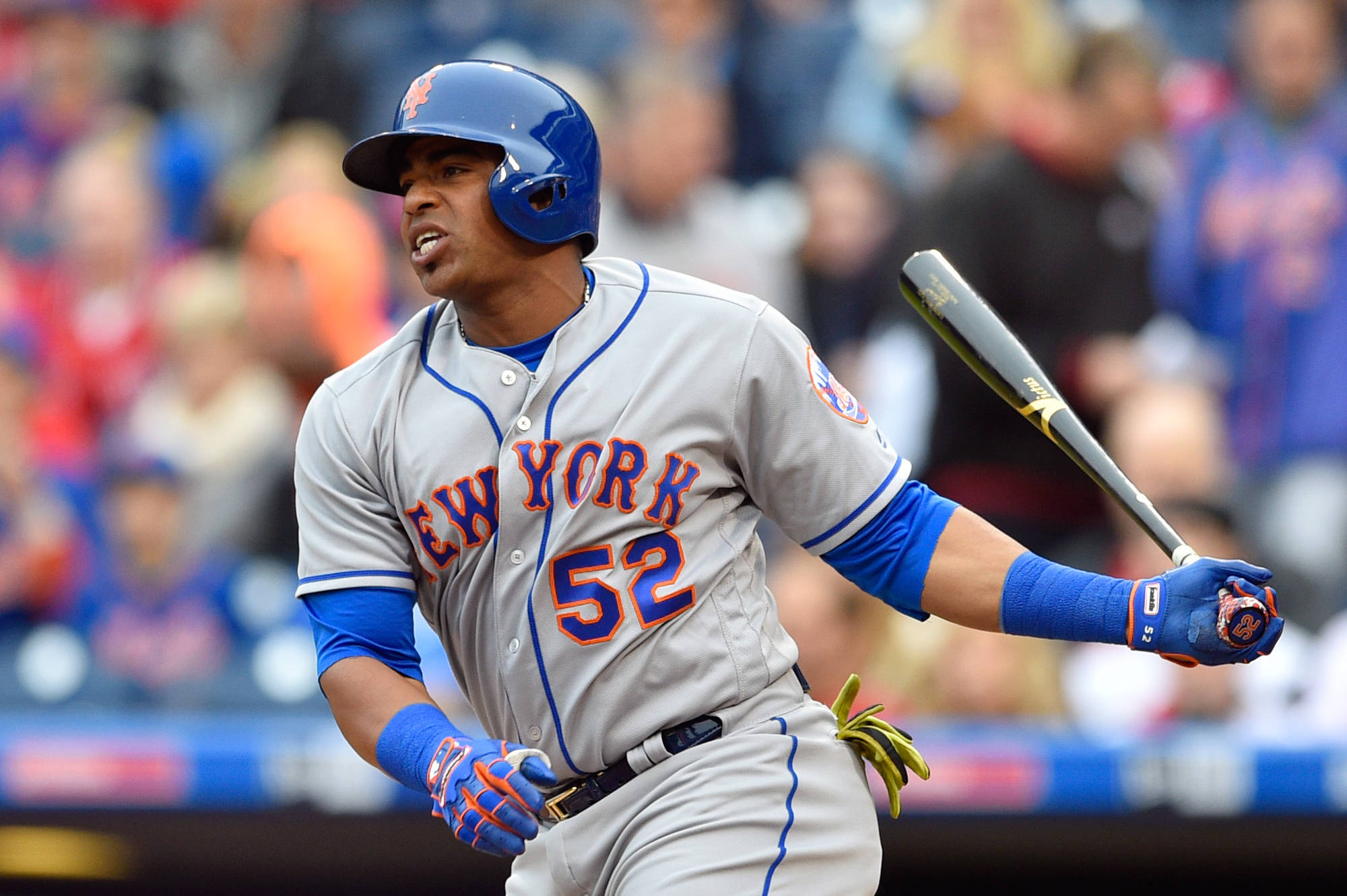 Derik Hamilton-USA TODAY Sports
Yoenis Cespedes is a free agent. He's also just opted out of his contract with the Mets and is set to become the most saught after slugger of the winter. Where will he go?

(Yes, Yahoo basically wrote this post a couple days ago but I read it and it isn't good. My possible landings spots are much better.)
Pros:
Bonafide middle-of-the-order bat capable of carrying a team. Cespedes has had more than 30 homers in each of the last two seasons and when he gets hot, look out.
One of the best arms in baseball. Here, look.
Actually, a decent centerfielder. No scout would tell you that but he's played a lot of center the last two seasons and he's certainly passable.
A very marketable star. He's actually got some of the highest name recognition in the sport and Cespedes shersies sell themselves.
Cons:
It's going to take at least $100 mill to get Yo to sign on the dotted line
Banged up? I hesitate to say that Cespedes is injury prone considering he's played more than 150 games twice in the last three years, but it seems like Cespedes is always nursing something, even when he is in the lineup.
He's 31. He didn't debut in the majors until he was 26 but he's played a lot of baseball between the US and Cuba and his skill set makes it more likely than most that his performance will drop off markedly at a certain point. Cespedes will probably want a 4-5 year deal, but teams should be very wary of giving him any more than 3.
So where's he going? Three really good options:
Washington Nationals:
Bear with me here, this one makes some sense. The Nats have shown that they are willing to spend money and they know that they are right in the middle of their competitive window. If Trea Turner is the everyday shortstop -and there's no reason to think he shouldn't be- than Washington has an opening in center.
While Cespedes isn't an ideal centerfielder, an outfield of Jayson Werth, Yo, and Bryce Harper from left to right would be among baseball's best, if not its very best. Further, it would give DC six well above average starting regulars. The only remaining holes might be first base and catcher.
As the Bryce Harper free agency clock clicks ever downward, the Nats need to do something to try and push them past the NLDS. They have the pitching with Max Scherzer and Stephen Strasburg leading the way, and maybe Cespedes can lengthen the lineup enough such that Haper or Werth or Daniel Murphy cooling down in October won't sink the whole club.
Cleveland Indians:
Read the rest of this post over at Off the Bench here.
---