Phillies Pharm Report #1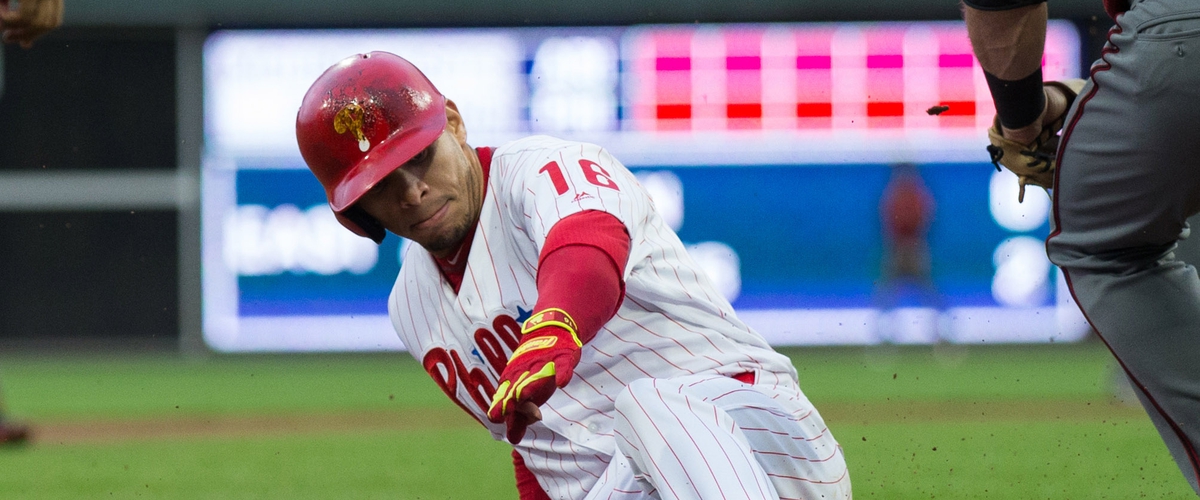 The Phillies defeated the Arizona Diamondbacks 5-3 Wednesday night to improve to 15-8 on the season. The major league team has seen many good performers to start the year, with Rhys Hoskins, Aaron Nola, Odubel Herrera, and Jake Arrieta to name a few. While the season has been going very well for the Phillies after a disastrous opening series in Atlanta, things have been more up and down on their talented farm system so far.
Lehigh Valley IronPigs (AAA) - Record: 8-10
The Lehigh Valley IronPigs were among the best teams in minor league baseball last season thanks to being absolutely loaded with good talent. Rhys Hoskins, J.P. Crawford, Nick Williams, and Jorge Alfaro all spent significant time with the IronPigs. Lehigh Valley isn't nearly as talented this season thanks to those four all moving up to Philadelphia, but that doesn't mean there aren't prospects worth following. Dylan Cozens returns to Lehigh Valley after struggling to hit there last year. Strikeouts have always been his problem, and he struckout 194 times in 476 at-bats last year. Cozens is so intriguing however due to his massive power. The speedster Roman Quinn and young pitching prospect Enyel De Los Santos also highlight the 2018 IronPigs' young talent.
Dylan Cozens: 58 AB - .241 BA, 3 HR's, 9 RBI's, 13 BB's, 26 K's, 5 SB's, .378 OBP
Roman Quinn: 60 AB - .283 BA, 0 HR's, 3 RBI's, 6 BB's, 12 K's, 7 SB's, .348 OBP
Enyel De Los Santos: 1-0, 1.98 ERA, 13.2 IP, 3 ER, 5 BB's, 22 K's
Reading Fightin' Phils (AA) - Record: 8-12
Reading is also fairly limited right now in terms of good prospects. Former first-round pick Cornelius Randolph is the main top hitting prospect while Jojo Romero, Seranthony Dominguez, and Franklyn Kilome highlight some of the top pitching prospects on the team. Unfortunately, Dominguez is the only one of these four prospects that hasn't struggled heavily out of the gate this season.
Cornelius Randolph: 63 AB - .159 BA, 1 HR, 4 RBI's, 3 BB's, 20 K's, .206 OBP
Jojo Romero: 0-3, 7.20 ERA, 20 IP, 16 ER, 10 BB's, 13 K's
Seranthony Dominguez: 1-2, 2.08 ERA, 13 IP, 3 ER, 2 BB's, 18 K's
Franklyn Kilome: 1-0, 5.60 ERA, 17.2 IP, 11 ER, 10 BB's, 22 K's
Clearwater Threshers (High-A) - Record: 7-13
The Clearwater Threshers entered 2018 with quite a few top prospects in the organization. Despite a very underwhelming season in Lakewood, former first-overall pick Mickey Moniak was assigned to the Threshers. Last year's first-round pick Adam Haseley also made the Threshers after a solid start to his professional career last season. Slugger Darick Hall and shortstop Arquimedes Gamboa also joined Moniak and Haseley in the lineup. From a pitching standpoint, the Threshers are led by two very good prospects in Sixto Sanchez and Adonis Medina.
Mickey Moniak: 75 AB - .213 BA, 0 HR, 3 RBI's, 2 BB's, 20 K's, .231 OBP
Adam Haseley: 75 AB - .280 BA, 1 HR, 12 RBI's, 2 BB's, 11 K's, .299 OBP
Darick Hall: 66 AB - .258 BA, 7 HR, 15 RBI's, 7 BB's, 21 K's, .364 OBP
Arquimedes Gamboa: 69 AB - .232 BA, 0 HR, 5 RBI's, 9 BB's, 15 K's, .321 OBP
Sixto Sanchez: 0-1, 5.40 ERA, 10 IP, 6 ER, 5 BB's, 11 K's
Adonis Medina: 2-2, 7.98 ERA, 14.2 IP, 13 ER, 8 BB's, 10 K's
Lakewood Blueclaws (Low-A) - Record: 11-9
The Lakewood Blueclaws have a quite a bit of good, young talent stocked on their roster. Some of these prospects include Jhailyn Ortiz, Daniel Brito, Cole Stobbe, Simon Muzziotti, Nick Maton, Will Stewart, and Ramon Rosso. It's been a mixed bag of results so far among these good prospects, but it's important to remember that the guys who are struggling, such as Ortiz and Brito, are just 19 and 20 years old respectively.
Jhailyn Ortiz: 57 AB - .158 BA, 1 HR, 5 RBI's, 5 BB's, 25 K's, .250 OBP
Daniel Brito: 57 AB - .175 BA, 1 HR, 5 RBI's, 5 BB's, 12 K's, .242 OBP
Cole Stobbe: 26 AB - .269 BA, 1 HR, 7 RBI's, 0 BB's, 8 K's, .269 OBP
Simon Muzziotti: 46 AB - .304 BA, 0 HR, 6 RBI's, 1 BB, 8 K's, .319 OBP
Nick Maton: 61 AB - .279 BA, 2 HR, 6 RBI's, 4 BB's, 17 K's, .318 OBP
Will Stewart: 2-0, 2.05 ERA, 22 IP, 5 ER, 1 BB's, 19 K's
Ramon Rosso: 1-0, 1.25 ERA, 21.2 IP, 3 ER, 7 BB's, 29 K's
---