Philadelphia Soul Dominate Brigade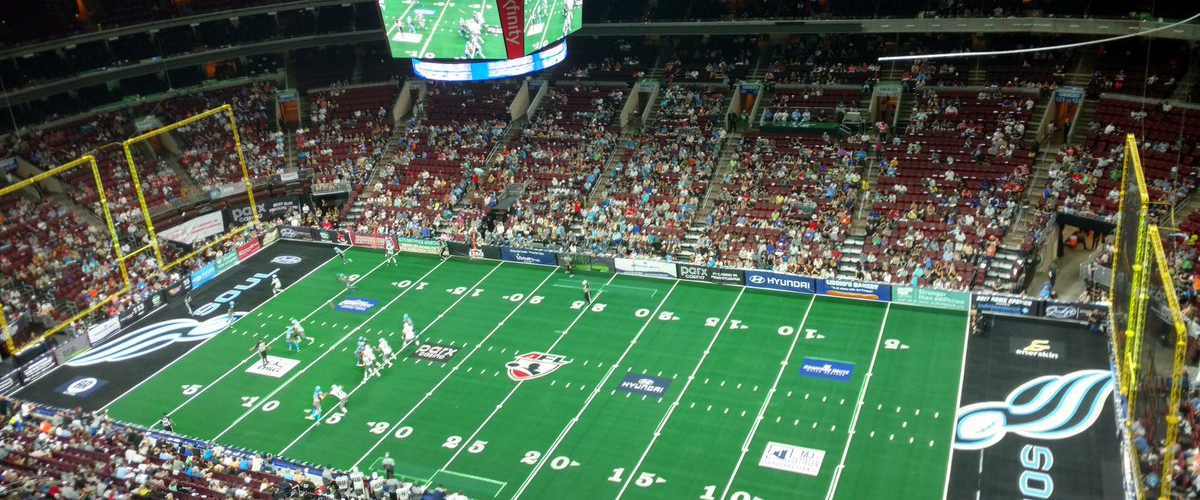 Philadelphia PA: The entire football world came to Philadelphia for the 2017 NFL Draft and on Saturday night they made a stop to the Wells Fargo Center in South Philadelphia as the Philadelphia Soul of Arena Football League held their Home Opener against the Baltimore Brigade. The Soul enter the game with 2-0 record and off a win over Washington on April 22 while Baltimore enters battle against the Soul with 1-1 record and off a win over Cleveland on April 16. Before the game, the Philadelphia Soul raised their 2016 Arena Football Championship banner to the rafters.
Soul wins toss and defers to 2nd half, Baltimore got ball to start the game and the game first points came from the Philadelphia Soul as Mykel Benson scored on 13 yard TD run for 7-0 lead and the Soul would start to pour it on the Brigade as they would lead 21-0 at the end of 1st QTR. Baltimore would make things interesting in the 2nd quarter as they would score 21 points to get back into the game as the Soul would lead 35-21.
Soul get ball to start the 2nd half and they would continue to take apart Baltimore as crowd of 11,833 saw the Philadelphia Soul start their home Schedule and remain undefeated with a 69-34 win. The Soul now go to 3-0 and play Cleveland next week while Baltimore falls to 1-2 and takes on Tampa Bay.
Final Stats:
Philadelphia Soul
QB Dan Raudabaugh: 17-28 for 207 yards, 5 TD
RB Mykel Benson: 7 rush attempts for 28 yards and 3 TD
WR Ryan McDaniel: 8 catches for 123 yards, 5 TD
Baltimore Brigade
QB Shane Carden: 21-32 for 258 yards, 5 TD and 2 INT, 2 rush attempts for 8 yards
WR Julian Talley: 7 catches for 123 yards, 2 TD
Video:
Philadelphia Soul Coach Clint Dolezel:
https://www.youtube.com/watch?v=E7QcLBrrcb0
Philadelphia Soul QB Dan Raudabaugh:
https://www.youtube.com/watch?v=Z48aW2ogelA
Philadelphia Soul WR Ryan McDaniel:
https://www.youtube.com/watch?v=qR-ZlQPm7gU
---