Looking At The Chicago Bulls
Everybody thought the Chicago Bulls would be unstoppable with the additions of Dwyane Wade and Rajon Rondo but now we return to reality. Bulls are nowhere where they want to be at the moment, sitting 7th in the East with a record of 14-14. Not to mention that the Bulls have lost five of their last eight games which disgusts me.
The Bulls traded Chicago native Derrick Rose in the offseason which many Bulls fans thought was wrong. Many Bulls fans were sure that it would be Jimmy Butler who would be traded but the Bulls sold D-Rose and kept Butler. Joakim Noah decided that the Bulls were treating him unfairly and left to go play for the Knicks alongside D-Rose. Noah knew that since the Bulls acquired Robin Lopez from the Knicks in the D-Rose trade that his days as a Bull were over. You can't blame Noah for leaving, can you?
Pau Gasol also decided to leave Chicago to go and play for the San Antonio Spurs, which was probably best for his career at this stage in his life. The Bulls seem to miss Gasol which is not a surprise.
Anyway the Bulls just lost to the Wizards 107-97 which really disappoints me. To start the season off, the Bulls went 3-0 winning their games against the Celtics, Pacers, and Nets. The Bulls though lost an important game against the Knicks, where they wanted to beat former players Rose and Noah. The Knicks dominated the first quarter and the last and won 117-104, where Noah scored 16 points along with 9 boards and D-Rose scored 15 points along with 11 assists.
Despite sitting with a 14-14 record at the moment, the Bulls did win against the Spurs and their central rivals, the Cavaliers. Those two wins honestly surprised me because the Spurs and Cavs have a better all-around team.
Bulls' guard Jimmy Butler is currently averaging 24.6 points, 4.3 assists, and 6.6 rebounds a game, which is impressive. Butler has played like a MVP last season and this season and is really working hard but Butler can't do it all. New Bull Dwayne Wade is averaging 19.3 points, 3.6 assists, and 4.2 rebounds a game and has already made 25 three-point shots which is more than last season's 7 in 74 games.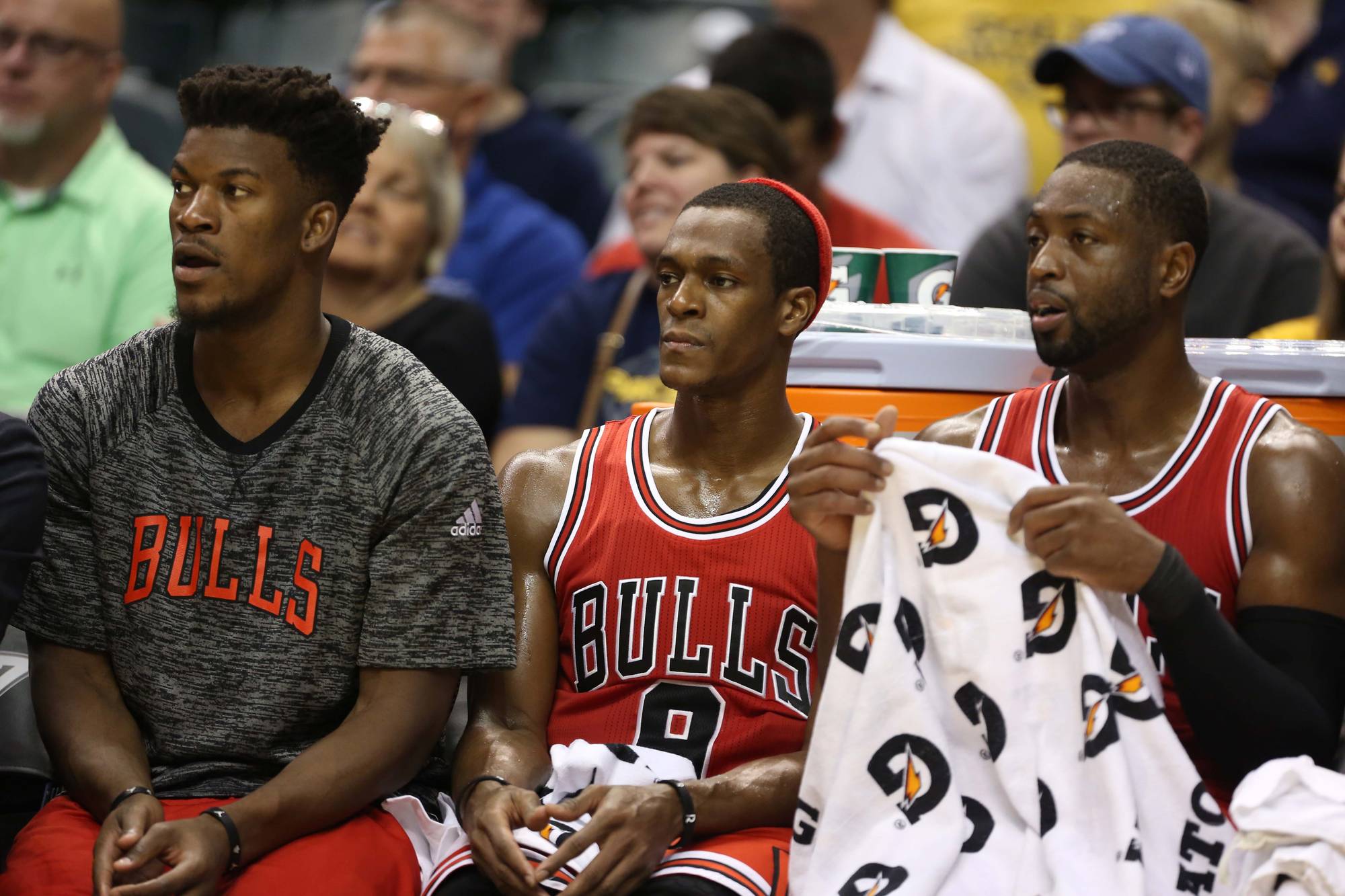 Brian Spurlock-USA TODAY Sports
Taj Gibson is playing with a lot of confidence as well. Knowing that he beat Nikola Mirotic for the job of starting power forward and that Gasol and Noah is gone, he knows that it is his time to shine. Gibson is averaging 12.3 points, 7.3 rebounds, and 1.1 blocks per game this season. Gibson brings a lot of energy on the court and deserves to start after all the work he has put in for the Bulls since his rookie season (2009-10). It is possible though that Gibson could find himself in trade rumors before long.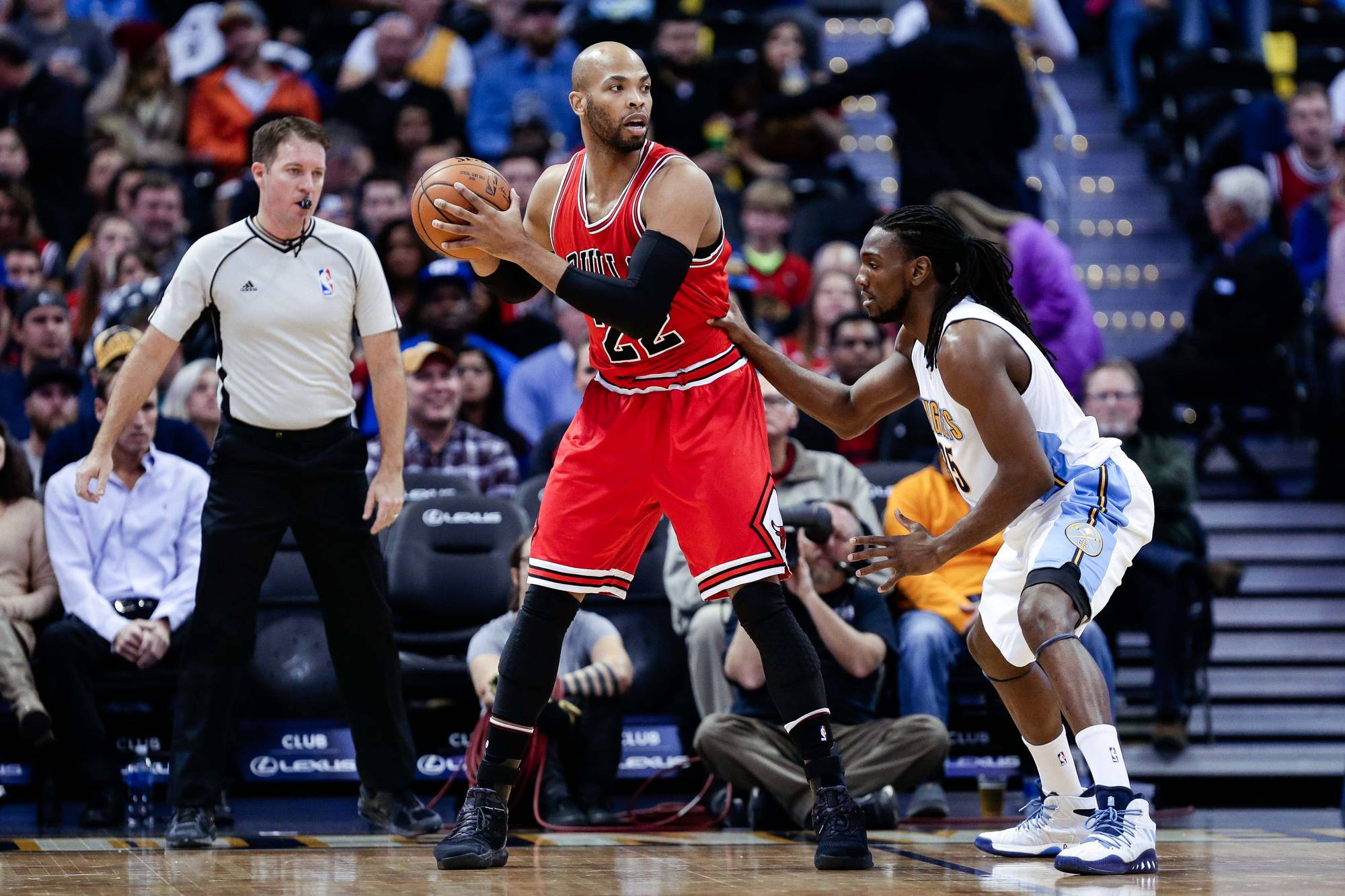 Isaiah J. Downing-USA TODAY Sports
Rajon Rondo and Robin Lopez have played decent enough for the Bulls but both could improve a little bit more. Rondo is averaging 8 points, 7 assists, and 6 rebounds per contest which is really good but I think the Bulls needs more points from Rondo. In his career Rondo averages 11 points a game but Rondo needs to score more for the Bulls for them to be better. As for the big man Lopez, he is currently averaging 9.8 points, 7.6 rebounds, and 2 rebounds per contest. Lopez's 2 blocks a game though has not been enough for the Bulls to stop other teams from scoring in high amounts. Lopez will also have to score more and pick up some more boards this season if the Bulls are going to make the playoffs.
Since the Bulls are only 14-14, we can't say they deserve to make the playoffs but I believe Coach Hoiberg will get his team to play better and make the playoffs. If the Bulls do not make the playoffs this season then the Bulls must fire Hoiberg.
Grade : B
---