Looking At The Minnesota Timberwolves
The Minnesota Timberwolves have great young talented players but their record does not show for it. The Wolves sit at a disappointing 9-19 record which is best for 13th in the West. New president and coach of the Wolves, Tom Thibodeau, is trying to get his Wolves to the playoffs this season but it just does not look like that's going to happen.
Wolves' big man Karl-Anthony Towns is averaging an impressive 22.3 points, 11 rebounds, and 1.4 blocks in 35.4 minutes of action so far this season. Towns is playing a MVP-like season so far and has shown Tom Thibodeau that he is capable of being the team's leader. Towns is currently in his second season of his pro basketball career and is already showing the league that he is an all-star MVP caliber player.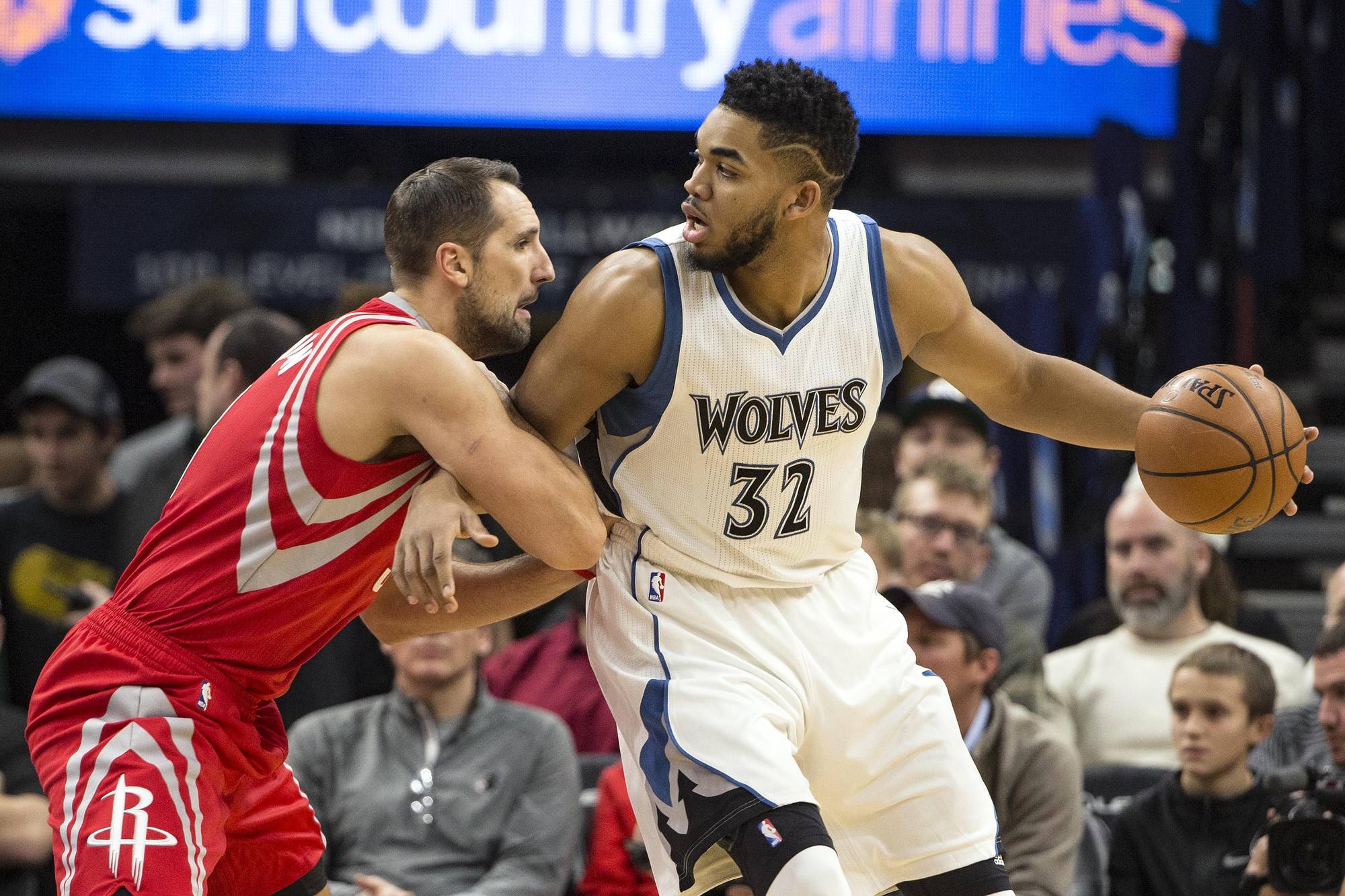 Jesse Johnson-USA TODAY Sports
Guards Ricky Rubio and Zach Lavine have played pretty good so far this season too. Rubio is only averaging 7 points and 7 assists in 31.5 minutes of action. Rubio is below his career averages of 10 points and 8 assists per game so far this season but probably will reach that before season is over. As for the young Lavine, he has played incredibly great too. Lavine is currently averaging 20 points, 3 assists, and 3 rebounds per contest so far this season. Lavine, like Towns, is having an all-star like season. Lavine is in his third season in his pro basketball career and has earned his place in the NBA at the age of 21 already. Lavine is a future all-star and possibly a future MVP.
You can't afford to forget Andrew Wiggins and Gorgui Dieng either. Wiggins is averaging 22 points per contest and Dieng is averaging 10.3 points along with 8 rebounds per contest so far this season. Wiggins has a lot of energy and has plenty of skill in a season where he looks like an all-star caliber player. Dieng has been stout too, playing a great 32 minutes per game where he is also averaging one block per game.
The Timberwolves have played actually really good this season though. The major problem is that they are either so close to winning or they end of blowing a huge lead. The first game that comes to mind is their game against the Kings on Saturday, October 29th where they blew an eighteen point lead losing 106-103. Another game they couldn't close was their game with the Rockets on Saturday, December 17th where they blew a seventeen point lead, not to mention blowing a nine point lead with one minute left in the game. The Rockets are currently 21-8 (4th in West), so you know the Wolves has something for these teams but must learn how to finish their games first.
Despite the losing season for the Wolves, they have beat a couple of teams in the East that are playoff material. Number one on the list has to be the Chicago Bulls obviously because Coach Thibs got his payback against his former team. The Wolves were actually down twenty-one points at one point but came back to win 99-94. The Wolves also beat the 14-15 Atlanta Hawks tonight (December 21st) putting them under the .500 mark. Despite being under .500 the Hawks rank 8th best in the East, meaning they are locked in the playoffs at the moment. The Wolves only won by eight points over the Hawks (92-84) but they will take any win they can get. It was a great defensive win for the Wolves and Coach Thibs.
Dale Zanine-USA TODAY Sports
I don't see this Wolves' team making the playoffs this season but I do see them making it next season. The Wolves is a team full of young players and Thibs knows that. Once this team gets more experience together then they will start to function correctly. I think this is a rebuilding season for the Wolves so they are ready for next season. Honestly, I would love to see the Wolves compete in the playoffs this season because I have much respect for Coach Thibs but it seems highly unlikely at the moment. We will just have to wait and see what Coach Thibs and the Wolves has under their sleeves.
Team Grade : C
---