No Additions, No Worries
Coming into the season, a lot of attention surrounding the Dodgers came primarily from their pitching staff acquisitions of Kenta Maeda and and Scott Kazmir. After failing to get out of the first round of the playoffs last year, many thought that the Dodgers would go after hitters as the offense failed to give support to Zack Greinke in a playoff elimination game versus the Mets. While the Dodgers may not have decided to spend on a big name free agent, management has decided to cultivate the talent that is already on the roster by giving opportunities for their young players to grow in their ideal positions. On paper it may appear that the Dodgers didn't get better, however, the opportunity available for the four players I outline below, should be more than enough talent for the Dodgers to compete for the top spot in the N.L. West.
Corey Seager - SS #5
Mark J. Rebilas-USA TODAY Sports
There was a lot of anticipation last season as the Dodgers brought up their top prospect Corey Seager. Seager did not disappoint as he hit a double in his first plate appearance in the majors and finished with a .337 batting average. The Dodgers were able to ease him into the lineup his rookie year as Jimmy Rollins assumed the starting role providing valuable leadership of how to prepare mentally and physically in a demanding 162 game season. With Rollins no longer on the team, Seager has assumed the starting position at shortstop where he should be able to build on his rookie campaign. At age 22, Seager has the talent to become a perennial all-star as he has shown the ability on both the defensive and offensive side. Expect Seager to thrive and continue to improve as he gets his first full season at shortstop under his belt.

Yasiel Puig - RF #66
The jury was out on Yasiel Puig last year as speculation of trades persisted throughout the season given his inconsistent performance. Plagued by hamstring injuries throughout the entire year, Puig lacked the focus and discipline needed to be a consistent player in the majors. Often portrayed as a distraction in the locker room, Dodger management had to battle the temptation to trade their young talent. Their patience may have paid off as Puig came into camp focused, in shape and ready to make a fresh start with new Dodger's manager Dave Roberts. While his batting average is not where it needs to be to start the season, what I have been able to witness is the difference in the hustle plays from Puig. He's already made some defensive gems and leads the teams in steals. While it's too early to tell if Puig can keep up this focus for the rest of the season, it's good to see him dialed in from a defensive and mental standpoint.
Justin Turner - 3B #10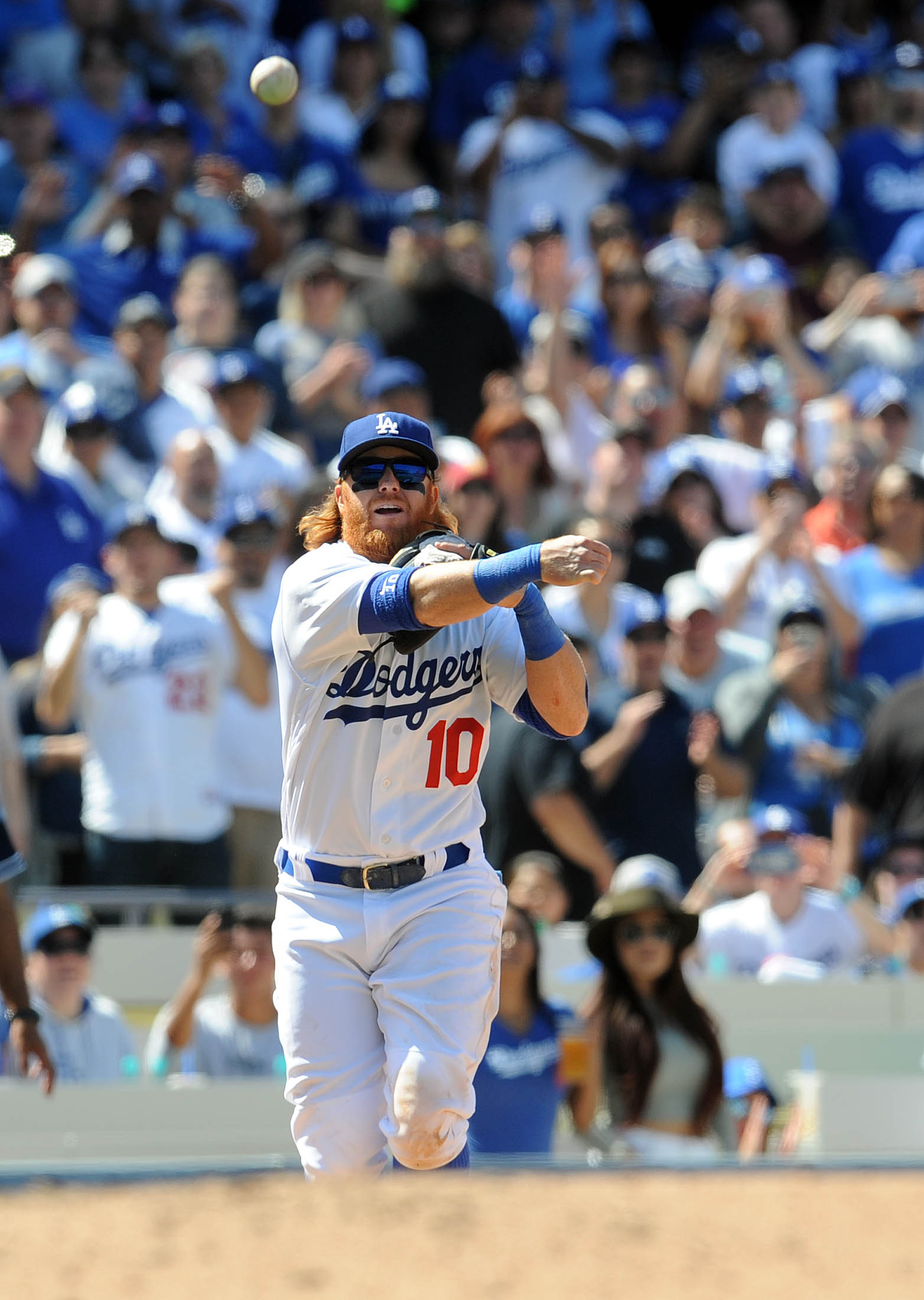 Gary A. Vasquez-USA TODAY Sports
There was some concern heading into the spring of how Justin Turner would recover from offseason microfracture surgery in his right knee, however he suffered no setbacks and started the season at third base. Believe it or not, Turner in his career has never devoted himself to one position defensively, often used as a utility player, playing multiple positions since he first entered the league in 2009. For the first time in his career, Turner will be able to dedicate his energies to perfecting the third base position. Justin Turner finished 2015 with his second highest batting average of his career at .294 and the most plate appearances. Proven to be one of the most consistent players on the team, Turner was able to come up big in the postseason last year batting .550 in 19 at bats and driving home 4 RBIs. As Turner is able to get a better feel for the third base position and play a full season at one position, look for opposing hitters to have a tough time hitting the ball out of the infield behind Turner, Seager, Utley/Kendrick and Gonzalez.

Joc Pederson - CF #31
Joc Pederson started his sophomore season hot in 2015 with 20 home runs before the all-star break, however he dwindled in the second half to a batting average at .210. While Pederson got the job done defensively with a .986 fielding percentage and only 4 errors on the season in center, he was an offensive liability. It got so bad that rumors emerged that he might be sent down to the minor leagues during his second half slide. The Dodgers didn't give up on Pederson and tried to give him the opportunity to turn it around on the field. Heading into 2016, questions loomed about whether or not Pederson could regain his confidence and put up numbers that resulted in his first all-star appearance last July. So far he has been able to improve his average to .266 while tied for the team lead in homeruns. One growing concern for Joc is his high volume of strikeouts. With already 23 on the season, he is on track to reach his 170 strikeout results from last season which was 63 more strikeouts than the next player on the team. Going into his third year and second complete season in center field, Pederson has the opportunity to improve upon his offensive game to focus less on driving the ball out of the park and become more effective at putting the ball in play in situational opportunities.

Conclusion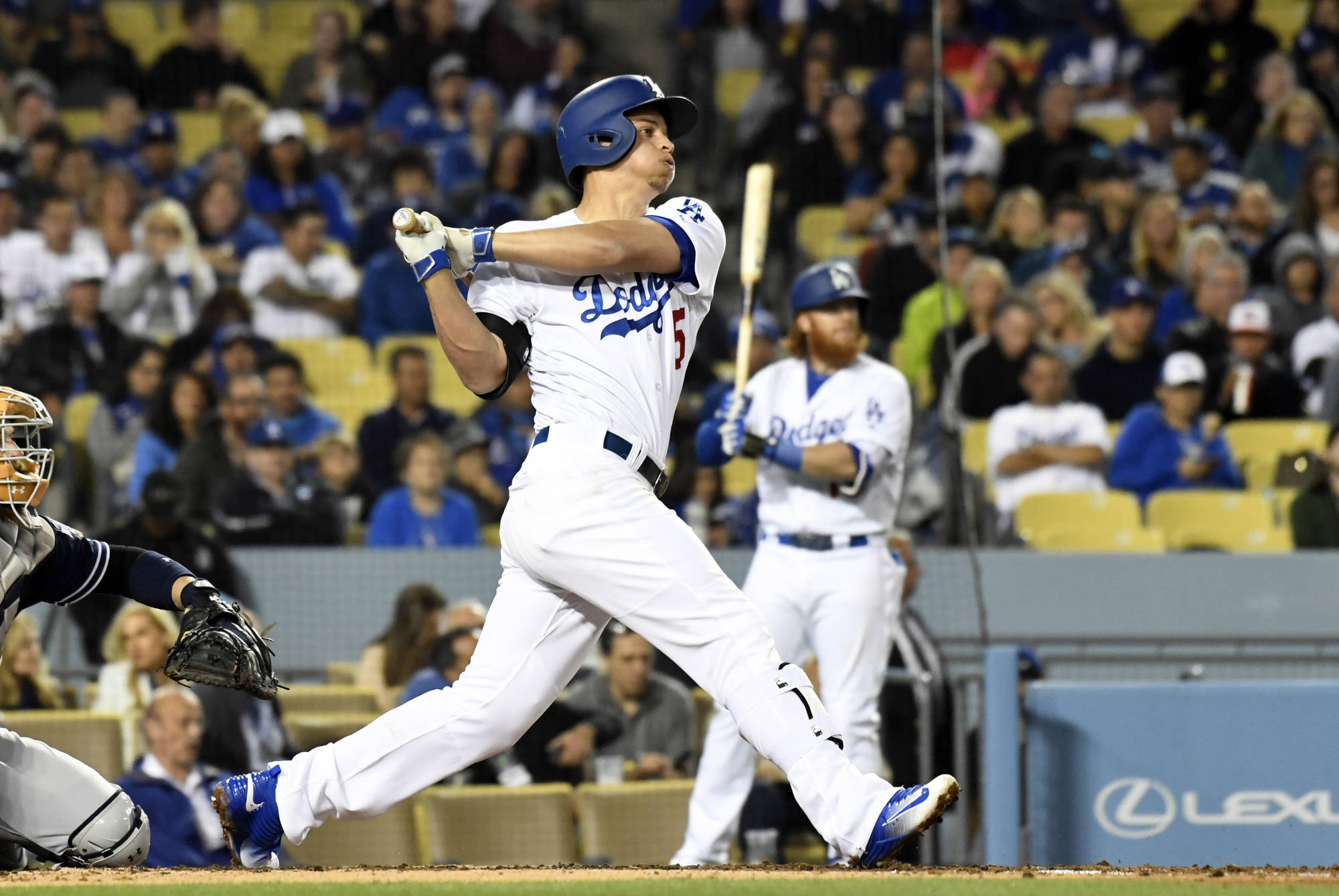 Richard Mackson-USA TODAY Sports
The Dodgers entered the season with low expectations as few major additions were made to a ball club that couldn't make it out of the first round of the playoffs last season. Looking more in depth however, the Dodgers will benefit from more positional familiarity for Seager and Turner and renewed confidence in Pederson and Puig as the Dodgers have given them the reigns at their respective positions. The Dodgers may be in a mini slump right now, however over a 162 game season, these things are bound to happen. As the Dodgers continue to get healthy with returns from key starting pitchers, look for Seager, Puig, Turner and Pederson to find their groove and lead the Dodgers to the postseason.  

---