Patriots Loss to Seahawks Was Their Best Loss in 20 Years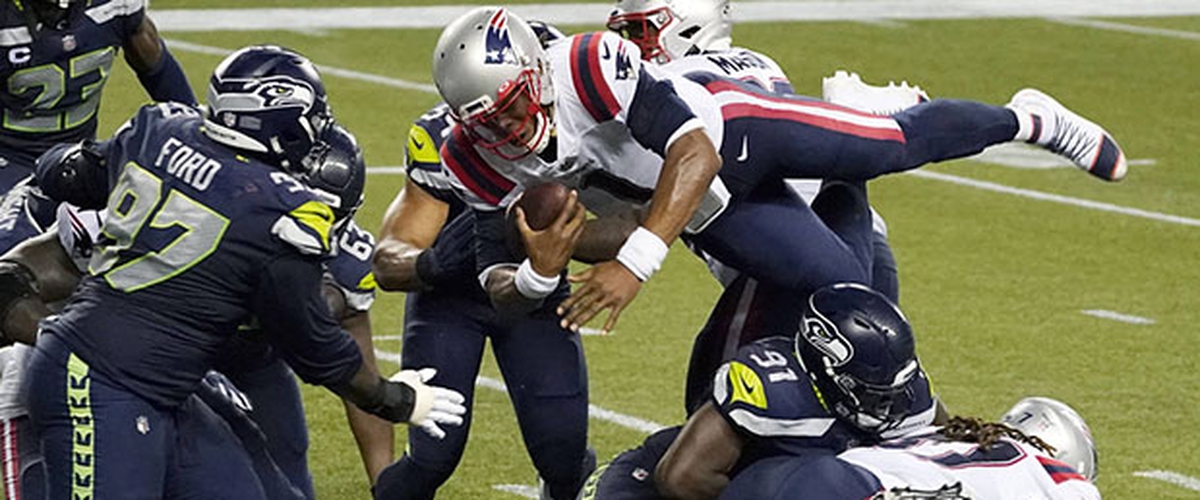 Very rarely over the past two decades have the New England Patriots been able to lay claim to a morale victory.
Under Brady and Belichick the team won six Super Bowls and nine conference championships meaning that pretty much every time they took the field the expectation was they left with a win no matter how tough the opponent was.
However, last night the Patriots found themselves in the unfamiliar position of expecting to lose, facing a team many consider to be a Super Bowl favorite, on the road (albeit with no fans in the stands).
It may not be an identical comparison but last night's game had shades of their 2001 Week 10 loss to the "Greatest Show on Turf" the St. Louis Rams where they only lost by a touchdown. That team would later meet the Rams in the Super Bowl and, well- you know what happened.
Despite the new inexperienced personnel and a new quarterback under center the Patriots were able to dig deep and give the Seahawks a game that came down to the final play. A reassuring development that showed that even though the Patriots don't have Brady under center and are missing a bunch of veterans from last year and their three Super Bowl titles over the last decade, they're still able to keep this identity of a team that's never quite out of it.
What was most impressive about last night's game was how the offense responded after the two instances where Russell Wilson (who was playing out of his mind all game) and the Seahawks made it a two possession game.
The Seahawks made it a 28-17 game with 2 minutes to go in the 3rd quarter. Wilson at this point was carving up the Patriots defense having thrown four touchdowns, it would've been easy for Cam Newton and the Patriots offense, who had only accounted for 10 points at that point, to waive the white flag and roll over.
The Patriots then drove down the field in 2 minutes 46 seconds capping it off with a Newton passing touchdown to fullback Jakob Johnson on what was a nice play design by offensive coordinator Josh McDaniels.
The Seahawks again made it a two possession game, this time with less than five minutes to go in the game,
This time, Newton and the Patriots drove down the field in 2 minutes 16 seconds including a clutch 33 yard pass play to Julian Edelman (set a career high in receiving yards with 179) that set up a 1 yard touchdown run for Newton that made it 35-30 which would end up being the final score.
The fact the Patriots were able to put themselves in position to win the game at the last second is a testament to the coaching, the identity and even Cam Newton who amassed for 397 passing yards in the game with 312 yards in the second half alone.
Did they catch some breaks? Sure.
It definitely helped that they were able to get out to a fast start when a pass from Wilson that hit Greg Olsen (who looked like he was just there to collect a game check) in the hands was picked off and taken to the house.
Also Seahawks coach Pete Caroll still can't figure out when he should run it in short yardage situations as his decision to throw on 3rd and 1 on Seattle's possession saved the Patriots a timeout with a little less than 2 minutes to go.
If there's any negatives to take from last nights game, it starts with the defense that was getting completely picked apart by Wilson which is not necessarily something to be ashamed of against a guy that clearly looks like the front runner for MVP through the seasons first two weeks.
Wilson threw five touchdowns to five different receivers, some of which were just ridiculous passes, particularly his one to DK Metcalf over reigning defensive player of the year Stephon Gilmore.
Also the Patriots running backs had a poor showing where they only amassed 20 yards on 14 carries between Sony Michel, Rex Burkhead, and rookie JJ Taylor.
The running back group was unexpectedly shorthanded as James White was a shocking inactive for the Patriots after the tragic news that his parents were involved in a car accident in Miami, killing his father and leaving his mother in critical condition.
They seemed to miss him at points as the offense struggled to get any major yardage on screens as they were throwing to an unprepared Burkhead and N'Keal Harry who, despite having a good game, doesn't seem to be working out when called upon in screen plays.
If the Patriots offense is too be more prepared for a shootout in the future they will need to bring in another receiver that is capable of getting separation down the field.
The surprising connection between Newton and Edelman has been a joy to watch but to rely on a 34 year old receiver, who took a beating last night despite his performance, to consistently beat defensive backs is asking a bit much. We'll have to see if the Patriots decide to invest more draft capital in a receiver before the deadline, something they've had very little success in recent history doing so.
Usually I'm not one to hand out morale victories, but last nights gutsy performance by the Patriots was certainly worthy of it and they should be a tough team for anyone to beat going forward. We'll see if it was just one good night when they take on the Chiefs at Arrowhead in two weeks.
---