The Bruins Were No Team Of Destiny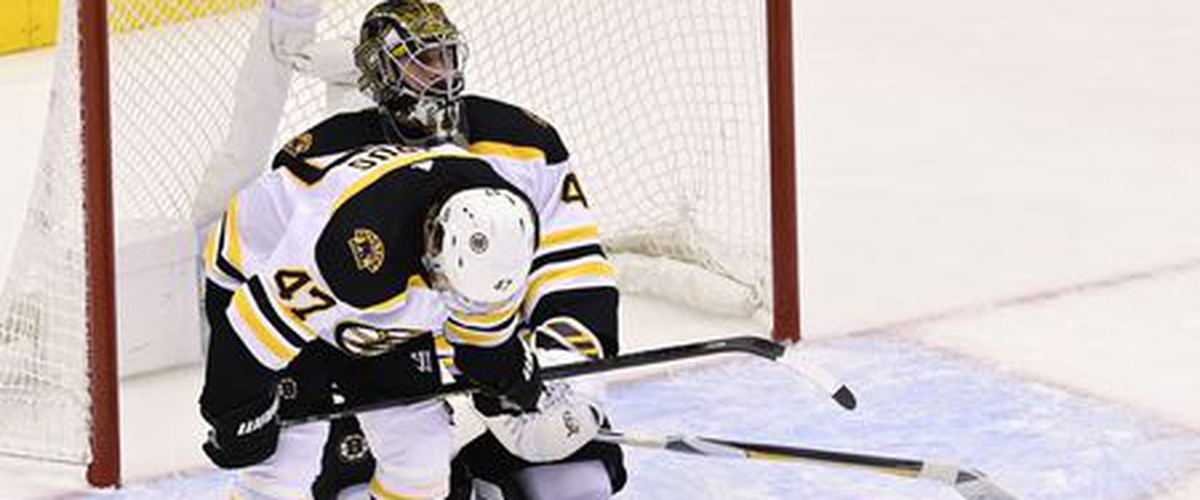 Another year, another disappointing finish for the Boston Bruins.
With their 3-2 double overtime loss to the Tampa Bay Lightning on Monday night the Bruins are leaving the NHL bubble with a familiar sour taste in their mouth.
Sure, there is no shame in losing to the stacked Lightning team that is well built top to the bottom with a tremendous combination of size, skill and speed, especially when being forced to play with a backup goalie.
But it is the way in which the Bruins lost that makes their exit so disheartening.
This should've been a much closer series.
These two teams met two years ago in the same round of the playoffs and it netted the same results, Lightning win 4-1.
However, the Bruins were in a little bit of a transition that series in 2018. They had completed their first full season under Bruce Cassidy, young players Charlie McAvoy and David Pastrnak were just getting their feet wet in the playoffs and after a first round series win over Toronto everything else felt like gravy.
This year? The Bruins were coming off a run to the Stanley Cup finals and pretty much lead the league standing from wire to wire. The gap should've closed.
Instead, the two teams seemed further apart and this is when Tampa Bay was playing without Steven Stamkos the entire series and Ryan McDonagh for a majority of it.
Yes, the Bruins were let down by the play of their goalie Jaroslav Halak who had numerous goals that he'd like back.
But they seemed to wilt when challenged and were unable too out work Tampa at many moments throughout the series.
Which is really becoming a constant now under Bruce Cassidy. They're able to beat up and toy with teams that aren't as physical or skilled as them, much like you saw in their first round series against Carolina. But whenever they face a team that might be equal or a little bigger physically or equal but slightly more skilled they always seem to fold.
It happened last year in the Stanley Cup Final against the Blues and it happened again against the Lightning.
And maybe they just aren't that good.
Patrice Bergeron is now 35 years old and if you look at the status of the guys in his draft class it's a miracle he's gone this long with very little drop off. However, it may be time to reconsider his position as the team's number one center. For the second year in a row the Bruins lost to a team that seemed to have a faster, healthier and younger version of Bergeron (Ryan O'Reilly and Brayden Point). It's hard to ask a 35-year veteran who's been playing in the NHL since 2003 and battled countless injuries to carry the team on his back.
Another point of weakness on the team, which has been for years, has been the lack of a competent second line. No disrespect to David Krejci, who seemed to play too with a fire in the postseason that hasn't been seen since 2013. Unfortunately he was surrounded by Jake DeBrusk and Ondrej Kase who couldn't finish all postseason. This is especially frustrating considering Kase was one of the Bruins key deadline acquisitions. It's easy to see now why the Ducks, who traded Kase to the Bruins in exchange for David Backes, Axel Anderson, and a 1st round pick, would move a 24-year old winner that seemingly had upside.
Let's not even get started on the Bruins other deadline acquisition, Nick Ritchie, who somehow managed hurt the Bruins with every shift he took.
Lastly, it's ok the Bruins are no longer the "big bad Bruins" of yesteryear, but can someone clear the front of the net? All series Tampa scored goals on shots from the point that seemed to either get through or get deflected. Yes, the Bruins a little undersized on the back-end with Torey Krug, Matt Grzelcyk, and Connor Clifton. But the Bruins young cornerstone defensemen, Charlie McAvoy and Brandon Carlo have got to get better at the physical game, they both carry more than enough weight to play that style and its going to important for both moving forward that they adapt that style. Perhaps it wouldn't be such a bad idea to replace the aging Zdeno Chara with unrestricted free agent Alex Pietrangelo (if the cost isn't too high on the open market) for the veteran, physical leadership the defense needs.
Given the Bruins history and glaring holes, it's not hard to see why they came up short.
---