UFC on ESPN+ 36 Recap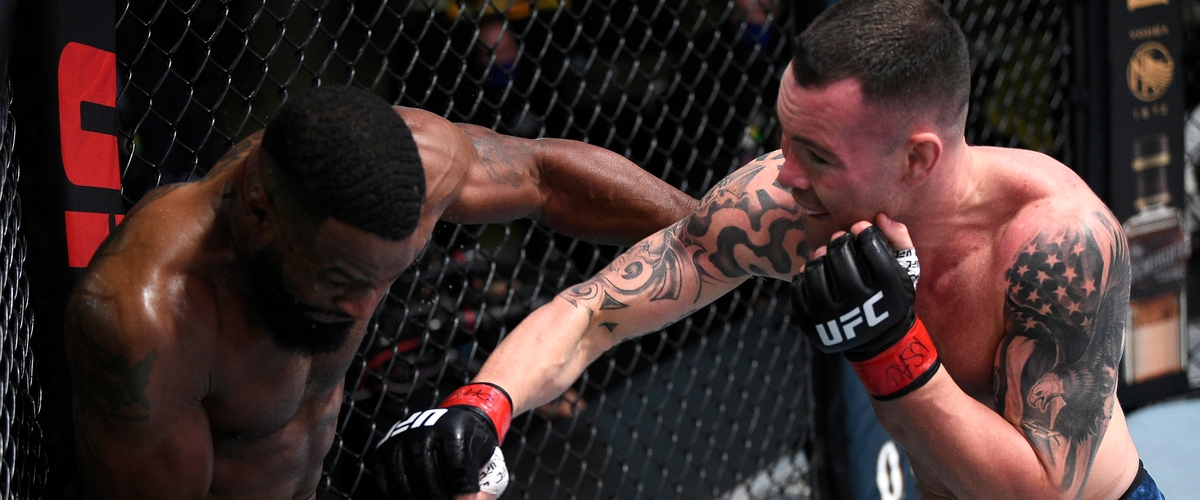 The long awaited, much talked about and highly anticipated grudge match between former UFC Welterweight champion Tyron Woodley and former interim Welterweight champion Colby Covington finally happened last night at the UFC Apex center.
Covington was able to back up his trash talk leading into the fight by dominating the former champion all four rounds before a rib injury to Woodley in the 5th stopped the fight long after Covington had made his point.
The bout was two years in the making dating back to Woodley's title reign, but last night further cemented Woodley's fall from grace in what might be (and probably should be) his final fight.
You'd be hard pressed to find a bigger drop from the top in the promotions history as just two years ago this month he had defended his welterweight title in dominant fashion against an up and coming Darren Till at UFC 228.
Since then Woodley has fought three times and has failed to mount any substantial offense in all fifteen rounds he's fought starting with his title loss to current champ Kamaru Usman.
Woodley has been outstruck by a margin of 302 to 96 in his last three bouts against the aforementioned Unman, and Covington with a fight against current number one contender Gilbert Burns in the middle. A truly remarkable stat considering he had only been oust ruck twice in his previous eleven fights in the UFC.
For Covington, the brash, loud-mouthed, MAGA hat wearing contender reaffirmed his status in the welterweight division after suffering a loss to the champ Unman back in December in a back-and-forth affair.
Only problem for Covington seems to be he's stuck in a little bit of limbo in the division.
Kamaru Usman will be fighting Gilbert Burns in December so waiting for a title shot might see Covington on the shelf til May or June of 2021. However, a potential grudge match with former friend and teammate Jorge Masvidal could be another option, but the BMF champion is reportedly in negotiations to rematch rival Nate Diaz.
Some chatter on the internet last night centered around a potential bout with Leon Edwards but that sounds like an unfair fight for both parties as Edwards hasn't fought since July of last year and that was against Raphael dos Anjos who's moved back down to 155lbs.
Where the promotion goes with Covington will be one of the more interesting headlines of the end of 2020.
In the cards co-main event, long-time UFC veteran and fan-favorite Donald "Cowboy" Cerrone met perhaps a younger version of himself in up and comer Niko Price.
Leading into the fight, yours truly was shocked to see the odds favoring the younger Price as he just seemed to be a step down in competition for Cerrone. However, even though the fight was deemed a draw due to two eye pokes by Price in the first round, it's clear the oddsmakers had it right as Price put on an impressive pace throughout fight and only seemed to start to fade in the final 90 seconds or so.
Dana White said before the bout that Cerrone should considering retiring if he lost and even though it's not an official loss this writer seems to agree.
The veteran looked old for perhaps the first time in his career, struggling to keep up with Price's pace and unable to land multiple strike combinations, a far cry from his former self.
Elsewhere on the card saw the UFC hottest rising star Khamzat Chimaev continue his rise as he finished veteran Gerald Meerschaert in just 17 seconds.
Chimaev became the fastest to 3-0 in the UFC in modern history, winning his first three fights in the UFC in the span of just 66 days. More impressively Chimaev now has more UFC wins (3) than strikes absorbed (1) in his UFC career as he pitched a shutout in the striking category for the second consecutive fight.
A lot was made before the fight about the UFC's decision to begin planning a fight with Demian Maia as the promotion returns to Abu Dhabi for a stretch of events over the next month, but Chimaev showed with just one punch that he's ready for the top-15 in either the 170lb or 185lb divisions.
Oddsmakers in Vegas have already listed Chimaev as a -400 favorite over Maia, which if that came out before Saturdays stunning KO I'd have thought it was disrespectful but now it seems about right. However, I will maintain if you think Chimaev is gonna out grapple Maia you're crazy.
Another noteworthy result, was Mackenzie Dern's submission win over Randa Markos in a gorgeous display of elite grappling. With the loss, Markos is now on the first consecutive string of results (win or loss) for the first time in 16 fights which is one of the most bizarre facts you'll hear.
The promotion will now head back to Abu Dhabi as the reincarnate "Fight Island" for the second time this year starting with UFC 253 next Saturday.
---