What Can We Expect from Aaron Jones in 2020?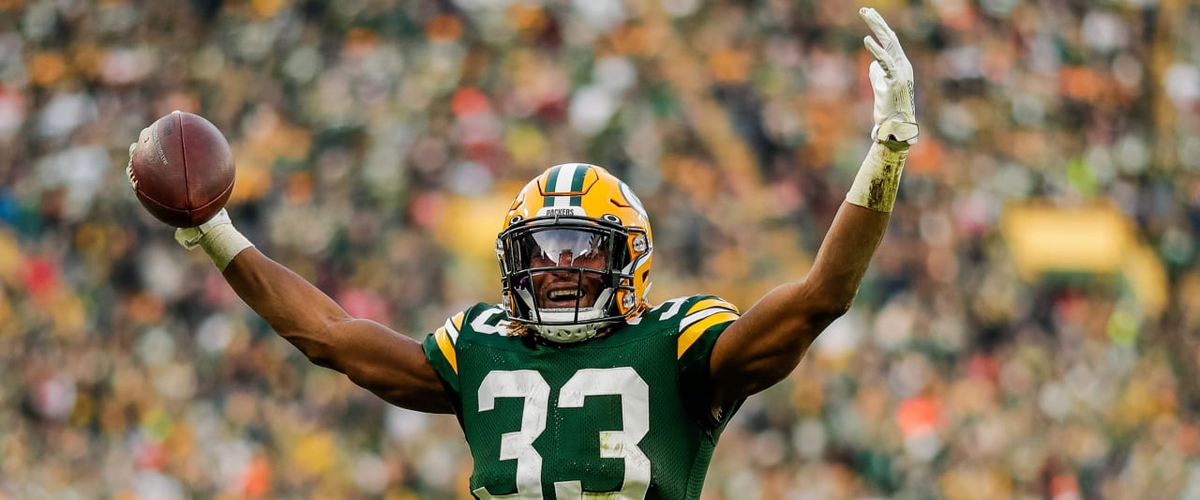 Packers running back Aaron Jones was one of the NFL's breakout stars in 2019, tallying over 1,500 all-purpose yards and tying for the NFL lead in touchdowns during the regular season with Carolina Panthers running back Christian McCaffrey with 19 total touchdowns. Jones would later add 4 more total touchdowns to his season total during the playoffs.
Jones was a guest on the NFL Network's Inside Training Camp Live with Pro Football Hall of Famer, Kurt Warner, and NFL Network analyst, Brian Baldinger where he was asked about how he can build on his stellar 2019 season in his second year in coach Matt LaFleur and offensive coordinator Nathaniel Hackett's offense. Jones answered by saying, "I feel like I still haven't reached my potential yet. Coach LaFleur's offense gives me the chance to maximize my skill set to the best of its ability" which is a scary statement for the rest of the league given his production last season.
Jones was also asked about the role that Packers second-round pick from Boston College; AJ Dillon could play in the offense. "I feel like with him on the field, it definitely helps us… We've had sets where we do have two backs on the field, that was evident last year. Us backs love being on the field with each other together, you never know who's getting the ball. It's part of being a decoy as well, it keeps the defense guessing". Jones also referenced being on the field at the same time as Jamaal Williams last season, who had 6 touchdowns of his own in 2019. The Packers also have running back and return man, Tyler Ervin who can function in both the run and passing games, as well as 2019 sixth-round pick from Notre Dame, Dexter Williams to potentially bolster their running back room and provide Coach LaFleur with even more unique looks and schemes this season.
With Aaron Jones as the feature back paired with Jamaal Williams, Dillon, Ervin, and possibly Dexter Williams, Matt Lafleur will have the potential to confuse opponent's defenses and keep them on their toes in 2020 with many different looks on offense. Not to mention, the quarterback in Green Bay is pretty good himself with multiple weapons on offense as well as a talented defense who is ready to make some noise in 2020. Packer fans should be very excited to watch their team build on their 2019 13-3 regular-season record and NFC Championship appearance this season.
---