"The Stack" 10-28-19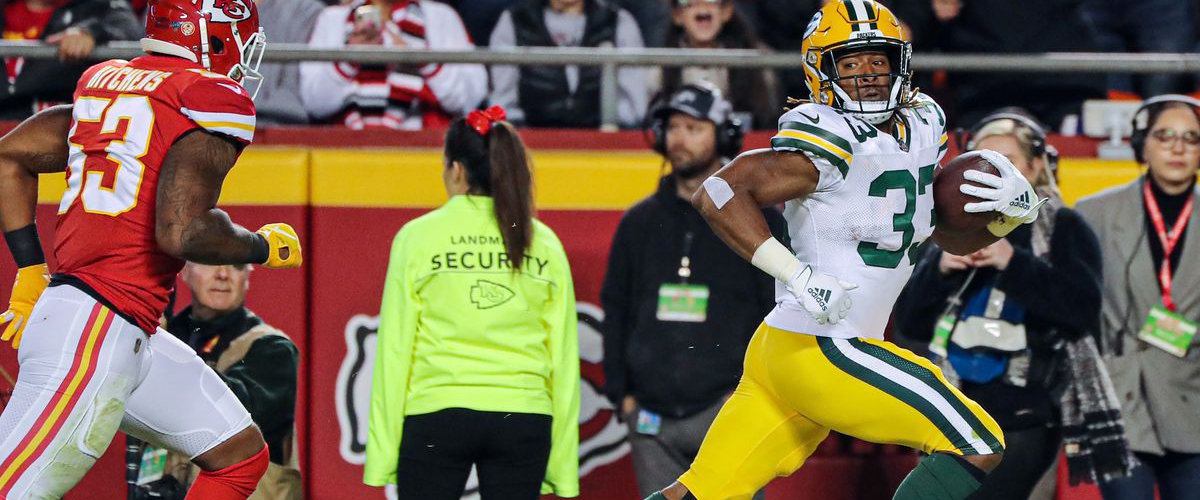 Green Bay Packers running back Aaron Jones had over 150 yards receiving and two touchdowns as the Packers hung on to beat the Mahomesless Kansas City Chiefs 31-24.
The Stack is back on this Monday and we had some fun football games yesterday, especially last night's game between Green Bay and Kansas City. Poor Chiefs. We have reaction to all of Sunday's games plus a pick for tonight's awful MNF game so let's get right to "the stack" for today, Monday, October 27th:
Broncos 13 Colts 15
This was not a pretty game for the Indianapolis Colts. They did not play good. Kicker Adam Vinatieri missed a field goal and an extra point. Trailing 13-12 late, quarterback Jacoby Brissett escaped a potential sack by Von Miller and found T.Y. Hilton for a big first down. Later in the drive, Vinatieri booted a 51-yard field goal through for the win. The Colts somehow, won this game.
Buccaneers 23 Titans 27
Tennessee got awfully lucky in this game after the terrible decision to run a fake field goal up 27-23 in the fourth quarter. A field goal would have put them up by a touchdown. Instead the punter, Kern I believe, ran and got clocked. He fumbled it, but the refs ruled him down by contact so no fumble recovery for the Bucs. They blew the whistle too soon. The Bucs should have had a touchdown. Instead, once again we have a play that changed the outcome of the game. When can we solve the officiating crisis?
Cardinals 9 Saints 31
Welcome back, Drew Brees. The Saints quarterback threw for over 300 yards and three touchdowns as the Saints pulled away from Kyler Murray and the Cardinals. It was close for a while, but eventually Latavius Murray and Brees were just too much. Brees in his first game back after his thumb injury in week 2 was very, very good. Watch out rest of the NFL.
Bengals 10 Rams 24
Give Cincinnati some credit. They played the Rams pretty tough in London, but they did an absolutely terrible at stopping Rams wide receiver Cooper Kupp. Kupp had 220 yards receiving and one touchdown as he destroyed the Bengals already ravaged secondary time and time again during the game. Have the Rams turned the corner yet? Perhaps. The competition gets tougher coming up.
Jets 15 Jaguars 29
Jacksonville Jaguars quarterback Gardner Minshew II was pretty spectacular in this one. He threw three touchdowns and helped lead the Jaguars on a balanced attack offensively in route to the win over the hapless Jets. New York played better than they did last week, but it still wasn't enough to beat the Jags.
Giants 26 Lions 31
Detroit Lions quarterback Matthew Stafford was very good in this one throwing for three touchdowns. The Lions defense scored a touchdown as well and forced a couple of other fumbles against Giants quarterback Daniel Jones, but Jones threw it pretty well overall. The Giants had a chance to get an onside kick, but just couldn't quite get it and they fell short. The Lions three game losing streak is over.
Chargers 17 Bears 16
The Chicago Bears offense is a sinking ship. They were awful in this one. Trubisky once again sucked failing to do much of anything all game long. The Bears though had a chance to win it at the end, but head coach Matt Nagy curiously had Trubisky take a knee rather than a run play with David Montgomery that could have perhaps gained a few more yards for the field goal. As a result, Eddie Pineiro's field goal missed just left and the Chargers actually won a game that it seemed like for all intents and purposes they were destined to lose.
Eagles 31 Bills 13
The Philadelphia Eagles finally figured out that maybe they need to run the football a little more to have some success. Jordan Howard and Miles Sanders each had a rushing touchdown and the Eagles put several good drives together in the second half to pull away from Buffalo. With high winds throughout the game, it was a little surprising to see the two teams pass as much as they did, but in the end the Eagles outdueled the Bills for a big win for their season.
Seahawks 27 Falcons 20
This game looked like it was going to be a runaway blowout win for the Seattle Seahawks. They were up 24-0, but quarterback Matt Schaub, playing for an injured Matt Ryan who was inactive for the game, did a great job of getting the Falcons back in the game and never giving up, but it was too late. We'll see if head coach Dan Quinn can survive the bye week for the 1-7 Falcons.
Panthers 13 49ers 51
Wow! That was a beatdown of epic proportions. The 49ers jumped out to an early lead and never looked back. Newly acquired wide receiver Emmanuel Sanders caught the first touchdown and then it was the Tevin Coleman show. The running back had, what four touchdowns (three rushing and one receiving) in this game?! Incredible. San Francisco is absolutely rolling and if you didn't buy into them before this game, it's time. This team is for real.
Browns 13 Patriots 27
Once again, the Cleveland Browns did it to themselves with turnovers and pre-snap penalties. They are not a well-disciplined team and head coach Freddie Kitchens can't get it changed. The first quarter doomed the Browns with three turnovers on three consecutive plays. Two Nick Chubb fumbles and one of the worst shovel passes that got intercepted you will ever see. They played well after that, but down 17-0 on the road to New England, they weren't coming back from that.
Raiders 24 Texans 27
Michael Jordan made an appearance at this game. No, not the read Michael Jordan, but Deshaun Watson, who was deemed by his college football head coach, Dabo Swinney, that if you passed on him, you were passing on Jordan. After Watson willed his team to victory amidst injuries and getting kicked in the face on the game-winning touchdown pass (if you haven't seen the play you need to), Raiders head coach Jon Gruden agreed. Watson is like Jordan. What a win for Houston. It came with a price though as defensive end J.J. Watt was lost for the year with a pec injury. That's tough for Houston.
Packers 31 Chiefs 24
What a great game this was. The Packers looked like they were going to blowout the Chiefs after jumping out to a 14-0 lead, but the Chiefs rallied in the second quarter with 17 points to take a 17-14 halftime lead. The Chiefs were blitzing and getting to Aaron Rodgers. In the second half, the Packers adjusted slightly and the Chiefs blitzes weren't as effective. Rodgers and running back Aaron Jones were in synch as Jones finished with seven catches and over 150 yards receiving. Every time the Chiefs put a linebacker on him, Jones and the Packers took advantage of it. If Patrick Mahomes had played, things likely would have been different. Unfortunately though, the Packers were just too much.
0-6Miami Dolphins @ 2-4 Pittsburgh Steelers 8:20 PM ET ESPN MNF
The Dolphins have played better the last couple of weeks, but they are still the tanking Dolphins this year for a reason. Pittsburgh hasn't been great either, but they're better than the Dolphins and they will win this one. Hopefully it doesn't rain and the field becomes a sloppy track like the last MNF game these teams played back in 2007.
Prediction: Steelers 27 Dolphins 10
Coming up Tuesday: MNF recap, World Series update & college football weekend reaction
---