The #1 Buckeyes Defend Homeland Against #4 Hawkeyes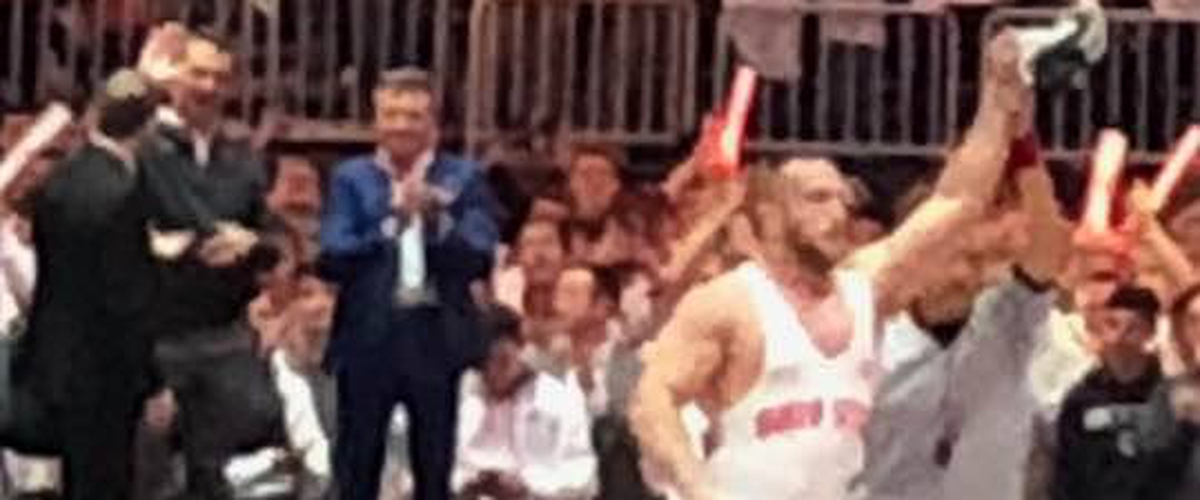 The Ohio State University Wrestling Buckeyes hosted over 15,000 fans at the Schottenstein Center on Sunday, breaking it into the Top 5 dual meet attendance list. The match featured 6 bouts with ranked opponents facing off, along with Honorary Coach for the evening, OSU Head Football Coach, Urban Meyer sitting along side the coaching staff.
The Buckeyes proved to be the true attackers on the afternoon outscoring the known aggressors Iowa by 14 takedowns, additionally 10 points of near fall points throughout the whole bout opposed to the Hawkeyes zero!?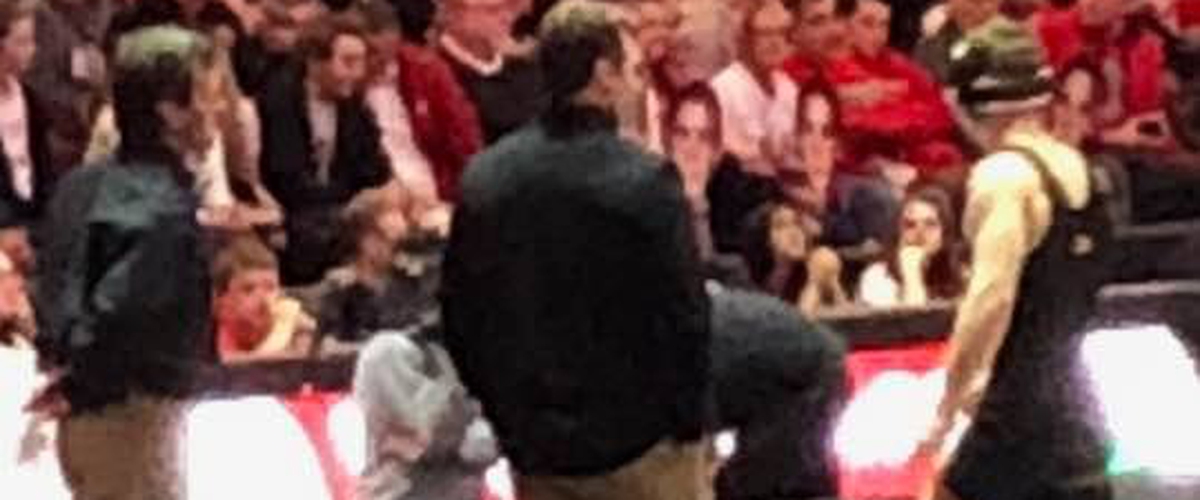 Action began at the lightweights which provided heavy action resulting in #1 Nathan Tomasello falling to true Freshmen #6 Spencer Lee, by riding point criteria 3-2. After getting ridden out a full period by a frosh, Tomasello scored the one and only takedown of the bout with just over a minute left in the 3rd. A questionable move next by Tomasello deciding to cut his opponent rewarding Lee 1-point, self-assured to get another takedown to seal the win, however Lee held off the tumbleweed of Tomasello attacks to get the big upset.
After seeing his practice partner take a devastating defeat, 133-pound Luke Pletcher got the Buckeyes on the board with a 8-2 win over Glynn.
In seek to bounce back after the outcome of his last home match, Jr. Joey McKenna did just that, amassing five takedowns, a two-point nearfall and a riding time edge point to complete a 13-3 victory and put Ohio State ahead 7-3.
At 149, it was #2 Brandon Sorensen over #6 Ke-Shawn Hayes in a bout that went all seven minutes, while the senior Sorenson was tested, nevertheless, he gutted a third-period takedown and ride out to remain unbeaten thus far throughout the season and 29-1 overall in BIG10 competition.
The Hawkeyes stayed hungry as #2 Michael Kremerer edged out a gritty defeat over #6 Micah Jordan at 149 pounds and then #9 Alex Marinelli won his bout returning to his home state for the first time in a Hawkeye singlet with a win over #13 Te'Shan Campbell. Both aforementioned Hawkeyes remain undefeated past the half way point of their season.
With Iowa ahead 12-7, Ohio State came storming back with the power of their upper weights, starting off with #3 BoJo at 174 pounds, scoring 3 takedowns in the first period and then coasted to a solid win to close out his home competition stint as a Buckeye.
The 184 pound weight class included another set of ranked wrestlers facing off, as #2 Myles Martin collected 4 more points for the Buckeyes earning a Major decision over #20 Bowman.
The wrestlers at 197 have met a couple of times throughout their careers already, twice in 2016 in their respected teams dual matchup where Moore defeated Wilke by a Major and then again in the BIG10 Finals where the Mountain Man came out ontop 10-5. This year Cash Wilke, coming in with a 13-1 season record while currently ranked 5th in the nation, battled the #1 ranked Buckeye tough into the 3rd period, nonetheless, the Mountain Man pulled away with a 6-3 victory.
The finale of the match featured, Ohio State's No. 1 Kyle Snyder (5-0), the reigning 2x National Champion and 2016 Olympic Gold medalist, faced sophomore Steven Holloway (5-2), as wrestling fans were in slight disappointment to see that Iowa held out #3 ranked Sam Stoll. Snyder, as expected, beat Holloway definitively, winning 24-9 in just 5 minutes by technical fall.
The Top-Ranked Buckeyes sent their seniors out with a 22-12 Big Ten victory over No. 4 Iowa in front of 15,117 spectators at Value City Arena (The Schott).
"If someone were to ask me 14 years ago, if I'd think I would have enjoyed this evening with as much joy as I did tonight, Ryan went on with saying, "Noway."
"Every human being wants to surround themselves with people like these guys. They have made me a better coach, a better husband, a better friend. I admire them. It's a two-way street. I've learned a lot from these guys." -The Ohio State Head Coach Tom Ryan during Post-Meet Press Conference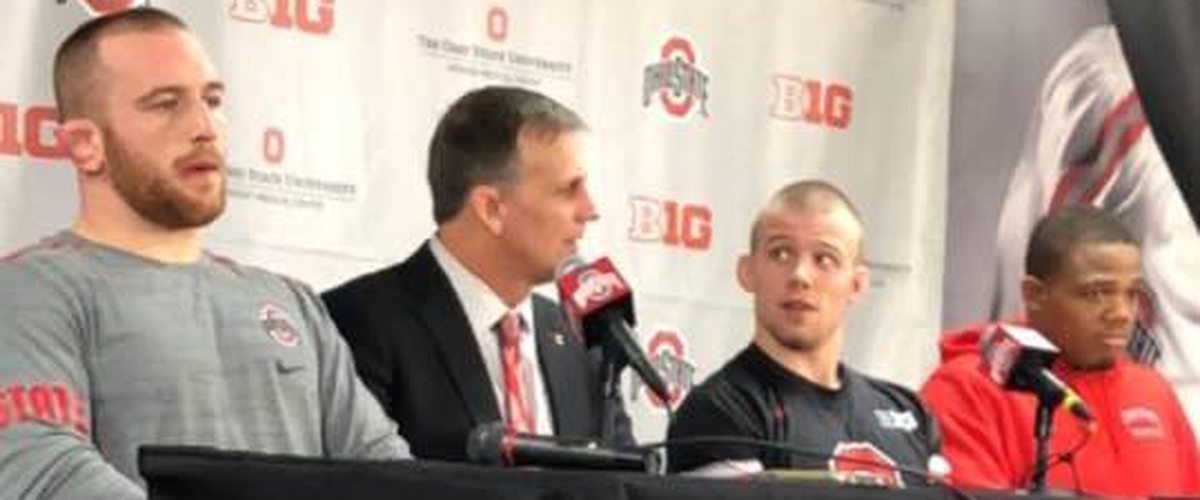 Ohio State hosts its final `home' match of the season next Sunday (Jan. 28), holding a dual vs. Purdue at St. Paris Graham High School. As for Iowa, the Hawkeyes wrestle No. 8 Michigan at 5 p.m. CT or 6 p.m ET this Saturday at Carver-Hawkeye Arena.
BOUT BOX SCORE:
125 / No. 9 Spencer Lee dec. No. 1 Nathan Tomasello, 3-2
133 / No. 2 Luke Pletcher dec. Paul Glynn, 8-2
141 / No. 11 Joey McKenna major dec. Carter Happel, 13-2
149 / No. 2 Brandon Sorensen dec. No. 6 Ke-Shawn Hayes, 4-2
157 / No. 2 Michael Kemerer dec. No. 6 Micah Jordan, 8-4
165 / No. 9 Alex Marinelli dec. No. 13 Te'Shan Campbell, 4-1
174 / No. 3 Bo Jordan dec. Kaleb Young, 10-5
184 / No. 2 Myles Martin major dec. Mitch Bowman, 17-8
197 / No. 1 Kollin Moore dec. No. 5 Cash Wilcke, 6-3
HWT / No. 1 Kyle Snyder tech fall Steven Holloway, 25-9
RON JOHN RINALDI MATCH NOTES:
OSU VS IOWA Match Notes:
125- Clubbing on eachother trying to test strength. #1 tomasello vs #6 True Frosh Lee.
-Lee favors Russian tie set-up.
-Lee ontop start of 2nd and cracked tomasello back for questionable set-of 2 count near fall swipes.
-lee rode him whole 2nd period! Racked up 2 min of riding.
-tomasello in on a shot and gets takedown but cuts him with just over a minute left!? Why cut him!? Could have possibly ridden him out rest of period to knock off riding point advantage making it final score 2-1 Tomasello.
-Lee bigg upset against 3x all-american home season Tomasello. Lee 3-2..+3 Iowa.
133-Glynn and other guy alternating? Glynn's father old Hawkeye wrestler and alum.
-Luke solid win after his practice partner takes a fall 7-2..+3 Ohio State.
141- McKenna in seek for bounce back win at home.
-in on quick shot for 2.
-Blair half ride and almost turns him over for a set before Mike Haggerty the ref calls it for potentially dangerous.
-2nd period- neutral start 8-2 score.
- Mckenna always finishes with oppenents leg high.
-Mckenna- 13-3.. MD+4.
149- #2 Sorenson vs #7 Ke-Shawn Hayes
-2nd period TD+2
-2-2 w/ 30 seconds left in 2nd!
-3rd- Sorenson takedown with 20 seconds left to win bout.
157-#2Kremerer vs. #6 Micah Jordan
-Kremerer in on lightning fast takedown. After Jordan jacked up Kremerer's knee unintentionally Brands points at Ohio State coaches corner and heckles back in forth with the crowd hovering over the mat.
-4-0 after 2 periods. Jordan goes on good run with a takedown end of match but falls short.
9-7 IOWA LEADS AT INTERMISSION
- 165-Marinelli back home vs Pitt transfer te-Shan Campbell
- -Chippy start.
- Stalling chants rang through the arena while Campbell rides marinelli out the whole second period.
- Marinelli holds onto win bout.
- [174,184,197,HWT= Buckeyes Murderers Row]
174-
Father Bo Jordan against Kaleb Yound. Bo in need for bonus points for buckeyes after losing 3-straight!
- 3rd period Bo up 8-3. Finishes with 10-5 win.
184- Iowa's Bowmans just breaking through on rankings. Top 20.
Martin commanding lead 10-0. 15-5 heading into 3rd.
-ends a 17-8 MJD..+4.
-Martin look either mad or hurt.
-Iowa finishing all matches physically ontop.
-14-12 Buckeyes first lead of dual after Martins Major.
197- Moore vs Cash Wilke. Wilke one match shy of all-american in 2017. Wilke kept it close. Strong finish for Moore. Buckeyes.. 17-12 lead.
HWT-
-NO SAM STOLL?!? Not good for wrestling fans and poor decision by Brands brothers. Reserving what his senior record?!
-Faces holloway
-Synder big win last home match!