Brilliant Hany Mukhtar guides Nashville SC to stunning win over Houston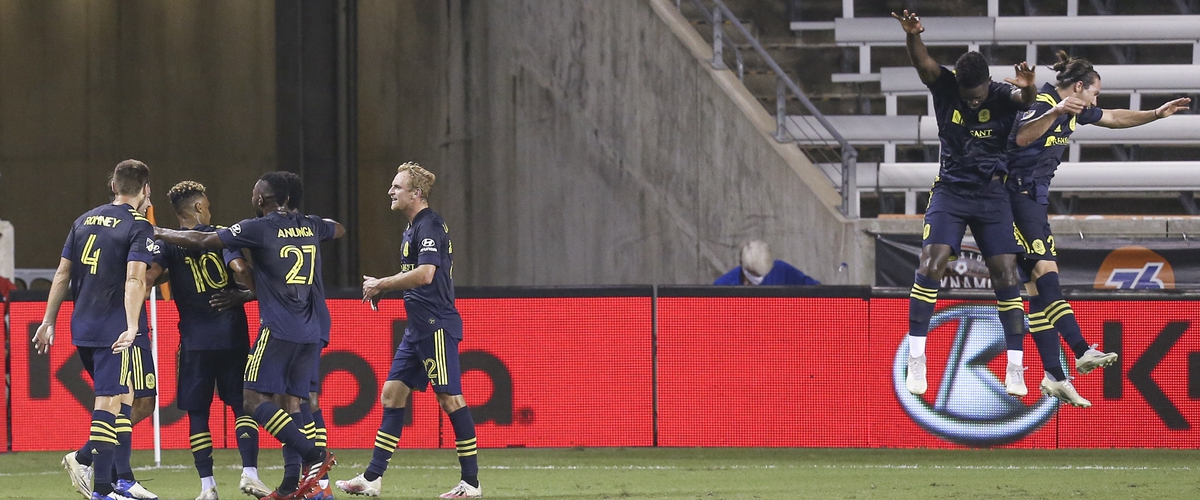 Was this the same the same Nashville SC side that imploded over the weekend in Kansas City? Because a heavily rotated starting XI from Gary Smith looked much better than the lineup that blew a goal lead in the second half against Sporting KC.
On Wednesday night, against a struggling Houston Dynamo side, Nashville scored THREE (yes, 3) goals in the first half alone! During the best eight minutes of football we will likely see from The Boys in Gold this inaugural season Hany Mukhtar and Abu Danladi picked apart a porous Houston defense and never looked back.
A perfectly weighted pass from Danladi played Hany into space and the first designated player in NSC history tallied his second goal of the MLS campaign.
This is what coach Smith and the Nashville supporters had been waiting for from Hany and the German international stepped up tremendously in this match. While he has been one of NSC's best going forward this season - he had one goal and two assists in 13 appearances - this was by far his best showing and he was only on the pitch for 45 minutes!
The USL players who were promoted to Major League Soccer impressed everyone Wednesday night as Matt LaGrassa, Taylor Washington, and Brian Anunga all started together and dominated through the 90 minutes.
We must remain calm and NOT overreact to the result, however.
This is just the second time in the club's history that they have managed to score more than one goal in an MLS match this season. Both times they have, they have won by multiple goals.
I think there are three key points that should be mentioned after the result in Texas.
1. Jhonder Cadiz makes his debut
We have been waiting for this one for what seems like all year. The rumors that Nashville was going to sign him on loan broke nearly two months ago and the Venezuelan international finally made his NSC debut. He showed flashes of his ability and I couldn't be more excited to see him make his full debut in a match where Nashville needs to score.
2. Hany's delight
You could see the confidence oozing from Mukhtar on every touch. He was as active on the ball as he was off of it and the way he played off of Abu Danladi was simply amazing. This should give the manager something to think about when he makes his lineup decisions.
3. I am much more comfortable with the depth now
Until last night, Taylor Washington had remained pretty quiet making a handful of substitute appearances. In just his second MLS start, his cross to Danladi for the second goal was a work of art. I would love to see more from going forward as a wingback in the near future.
Gary Smith now knows that he can turn to LaGrassa or Anunga when Anibal Godoy or Dax McCarty need a night off - like last night.
Nashville will not play a match this week and will have five days to prepare for FC Dallas.
Four of the next five matches will be played in the friendly confines of Nissan Stadium.
---