Nashville SC: The moment we had all been waiting for! A multi-goal game!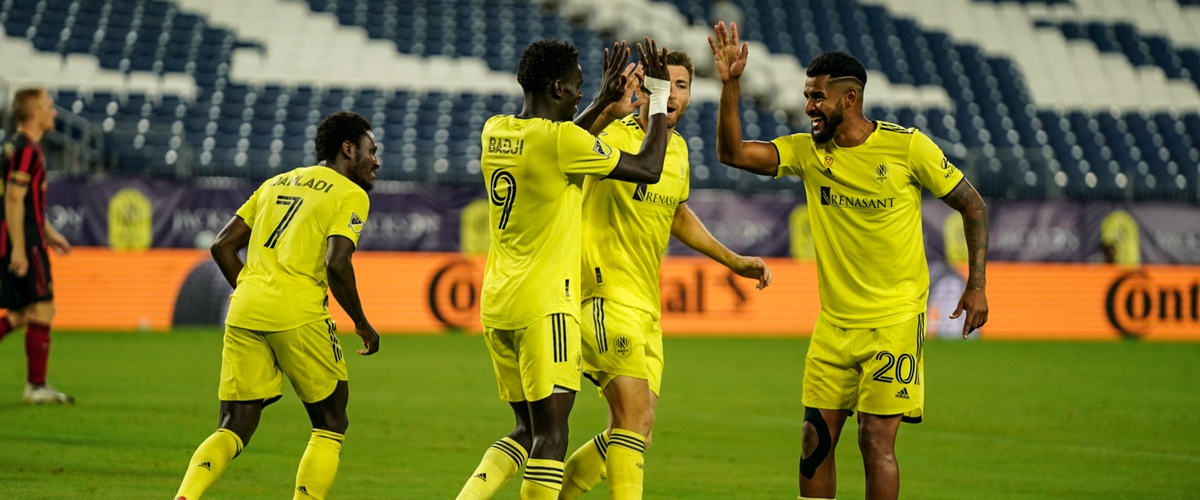 We had to wait until the 10th match of the inaugural season and over seven months to see Nashville SC score more than one goal in a match and boy was it special to see The Boys in Gold cruise to a 4-2 win over rival Atlanta United.
After falling to the side from Georgia 2-1 in the first ever MLS match and 2-0 in Atlanta in August, to score four goals, dominate the chances, and downright overwhelm a quality side was a delight for the fans watching.
To give ourselves a refresher and to relive the beauty that was, let's watch the highlights for the 100th time.
There is a lot I could say about this match, but to make it easier to read for all of you, I'm going to condense my thoughts into bullet points.
- Dom Badji finally gets off the mark. Look, I have been criticizing the guy regularly since the start of the campaign and he finally scored his first MLS goal for Nashville in the first minute. The setup header from Dax McCarty is what led to the goal, but Badji confidently thumped the ball into the empty net. Badji also deserves credit for assisting on the Hany Muhktar second goal when he headed the German through on goal. He had the most touches in a single match (28) this season in the win, but he still only had that one shot on target.
- Dax McCarty has a career night. The NSC captain has now played 835 minutes in 10 matches and finally got his name on the stat sheet again. McCarty tallied an assist in the 1-0 win over FC Dallas last month and while McCarty has been sound on defense all year, he has been noticeably quiet helping on the attack. Let's hope a goal and TWO assists are just the beginning of big things to come.
- About the left wing. Alex Muyl has been the starter on the left side of the formation for the last four games and has appeared in the last five. The newest signing from New York Red Bulls has been great tracking back on defense - he has nine tackles in his five appearances - but his contributions on offense have been lacking tremendously.
He hasn't had a shot on target since he joined Nashville and he's only attempted one shot total.
- Dominating possession and shots does not always lead to success. Nashville has been averaging between 14 and 16 shots per match. Yet, only a quarter of those shots have wound up finding the target. In the match on Saturday, Nashville totaled nine shots with six going on target. That is a pretty high conversion rate!
The home side created 12 chances despite struggling for shots and possession. The difference here was Nashville's ability to force Atlanta into a mistake and convert off of that mistake.
Look at the first, second, and even third goal. On the first, Dom Badji was unmarked after McCarty's header. The second goal came after a poor throw-in from the visitors. And the third goal McCarty's header deflected off of an Atlanta defender and wrong-footed goalkeeper Brad Guzan.
Luck is always involved in the beautiful game!
- No Leal. No problem. Costa Rican international Randall Leal missed this match after he was not medically cleared to play, so the void was filled with Abu Danladi on the right flank. Danladi scored the fourth and final goal for NSC with a clinical finish to beat Guzan on a breakaway.
It sure is encouraging to see Nashville create chances and score without Leal on the pitch. He is critical in Gary Smith's team and will still start when he is back healthy, but knowing the depth is there with Danladi and David Accam both scoring this year helps a ton.
- Four straight results! That's two wins and two draws in the last four for Nashville SC after they were soundly beaten by Atlanta on August 22. The defense continues to stay stout and the goals and chances are starting to come regularly for Smith's team.
Confidence is at an all-time high!
- The more rest the better. Nashville SC actually had time to rest and prepare for Atlanta. There was no mid-week match or travel, so, Smith and his team were able to get a full week of training in and play a home match at Nissan Stadium. This was the first time NSC had a week to prepare for a match since they traveled to face the Portland Timbers in early March.
With a week to prepare for the top team in the Eastern Conference, the Columbus Crew, Nashville should feel sprightly in Ohio on Saturday night!
---