Tennessee Titans pick up fifth-year option on Jackson but not Davis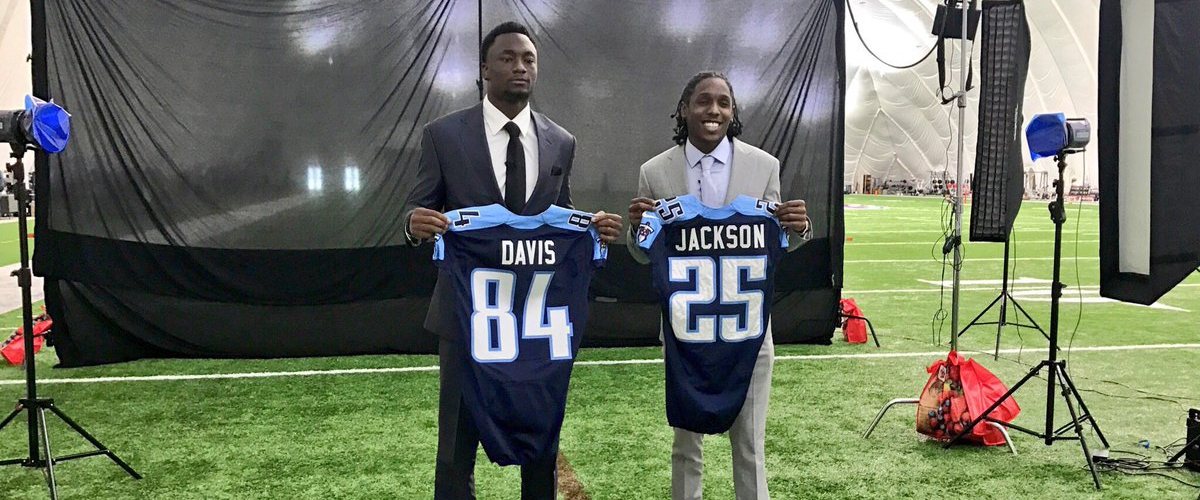 The Tennessee Titans sure have been busy in the last couple of weeks and I couldn't be happier. It makes me even happier when all the moves the team is making are moves I wanted them to make all along.
Friday morning, the Titans made two big decisions regarding their two first-round picks from the 2016 draft.
According to NFL Network reports, Tennessee has declined the option on wide receiver Corey Davis' fifth-year option and have picked up cornerback Adoree Jackson's.
This news should not come as a surprise to Tennessee fans who have been watching Davis for the last three years.
While Adoree has improved tremendously as a coverage corner, he has been a key cog on punt returns and also has a hand in kickoff returns as well. Plus, his raw speed and athleticism make him a threat any time he is on the field.
On the other hand, Corey Davis has struggled to back up the pressure that accompanies being the fifth-overall pick.
The receiver out of Western Michigan has managed 142 receptions for 1,867 yards and six touchdowns in 42 games since being drafted.
Davis dealt with a slight injury coming into his rookie season which contributed to a slow start, but when comparing him to AJ Brown, it's clear that he has underperformed.
Brown in his first season not only stayed healthy while helping the Titans make it to the AFC Championship game, but racked up 1,051 yards and eight touchdowns.
Quarterback Ryan Tannehill has said that he is excited to grow his bond with Davis and hopes to get him more involved in the passing game this fall.
I definitely think my chemistry will grow with Corey this year. Such a talented guy," Tannehill told the press on a conference call this week. "Looking forward to building on what we started last year and our rapport, and looking forward to him making some big plays for us because I know he has the talent.
General Manager John Robinson is remaining conscious of the team's salary cap moving forward and as I stated after the draft, the Titans are building a roster that is set up for long-term success.
If Robinson had elected to pick up the fifth-year option on Davis' rookie contract, he would be due just over $15 million in guaranteed salary.
Now, the coaching staff can evaluate Davis for a season and decide whether or not he is deserving of a contract extension before shelling out big money.
I've said it once and I'll say it again: the Tennessee Titans are dominating this offseason.
---