The Nashville Predators remain (unsurprisingly) quiet on deadline day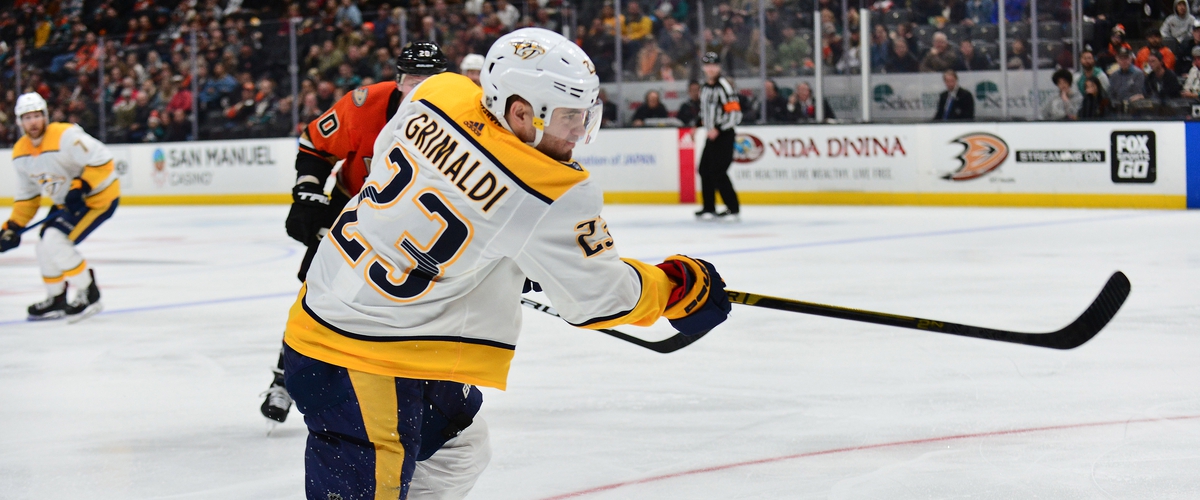 NHL Deadline Day 2020 has come and gone and the Nashville Predators - who are just a game or two out of the wild card in the Western Conference - remained quiet for the most part.
The team signed standout forward Rocco Grimaldi to a two-year extension and traded two fringe players before the deadline hit.
The trades saw forward Mikka Salomaki shipped to Toronto in exchange for defender Ben Harpur and defender Matt Irwin plus a sixth-round pick traded to the Anaheim Ducks for another defenseman, Korbinian Holzer.
The lack of moves made by Preds general manager David Poile should give both the players and fans hope moving into these last 20 games. The rumors were saying that it was a do-or-die stretch for many of the players over the last two weeks and only two were sent to the chopping block.
Extending Grimaldi was by far the marquee deal for Nashville as the 27-year-old has shown he is a lot like teammate Viktor Arvidsson with his incredible work-rate and scrappiness. It was Rocco who scored the winning goal in overtime against the Columbus Blue Jackets on Saturday and the forward boasts better stats through 58 games this season - 10 goals and 20 assists - to his stats a year ago in 53 games - 5 goals and 8 assists.
The fact that the extension is two-years, $4 million is a true bargain and proves once again that David Poile is a wizard when it comes to signing productive players for cheap.
The biggest downside from the deadline passing is the Preds' inability to move Craig Smith or Mikael Granlund who are set to become free agents over the summer.
"Being very open with everybody, I certainly entertained offers on, and was open to talking about, a lot of our players, including our free agents [like] Granlund and Smith," Poile told the press. "But the fact that I'm standing here and didn't do anything just tells you at the end of the day, I felt that our team was playing well enough [to not be a seller]."
It would be great to bring back both forwards who have really upped their play since John Hynes took over as coach, however, salary cap space could prove a problem.
Sources have told me that both Harpur and Holzer will likely not play that big of roles down the stretch this season, but could be rotated in if there are injuries.
It's safe to say the biggest takeaway from the Predators trade deadline is that the GM and coach have faith in the current roster and think they can make a playoff run. Let's cross our fingers and hope Poile and Hynes are right.
---