Three takeaways from Nashville SC's worst game of the season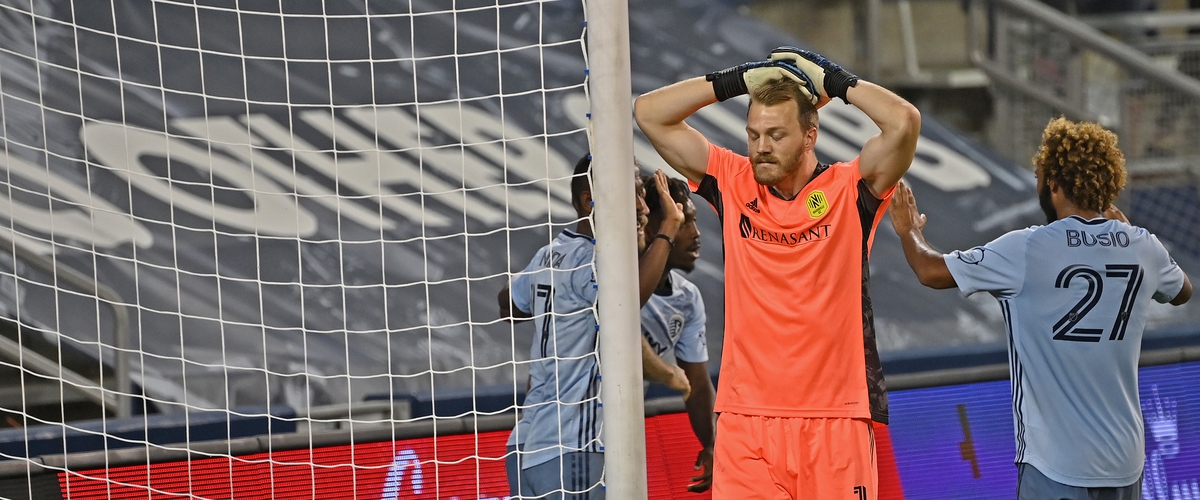 It is without a shred of doubt I say that Sunday night in Kansas City was Nashville SC's worst match of their inaugural season. There have been some letdowns thus far - the 2-0 defeat in Atlanta and the 3-1 loss to Orlando City jump out - but something about the way in which Nashville lost sits wrong with me.
For the first time in three matches, The Boys in Gold managed to get on the scoreboard. And as one of the best defensive teams in the league, this should've been a match they saw out.
Sporting KC had other ideas and rallied to score one very easy goal and one stunning piece of art to earn the three points.
Here are my three biggest takeaways.
With no red card, Nashville could've won this match
In the span of 90 seconds, all of Nashville's hard work in the first half was undone. After hitting the crossbar in the opening minute and scoring through a set piece in the 14th minute, Nashville not only looked in control with the lead, but they looked like they were ready to score a second and potentially a third before the break.
But, after halftime, Gary Smith's side did not look the same. They were on their heels from the start of the second frame and never looked to regain the composure they showed in the first 45.
The goal Sporting KC scored to tie game seemed to mentally break a Nashville team that had been so tough to get through. The defensive line seemed to fall asleep and forgot to mark Gerso Fernandes as he tapped in an easy goal.
Maybe 60 seconds later, Alistair Johnston lost his cool, recklessly made a poor challenge, and earned himself a second yellow card. Down to 10-men, it took a world-class goal to find the winner, but if Johnston hadn't been sent off, Nashville could have very well found a second goal or earned a draw.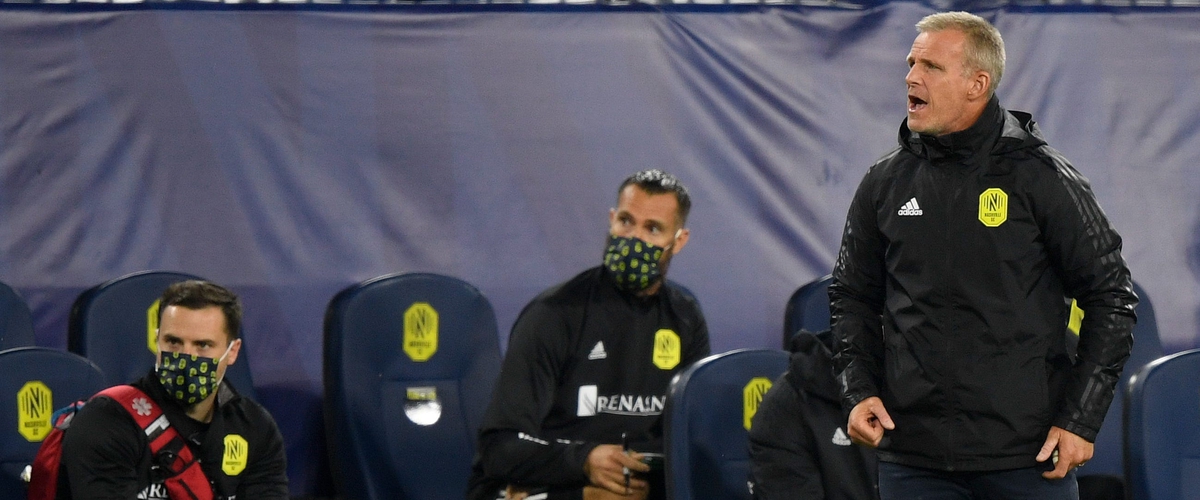 I am losing faith in Gary Smith's substitute decisions
Gary Smith has done wonderfully putting out a competitive team that tactically is very sound. The manager knows he doesn't have many threats when attacking, so, in order to succeed, Nashville drops deep as a team and tries to counter with pace.
Though Smith has done a good job with this team in a year filled with uncertainty and confusion, there is one area I would like to see him improve.
His substitution decisions.
After Johnston was sent off and Nashville was down to 10, why did Smith decide that was the best time to finally substitute Walker Zimmerman off? Walker and midfielder Dax McCarty are the leaders of this squad and when the team needed to dig in to earn a point against a team that can score with ease, Zimmerman was brought off?
Yes, he had played every minute for Nashville SC in MLS until last night, but again, of any matches of this season, why this one? Who he brought on to replace Walker is another story.
I am all for developing young talent and getting them involved in the matchday squad early and often, but this was not the right time to give Jack Maher his debut.
The intent to switch to five at the back and play without a striker was correct and Smith realized that, but bringing on Maher, Jalil Anibaba, Taylor Washington, and Matt Lagrassa in a crucial match like this was not the right call.
Who should've come on, then? I have no idea! Nashville has no depth whatsoever right now with all the injuries they have. One thing is for certain, however, pulling Walker off was a terrible decision.
Nashville deserves a spot in the playoffs still
Nashville SC is much better than anyone would've expected and last night was no different.
Keep in mind that Sporting KC is a very good team. They have not been held scoreless once this season and are one point behind first place in the Western Conference with 29 in 16 matches.
For large stretches of the first half - much like against Portland Timbers back in March - NSC dominated the possession, created some great chances, and all around looked better than the hosts.
Compared to the teams in the Eastern Conference, I think Nashville is firmly in the middle of the pack. They are not going to win the MLS Cup this year, but they deserve the chance to at least compete for it!
And who knows, crazy things can happen in an elimination game!
---