The Spiraling Down-Fall Of Kawhi Leonard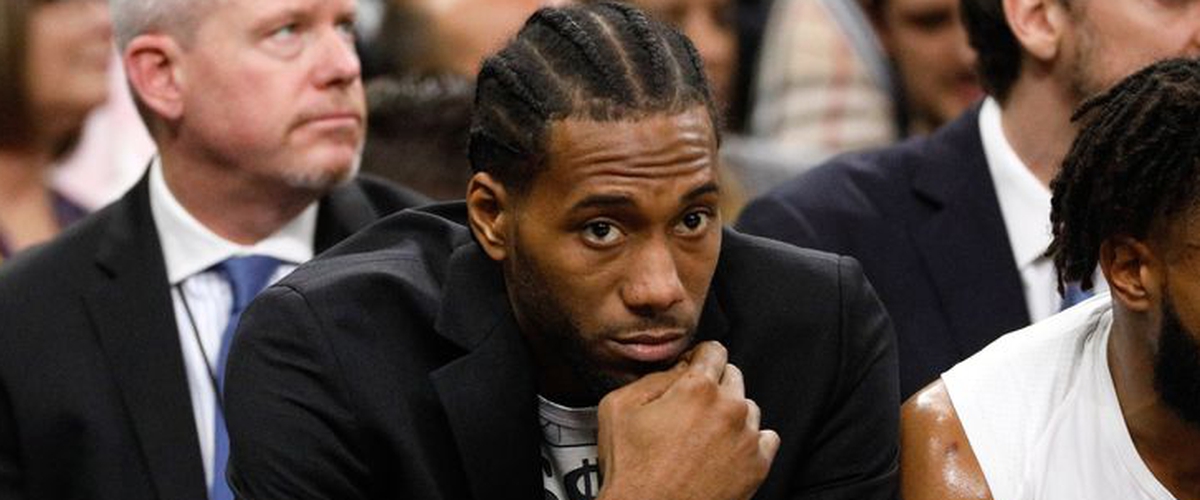 After this NBA season is over, the San Antonio Spurs and their franchise player, Kawhi Leonard, might need to visit a therapist. The roller coaster of emotions that have been surrounding Kawhi and Spurs fans are far from exceptional. Which leaves people questioning, what is next for the future star and what should NBA fans think?
Here is a timeline of Kawhi Leonard's Quadricep Injury:
September 30th
Leonard's injury was revealed at a Spurs Intrasquad Scrimmage. Head Coach, Greg Popovich stated that Kawhi and the Spurs were still "rehabbing his thigh", that Kawhi will probably miss a majority of the preseason and they'll get him bask as soon as possible.
October 13th
The Spurs had confirmed that Kawhi would miss the season opener for the Spurs and that there wasn't a time set on a possible return. "I don't gauge it," said Popovich. "He's still rehabbing his injury and when he's ready, he's ready."
November 7th
Coach Popovich on Leonard's slow recovery: "He's coming along slowly for whatever reason. It's more difficult for him to get through the rehab routine and his body has not reacted the same way, but its in the right direction."
December 12th
Kawhi returns and his play is outstanding for nine games, averaging 25 points, 7 rebounds, 4 assists, and 2 steals per game.
January 17th
Kawhi is listed as out indefinitely by Spurs as he continues rehab on the quadricep.
February 5th
Leonard headed to New York and spent three weeks getting further consultation on his injury.
March 7th
Leonard, returning to San Antonio, says the quadricep injury has shown a significant improvement and stated that he would be back "soon".
April 15th
Popovich restated that Leonard's continued absence from the San Antonio Spurs playoff run is associated with Leonard not being cleared by his personal medical staff for a return to the court. When asked about a possible Kawhi return, Coach Popovich said, "Talk to Kawhi's "group" about his possible return."
With Popovich saying what he said on April 15th just demonstrates that the head coach and the star player of the San Antonio Spurs are not in sync about the recovery process or a potential timeline for a return to the floor.
Kawhi has two more years left on his contract and this year is making $18,800,000. That is a substantially large amount of money for San Antonio to put in Kawhi's pocket for little to no production. There is also the possibility of a contract extension that could be drawn out to a 5 year deal worth about $220,000,000. It would be in Kawhi's best interest, if he wants that max deal, to plead his case as to why he DESERVES this extension. In order to do that he would have to start communicating with the San Antonio Spurs on the issues with his recovery and participate with the team by going to games and not be the down and out person he has been acting like.
The Spurs have not had a franchise player before that is comparable to Kawhi Leonard. Kawhi is concerned with his personal well-being which is very understandable. There are a considerably large amount of people who compare Kawhi to Tim Duncan, because they both have a cool-headed, peaceful mentality, but its certainly not the case. If Tim Duncan, Manu Ginobli or Tony Parker would be cleared to play by the "Team's" doctors, they would have played. They also would be sitting on the bench next their teammates. Kawhi is taking this time in his own hands and has something brewing up inside, but is not supplying anyone with a statement on what it is that's going on.
My advice to Kawhi: "You have a gift. A special gift, that a lot of people out there work so hard for day in and day out, to get what you were born with. Take advantage of the opportunity you earned and run with it. Be opinionated and stay true to who you are. Most importantly, you have to be the type of leader and role model that will have the children and future NBA athletes looking up at you and saying, I want to be like Kawhi Leonard."
-Zachary F. Fox
Above The Rim
---