Russell Westbrook, Life VS Death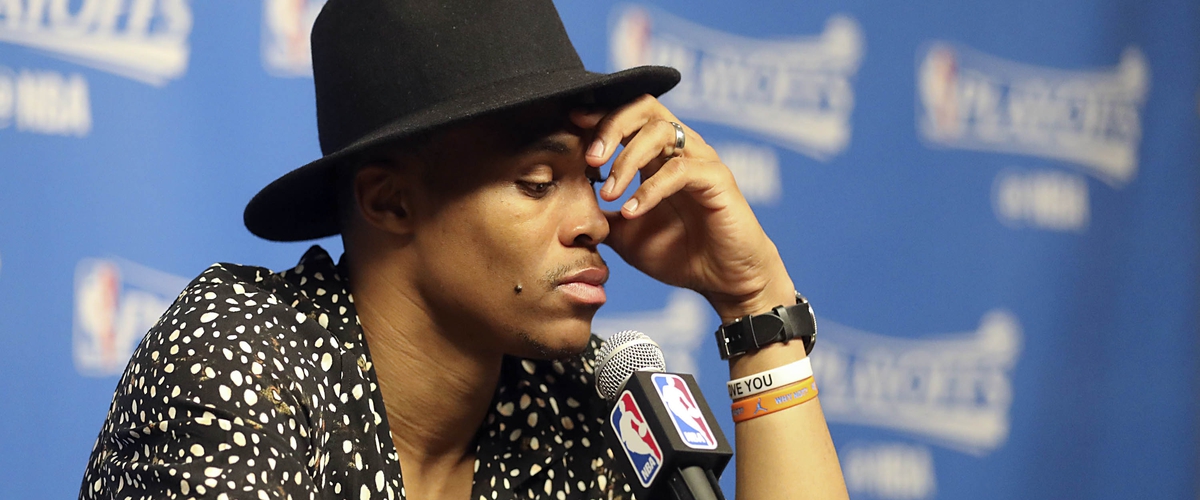 I don't know what to make of Russell Westbrook. Maybe writing about it will help make up my mind. Love him or hate him, his talent is undeniable; we all see that. But if it came down to it, what is Russell Westbrook worth? Would you want to play with him? Would you want to pay him north of 200 million dollars? Would you ride or die with the guy?
I can't help but look at reality in Oklahoma City. James Harden left (actually he got traded, but he wasn't staying). Kevin Durant left. Serge Ibaka got traded. Russ is like the most talented guy on your dodge ball team. The last man standing.
Would I want that guy on my team? From a business perspective, yes. There is no doubt in my mind that Russ is an MVP caliber player. Not only is he MVP worthy, he's also incredibly entertaining. I love watching him. I love him storming down the court looking to murder an unsuspecting rim. But would I love to play with him?
Tough to say. I love winning. Russ is the kind of guy that can win you a game. He was clutch in the clutch for the regular season. Playoffs? Well it was a different story. The Thunder got crushed anytime he left the floor. It was no secret the Thunder sucked with Russ off the court. Whose fault is that? Billy Donovan? Could he coach up his team better? I guess. But there's not much talent there to work with. Sam Presti? I can't blame Presti, yet. This team was 1 game away from going to the Finals last year. One supernova Klay Thompson hot streak. A top 4? Guy in Kevin Durant left this team and they still made the playoffs. (Is KD a top 4 player? LeBron, Kawhi, KD/Russ/Harden/Curry wow there's so much talent in the NBA right now). So I won't blame Presti.
Is Russ to blame for his team being bad whilst he's not on the court? Partially. I know I sound stupid calling Russ selfish. I can already hear the haters. "How can you call Russell Westbrook selfish?! Seriously bro?! HE AVERAGED A TRI-PUL DUB-BLE. He had 10+ assists a game. Shit you don't know what you're talking about". Yeah he averaged a triple double. I picked him to win the MVP. And where is he now? First round exit of the playoffs.
You can say whatever you want, but seeing is believing. I watched those playoff games. The Thunder played well, up until the 4th quarter, and then Russ went into hero mode. I don't know if he wants to be the next Kobe, MJ, or whatever. But he wouldn't pass the ball. It's like he flipped a switch. He went from awesome ball distributing point guard, to ball hog machine. And people blamed Kevin Durant for leaving. Maybe he just saw a team that was talented, moved the ball well, and is located in San Francisco.
Have you ever played basketball? It's a rhythmic game. You make a shot, you feel good. You make a couple of shots, particularly from the same area, and you found your range. You get excited you're getting buckets, so you try a little harder on defense. You go for the rebound because you want the ball back. In the 4th quarters, I saw a lot of everybody watching Russ. Russ' teammates may as well have been invisible. Not only to Russ but to the Rockets. The Rockets just camped out in the paint and either gangbanged Russ or let him shoot tough contested jumpers.
I'm blaming Russ. He carried the team so far. It's hard to blame the guy. It's like, you asked your girlfriend to get you pizza. You had an awful day at work, you're tried, you just want a few slices of melted cheese, tomato sauce, and dough. Instead, she brings home a soggy sandwich with wilted lettuce and tomatoes from Subway. I mean, it was a nice gesture of her to get you food, you appreciate that, but, it doesn't change the fact that what you really wanted was pizza.
Russ carried this team to a first round exit. Wonderful. He brought them into the world of the playoffs and took them backeth outeth. I don't know what that means. Remember last year, when the Thunder gave the Warriors hell. Adams was suddenly one of the best young centers in the game. Kanter munched offensive rebounds. Roberson was everywhere. What happened to the development of those guys? Victor Oladipo is on a milk carton. I think Russ was the one who put out the APB on Oladipo.
https://twitter.com/OpeningDayNFL/status/853695978666430466
Russ, I wouldn't want you on my team. I said it. You're awesome. Yoiu're great. You're (everybody's favorite words right now) mercurial, epic, has a unique skill set, game changing, shitting the paradigm (intentional) and so on. Russ, you said it yourself. You're only friend is the ball. Well Russ, you and Spalding, you're going to have an awesome summer together.