P.K. Subban deserves a Stanley Cup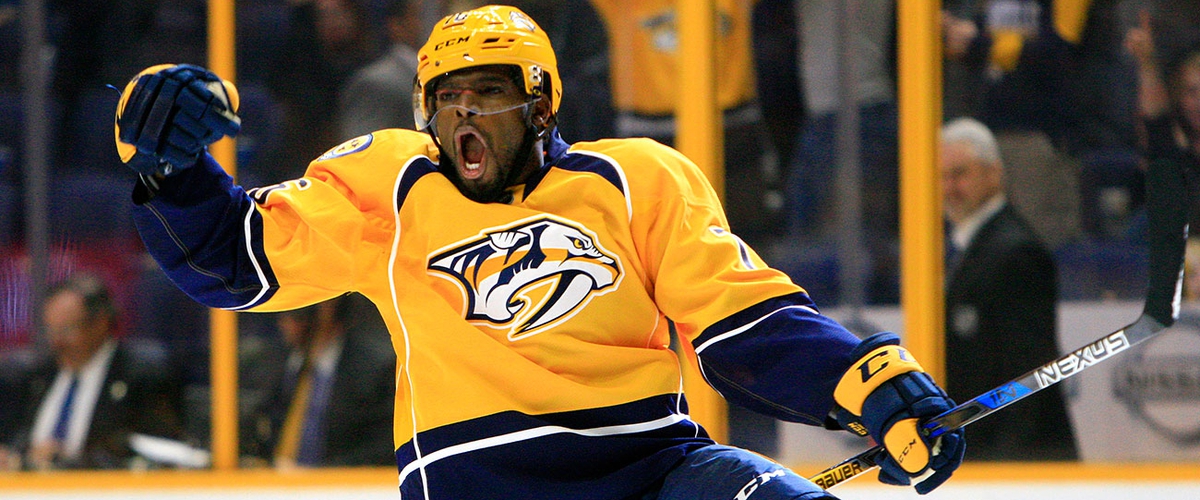 When the Nashville Predators advanced to the Stanley Cup Final by defeating the Anaheim Ducks in Game 6 of the Western Conference Finals on Monday night, it was hard not to be excited for P.K. Subban.
Unless you are Mike Millbury.
Unless you are Marc Bergevin.
Unless you are the entire Montreal Canadien's organization and all of its fans.
Boy, it's amazing what a change in scenery can do for a player.
When Montreal and Nashville swapped defensemen last June, it was understood that both were hoping for a drastic change to keep both teams among the NHL's best. They both hoped the change in their respective No. 1 defensemen would be enough to win at least one Stanley Cup.
Entering the postseason, it seemed like Montreal was better equipped to win now. The Canadiens won the Atlantic Division with a 47-26-9 record and had home ice for at least their first two matchups. Problem was, they lost to the top Wild Card, the New York Rangers.
Meanwhile, the Predators entered the postseason with the worst record among all 16 teams from the combined conferences with a 41-29-12 record. Adding together the overtime and regulation losses and Nashville was a .500 regular season team.
Instead of quietly exiting in the first round, Nashvillle swept the top-seeded Chicago Blackhawks, then took down the St. Louis Blues and Ducks in consecutive six-game series.
Subban is a big part of Nashville's playoff surge. His two goals and eight assists this postseason are tied with teammate Roman Josi for the third-most points among defensemen.
Even with the stellar defensive production, Nashville's run to the Stanley Cup Final is hard to figure.
Maybe Subban was exactly what Nashville needed and expected when it traded for him.
Some don't like him because of how stoic many hockey players are, but Subban brings an ineffable energy to the game. He skates fast, he hits hard and he shoots lasers.
Sometimes, a slightest change of scenery is all it takes to spark an eventual champion.
In Montreal, Subban was respected and appreciated, but anytime that a star player is traded and rumors of him and coach previously clashing, the honeymoon phase was clearly interrupted long before he was traded.
It should have been known that the Canadiens didn't think of Subban as their best player when Max Pacioretty was named captain instead of Subban. Go re-watch the EPIX Road to the 2016 NHL Winter Classic Series. It's Subban pumping up his teammates before games and constantly chatting with guys, not Pacioretty. With the star power and personality that Subban had, he should have been the Canadiens' captain, but Montreal didn't think he was serious enough. Ok... (eye roll).
In Montreal, Subban was underappreciated. In Nashville, he fits like a glove. "Smashville" is all about energy. It's abundant in the crowd. Sure, it doesn't have the energy of an Original Six team like the Canadiens, but the Predators fan base is a crucial part of the new wave of hockey fans. They may not know what Corsi means, but they'll scream their lungs out for their team. Passion is what makes hockey so great.
That appreciation that Subban has gotten in Nashville, where the local media does not question his intensity or mock him for dancing in pregame warmups, is somewhat similar to that that Phil Kessel got when he was traded from the Toronto Maple Leafs to the Pittsburgh Penguins. In Toronto, Kessel was the guy and expected to take the blame for the Maple Leafs' struggles. In PIttsburgh, he's the fourth best player and doesn't get called "lazy" or "fat" in local columns.
Just as Kessel found a home in Pittsburgh and won a Cup, so too may Subban this summer. Even if the Predators don't win it all this season, they could be even scarier next year. Ryan Johansen won't play in the Cup Final this season and if he's healthy next year, P.K. Subban could be a two-time Stanley Cup champion before the Fourth of July, 2018.