Who should start in goal for Nashville?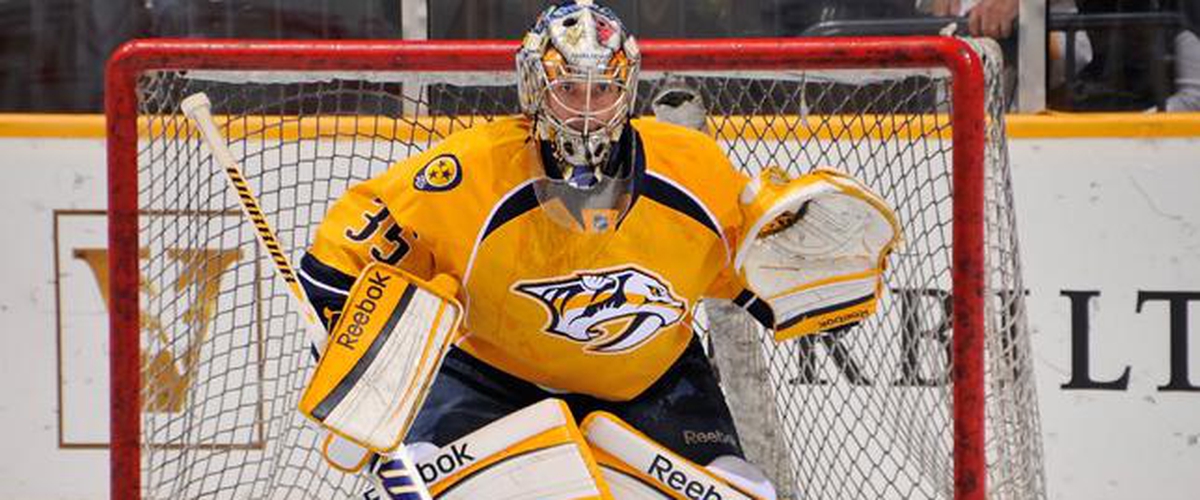 This series is not over yet. Even though the Nashville Predators have lost the first two games of the Stanley Cup Finals against the Pittsburgh Penguins, which were both in Pittsburgh, P.K. Subban has guaranteed that the Predators will win Game 3, in Nashville.
The Predators have outplayed the Penguins in the entire series so far except for a five minute stretch in Game 1 and a three minutes stretch in Game 2 where the Penguins scored six goals. If the Penguins do not have these two outbursts it is very likely that the Predators win at least one of those games.
The biggest reason why the Predators have lost has been their goaltending. Pekka Rinne has just not been playing his best hockey. He has only saved 28/36 shots (a .78 save percentage) in the Stanley Cups Final so far.
Another worrisome point is that Rinne has one one win against the Penguins in his career, which came in relief. The Predators coach, Peter Laviolette, will have a very interesting decision to make, does he start Rinne in Game 3?
Rinne has carried the Predators through most of the playoffs. He only allowed the opposition to score more than two goals twice in the first two rounds of the playoffs, but allowed the Anaheim Ducks and Penguins to score three or more goals five times in eight games and allowed 15 goals in his last five games total. In those fives games Rinne has a 2-3 record.
After giving up four goals in Game Two, Juuse Saros replaced Rinne stopping two shots and not giving up a goal in his playoff debut. Saros has only started 20 games in his two NHL season, 19 in the 2016-2017 season. This season he let up 2.35 goals per game, had a .923 save percentage, and won 10 games.
Saros is a wild card, with little playoff experience, he could either fail miserably or give his team a spark to get back into the series. It is a huge gamble to have Saros start Game Three. However, I don't think Laviolette has a choice, start Saros.
The Predators have dominated play in the series and it is hard to see the Predators playing any better to win this series. The Predators need to make a bold move and there might not be a bolder move that can kickstart the team than making the move to Saros.