What should the Brewers do with Ryan Braun?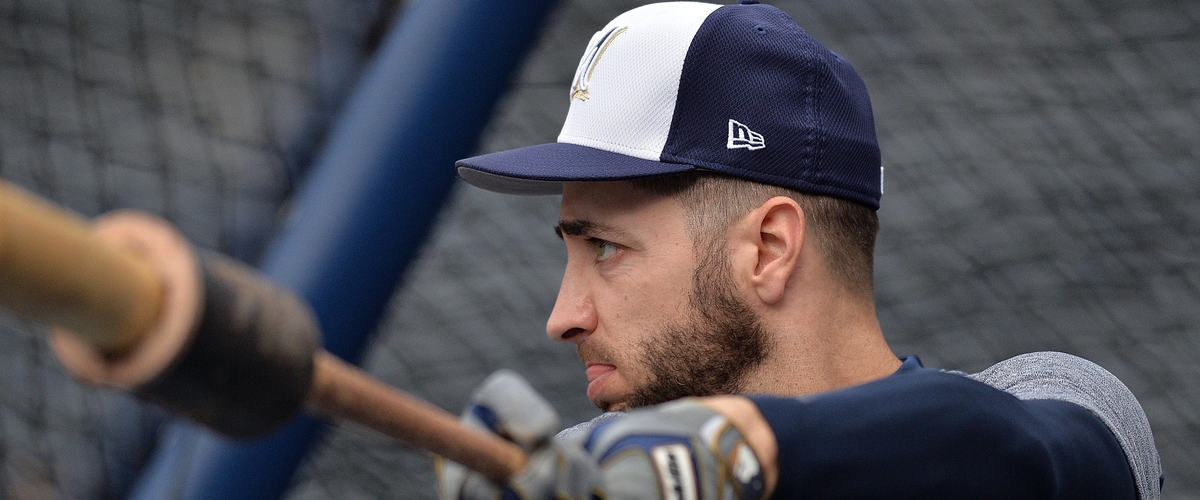 It's rare for a first place team to constantly be talked about around baseball on whether or not it will trade away its best player. That's the case for the Milwaukee Brewers and Ryan Braun.
Braun being in trade talks is nothing new. His name has popped up during trade deadline deals and throughout the last few seasons. The trade talk made sense, especially two years ago. Braun showed he can be an All-Star quality player and the Brewers were starting a large rebuilding project.
However, that rebuilding process has gone much faster than expected and now the Brewers are legitimately a good team and many of their best prospects haven't even touched the majors yet. The Brewers have the fifth-best record in the National League. They have the fifth best run differential, fifth best batter fWAR, and fifth best pitcher fWAR. Yet, Braun is still mentioned around the league as a trade candidate.
The Brewers are in a unique situation with many factors in play when it comes to deciding what to do with Braun. At this point, the future should only get brighter as many of the Brewers' best prospects make their way to the major leagues. Braun is still an All-Star level talent and given the fact it seems like the Brewers may contend for the playoffs this year, one would think keeping Braun would be a priority. It's not as if this is the last year of Braun's contract. He is 33 and still has four years left of his current contract.
There's a few different mindsets that Brewers fans have with Braun. There is a large portion of fans don't want to trade him. The farm system isn't exactly struggling and having Braun on this team makes them better. Also, the style of Braun's game is one that projects to be productive as he ages. So there is this mindset of keeping Braun because he can help the team win now and hopefully in the future. He can also be a veteran leader of a very young team.
Then there is also a large portion of fans that have been or are on the Braun trade train for different reasons. Some believe to truly give the Brewers the best shot to win a World Series in the future is to trade Braun. Eithe get his contract off the books or get prospects in return that can be a long term part of the next great Brewers team. There are still some fans that have wanted him off the team for years due to the PED scandal a few years back.
Then there is probably the largest group of fans that feel as if trading Braun is inevitable because there will be no room for him. The Brewers have one of the best farm systems in baseball. The outfield position is by far its strongest and deepest. In AAA, Milwaukee already have multiple outfielders who are ready for MLB. The most notable being Lewis Brinson, a five tool center fielder, who consistently ranks as a top prospect in all of baseball. Brett Phillips also has a strong possibility of being a long time starting outfielder with an All-Star ceiling. Below are the statistics of the Brewers outfielders in AAA. The team plays in Colorado Springs, so the numbers are going to be a little inflated, but the skill is all there.
Brinson and likely Phillips will be promoted at some point this season, it is only a matter of time. If it's not in a month or so after the Super Two deadline passes it will be later in the season. And these players, especially Brinson, aren't players you want to be riding the bench. You want them to be starting and getting consistent at bats.
That is which the problem lies for the Brewers. There is a log jam in the outfield. Milwaukee cannot keep these players down in AAA much longer and when they do get up they will and should be getting playing time.
Braun is the most logical player to be left out. Keon Broxton and Domingo Santana fill out the rest of the Brewers starting outfield and are both young promising players. Even if the Brewers decide to part ways with someone like Broxton or bench him to make room for Brinson as opposed to Braun, it won't be long until more room will need to be made. So there are two real options. Move Braun to another position or trade him.
For quite a while there have been talks about moving Braun to first base. However, that's the only realistic position he could thrive at, apart from where he currently plays. He started his career at a third baseman, but was so bad he was forced to move to the outfield. And for a long time moving to first base would have made a ton of sense because since Prince Fielder left, first base was a black hole in the lineup for many years.
The issue now is that the Brewers have Eric Thames. There's still uncertainty what type of player Thames will really be in the future, but for the time being, he is not someone who is going to be benched or traded to make room for Braun. The only other position that Thames can play is the outfield which doesn't help at all either.
So, it seems like a trade is inevitable and the most logical choice. However, that's easier said than done. There's a reason Braun wasn't traded last season. For one, including this season, Braun still has $91-million left on his contract. Two, Braun now has a full no trade clause. There have been some teams rumored that Braun would be totally okay with going to, like the Dodgers, but he isn't going to agree to every trade. Third, the trade market for him may be smaller due to his negative reputation. Then lastly, and probably the biggest issue, is his recent injury history.
Over the course of his career Braun has been a healthy player. His first five years as a starter, he played over 150 games each season. However, his last three seasons he played 135, 140, and 135 games has battled with many different injuries. Through this season, he has only played 30 games and is on his second stint to the DL. When he's healthy, he's a great player, but it's been a struggle to stay healthy. If it's not a calf injury it's a back injury, or a quad injury. It's always something different. At his age, it's not a for sure thing that he can ever be fully healthy again. That raises big question marks to potential suitors.
So what should the Brewers do? Honestly, you guess is as good as mine. I'm not sure the Brewers know what they want to do. There are really good arguments on both sides. General Manager David Stearns has been honest and said if a trade proposal that matches their expectations is sent, the Brewers would likely trade Braun. However, the chance of a proposal like that happening is getting smaller and Stearns is stubborn and won't settle.
In the short term, however, what I think will and should happen is Braun being moved to 1st base and Thames playing the outfield. Moving Braun to first base will help reduce his chance of getting hurt. This makes the most sense because it will help keep him on the field and will both help the Brewers contend this year and also possibly increase his trade market. Staying healthy will increase what teams will be willing to give, and also may expand his market to teams looking to trade for a first baseman. Do that for a couple months and see how things go and reevaluate the situation at the deadline.
My prediction is that Braun will be a member of the Brewers when the season ends, one way or another. However, I am not very confident in that prediction. This is a very unique situations with so many different factors playing a role that I don't think anyone, including the Brewers, really know what happen or what to do.
---