Don't hate on KD, respect him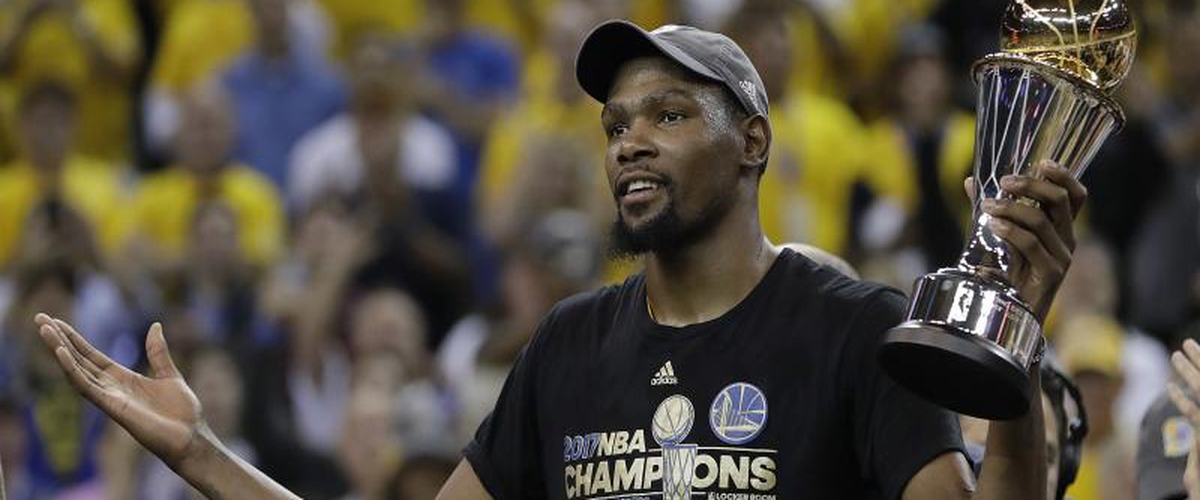 By: Jay Blackwell
It all started July 4, 2016 when Kevin Durant started a shockwave by sharing on The Players Tribune that he was indeed going to join the Golden State Warriors. The unimaginable suddenly became a harsh reality for loyal Oklahomans and any NBA fan outside of the Bay area. What was said in that room in the Hamptons between Warriors coach Steve Kerr, players Stephen Curry, Klay Thompson, and Draymond Green will be discussed for years to come.
Kevin Durant chose to join a 73-win team the year before and the same team that had come back down 3-1 in the Western Conference Finals against his Oklahoma City Thunder. The NBA was about to witness something unprecedented four All NBA players on the same team and all under 30 years old.
We blamed Durant for the sudden lack of parity in the NBA. He, the lanky kid from Maryland who everyone adored, was suddenly enemy number one in every NBA fans eyes. It didn't matter. The fit was natural from the start. Durant with his 6'9' stature and 7'11' wingspan was the perfect upgrade from the very forgettable Harrison Barnes. The Warriors suddenly had their Iso man when shots just weren't falling for Curry or Thompson. They were seemingly unstoppable during the fast break with Durant pushing it down the floor and Curry and Thompson flaring out to the wings. Pick your poison. Last but not least, after a practice in which All Defensive First Team star Draymond Green challenged Durant to be more active on the defensive end, the Warriors also got a pesky defender who matured into the shot blocker we saw this year.
It wasn't always as smooth as it sounds though. After a Christmas day lost to the Cavaliers on national television, two-time MVP Stephen Curry complained about needing more pick and rolls, seemingly a shot at the suddenly Iso-heavy Warriors. During a January loss at home Draymond Green lit into Durant for not moving the ball around in the waning seconds. Then it seemed like the ghost of Durant's past was coming back to haunt him as he injured his foot and missed 20 games. The Warriors went 16-4 and it seemed everyone was falling back in love with the good ole Warriors, you know the team that won 73 games the year before without Durant.
What many didn't know was Durant's decision to come to Golden State was more of his wanting to grow and be a man on and off the court. Durant was now closer to Nike Headquarters in Portland, Oregon. He also ingratiated himself with the tech savvy world in nearby Silicon Valley. During his 20 game absence Durant traveled around San Francisco integrating himself with the Warrior faithful.
Kevin Durant was becoming the man we now know today. "All my life I've been a pleaser," he told Rolling Stone back in October. This was Durant's decision not just for a ring but to become the player and man he knew he could always be. It was during his 20 game absence Durant watched closely from afar to see how he could better fit particularly with star player Curry. The two became in what Jeff Van Gundy declared in Game 1 of the Finals "the best duo in NBA history."
---