D'Angelo Russell's Rookie Season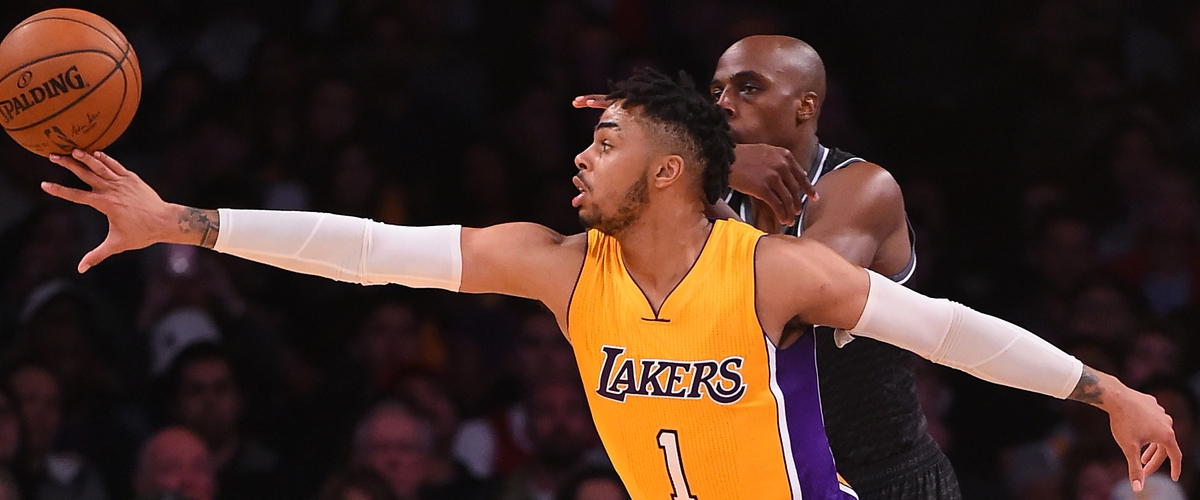 originally posted on: April 25, 2016
The Lakers 2015 2nd overall pick had a roller coaster season. Many mock drafts had Russell being picked by Philadelphia, so it came with some surprise that the Lakers picked him as the 2nd overall pick. Russell entered the draft having only played a single college season for the Ohio State Buckeyes. Scouts profiled D'Angelo as a guard with impressive vision and passing skills, as well as having a decent jump shot and the ability to create his own shot to go along with a 6-foot-9 wingspan. Some worried about his athletic ability and felt he needed to improve as a defensive player. For the Buckeyes, Russell finished the season averaging 19 points, 5.7 rebounds, and 5 assists.
The first couple of months in the NBA season proved to be a slow one as it is for most rookies. For the month of November he averaged, 10 points 5 rebounds, and 3 assists in 28 minutes. It is worth noting that in December coach Byron Scott decided to move Russell to the bench and had not been letting him finish out games in the fourth quarter. Byron felt Russell was not engaged defensively and struggled offensively.
When asked by reporters why he thinks he was benched Russell was clueless and understandably wanted to know why he lost his starting spot. TWC sportsnet analyst and former Lakers player Robert Horry was also clueless regarding Russell's benching.
Fast forward a couple months and Russell was selected to be in the Rising Stars challenge along with teammate Jordan Clarkson. D'Angelo found his way back to the starting lineup and gained confidence on the offensive end. He was also able to get an impressive season high 39 point game in March against the Brooklyn Nets. He ended the season averaging 13 points while shooting 41% FG.
Here's some of this years highlights:
The obvious area he can improve in is on the defensive end of the floor, both on and off the ball. The other area is his passing. D'Angelo has been praised for his vision and passing ability yet only averaged 3 assists. I think part of why he is not getting many assists is he has other young teammates who also made "rookie" mistakes. The other half is having to run the Princeton offense under Byron Scott which doesn't highlight Russell's skill set properly. Although there have been up and downs, D'Angelo has proved he can compete on the NBA level. He has been criticized by then coach Scott and others on his lack of maturity, willingness to get better, as well as off court drama. In order to change that narrative, he must prove otherwise through his play and actions on the court. These next few off-season will be vital for Russell. It will determine whether he will be an average guard in the NBA or if he can become an All star as most fans are hoping he will become.