"The Stack" 2-7-20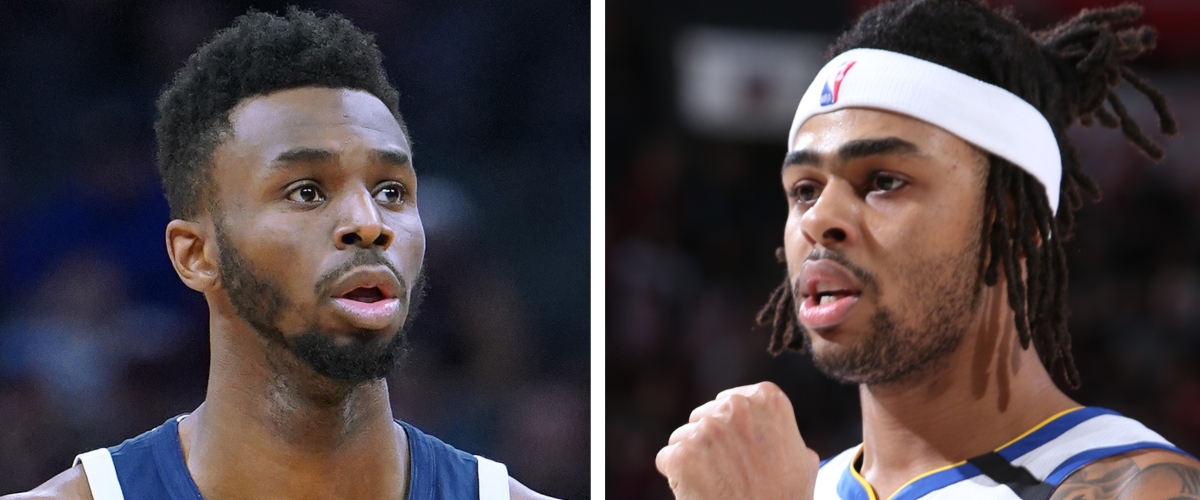 Golden State Warriors point guard DAngelo Russell going to Minnesota for Andrew Wiggins highlighted a busy NBA Trade Deadline Thursday.
The Stack is back on this Friday and for there not being much talk earlier in the week, boy the NBA trade deadline sure was wild yesterday and the couple of days before. I normally don't do this, but we'll list the trades and give some immediate reaction in "the stack" for today, Friday, February 7th:
NBA Trade Deadline deals
Wolves, Warriors complete deal between Wiggins and Russell
Minnesota Timberwolves get:
· D'Angelo Russell
· Jacob Evans
· Omari Spellman
Golden State Warriors get:
· Andrew Wiggins
· 2021 protected first round pick (unprotected in 2022 if 2021 pick falls in top 3)
· 2021 second round pick
Immediate reaction: Wolves fans are ecstatic that Wiggins is finally gone. Plus they get the point guard they wanted in free agency last summer. Yes, the picks hurt, but Russell and KAT are going to be a lethal combo. The Warriors are going to get a good, young player in two years that will lead them to success for years to come.
Clippers make move in three-team deal
Los Angeles Clippers get:
· Marcus Morris
· Isaiah Thomas (expected to be waived)
Washington Wizards get:
· Jerome Robinson
New York Knicks get:
· Moe Harkless
· 2020 first round pick
Immediate reaction: The Clippers needed to make a roster move so this was done more out of necessity and desperation than anything else. How much it will help remains to be seen. The Knicks will more than likely screw up their 2020 pick so that's something to look forward to.
Pistons send Drummond to Cleveland
Cleveland Cavaliers get:
· Andre Drummond
Detroit Pistons get:
· John Henson
· Brandon Knight
· 2023 2nd round pick
Immediate reaction: Drummond is the leading rebounder in the NBA. He will immediately improve the Cavs and give them hope for next year (because they aren't doing anything this year). He may be hurt by the trade that sent him from Detroit, but at least he isn't in Detroit anymore.
Andre Iguodala lands in Miami
Miami Heat get:
· Andre Iguodala (agreeing to a two-year, $30 million deal)
· Solomon Hill
· Jae Crowder
Memphis Grizzlies get:
· Dion Waiters
· Justise Winslow
· Gorgui Dieng
Minnesota Timberwolves get:
· James Johnson
Immediate reaction: The baby Iguodala got his way finally. I won't get into his situation today, but he really helps the Heat, no question about it. I like Winslow and think he can do something for the Grizzlies. The Timberwolves just want to change everyone on their roster outside of KAT, but the real winners in this one are the Heat.
Other moves
· The Philadelphia 76ers traded James Ennis to the Orlando Magic for a 2020 second round pick. The 76ers also acquired Glen Robinson III and Alec Burks from the Warriors sending second round picks in each 2020, 2021 and 2022 to the Warriors.
· The Portland Trailblazers traded Skal Labissiere and cash to the Atlanta Hawks.
· The Houston Rockets traded Jordan Bell to Memphis for Bruno Caboclo. They will also exchange second round draft picks.
· The Clippers traded Derrick Walton Jr. to the Hawks for cash.
· The Sacramento Kings traded Dewayne Dedmon, a 2020 and 2021 second round picks to the Hawks for Jabari Parker and Alex Len.
· The Denver Nuggets traded recently acquired Shabazz Napier to the Washington Wizards for Jordan McRae.
So the NBA Trade Deadline was busy after all. And the Minnesota Timberwolves have nearly a completely new roster. The Atlanta Hawks too. Made for quite the entertaining week.
Coming up later: Reaction to top stories and headlines in the sports world
---