The Giants Are Really Bad, But Why?
The 2017 season for the New York Giants has got to be one of the biggest disappointments in franchise history. NFL "experts" had them ranked well inside the top ten of power rankings. One Bleacher Report preseason ranking had them sitting pretty at number two, just behind the Patriots. They won 11 games last year, and seemed to only improve their roster. On defense the loss of starting defensive tackle Johnathan Hankins to the Colts was significant, but he was replaced by second round pick Dalvin Tomlinson out of Alabama. Also on that side of the ball they got back their 2016 third round pick, safety Darian Thompson. On offense they added veteran wide receiver Brandon Marshall, blocking tight end/fullback Rhett Ellison, and first round pick tight end Evan Engram.
So what has gone so terribly wrong? It is easy to point out their weak offensive line and therefore a poor run game, but they won 11 games with both of those issues last year. The real reason is that the Giants this year have incredible talent at their first string positions, but injuries to essential players has revealed their glaring lack of depth.
Take into consideration Week One. Arguably their best player, Odell Beckham Jr., was out because of an ankle injury suffered in preseason. Without him, their offense could not move the ball in the slightest. Their wide receiver core, one that was supposed to be among the best in football, was nowhere to be seen. Brandon Marshall, presumably the next man up, could not muster a catch until garbage time in the fourth. And Sterling Shepard? He managed 7 catches for 44 yards, which is fine, but he did not step up in the way the Giants needed him to. Their offense could not move the ball and gave the Cowboys amazing field position numerous times.
In week two, Odell was back, but not really. He was still nursing that sore ankle, and seemed to be out there as more of a decoy than a real threat in the passing game. In addition to that, their best cornerback, Janoris Jenkins, was out with his on ankle injury. So too was their starting middle linebacker, second year man B.J Goodson, who had shined in their opener. Their replacements were not adequate to win this football game. Jenkins was replaced by Ross Cockrel and Michael Hunter, two below average corners, and Goodson was replaced by Calvin Munson, and unproven rookie.
This trend of injured stars being replaced by mediocre or simply bad players continues. Goodson and Jenkins were both out again in Week Three against the Eagles. Olivier Vernon and Jonathan Casillas were out Week Four against the Bucs. Paul Perkins, Weston Richburg, and Olivier Vernon were all out Week Five against the Chargers. All of these players replacements are just not that good. Even losing just two or three starters for this Giants team proves fatal.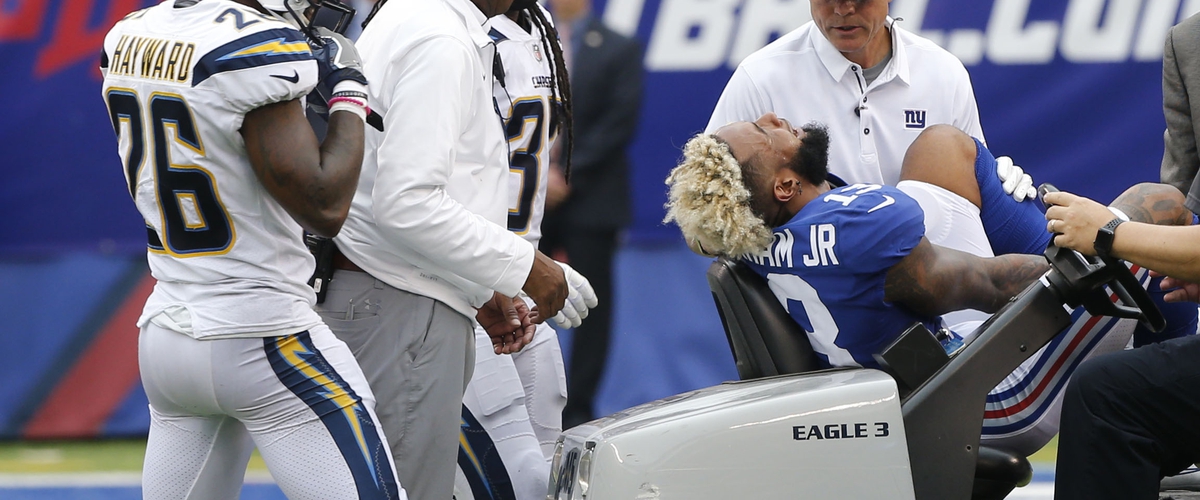 In addition to players being inactive, a number of players missed significant time during games. Landon Collins, Damon Harrison, Eli Apple, Olivier Vernon, Weston Richburg, Justin Pugh, and Odell Beckham Jr. all missed a lot of snaps due to injury.
Now with Odell out for the rest of the year, Marshall and Shepherd out for possibly multiple weeks, the Giants are looking at a tough end of the year. They will need to rely on a defense that has significantly regressed since finishing second in points allowed last season. Giants fans, brace yourselves for a difficult 11 final games.
Written by contributing writer, Samuel Smith
---