"The Stack" 1-8-19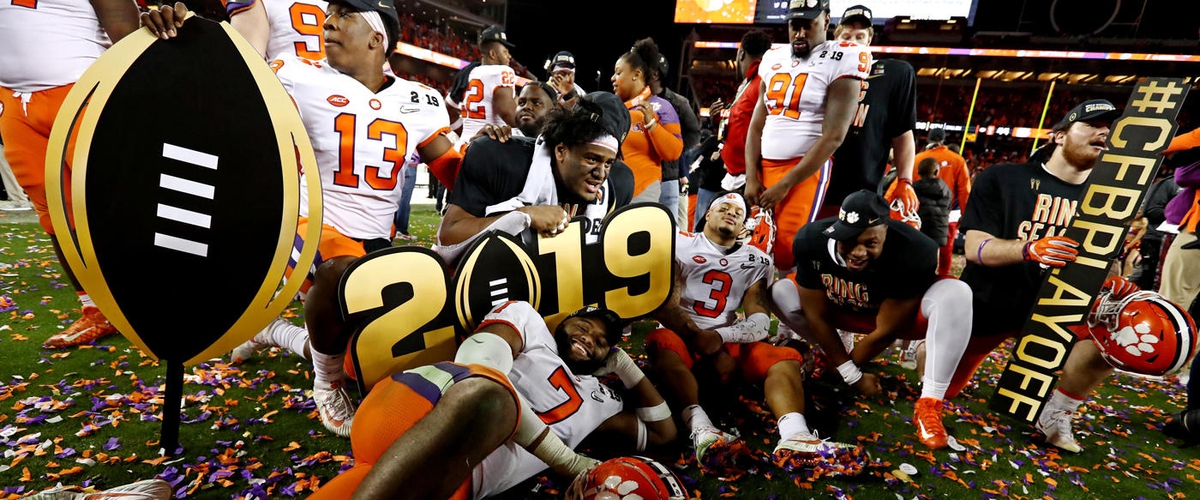 The Clemson Tigers are college football national champions following their astonishing rout of Alabama 44-16 Monday night in Santa Clara.
The Stack is back on this Tuesday and the Clemson Tigers are your college football national champions. They didn't just beat the Alabama Crimson Tide. They throttled them, embarrassed them, destroyed them. We'll have reaction to that and more so let's get right to "the stack" for today, Tuesday, January 8th:
Clemson routs Alabama to win national championship
If someone had told you that Clemson would beat Alabama to win the national championship Monday night, that wouldn't have been all that surprising. After all, both teams were undefeated headed into the game. But for Clemson to win 44-16 and hand Alabama head coach Nick Saban his worst loss during his Alabama tenure (maybe his entire coaching tenure) and an absolute butt whooping is absolutely staggering. Alabama's defense was gashed all night long. Clemson quarterback Trevor Lawrence was a little anxious early on missing several throws, but after he found his groove and got in the zone, there was no stopping him. He hit throws to Justyn Ross that went for long gains like a 74-yard touchdown pass. Running back Travis Etienne had three touchdowns (two rushing and one receiving). The Clemson defense confused Tua Tagovailoa forcing him into a couple of interceptions. More importantly, Clemson took away Alabama's will to win. Clemson got the ball at their own one-yard line with ten minutes left and promptly ran out the clock. Alabama had no answer.
And Alabama's fourth down calls were awful. They were 0-for-3 in the game. On the first drive of the second half they tried a fake field goal that had no chance. When your kicker is your lead blocker, that's never good. Then, with Alabama's hopes hanging by a thread, on fourth and goal Tua rolled out to his left trying to run it in and never had a chance. Why wouldn't he throw it? Alabama's defense got carved up. This Alabama defense isn't the Alabama defense of years past, but to get shredded by a true freshman quarterback, that is stunning. What a win for Clemson. Congrats to them. This is not going to get old, at least to me, for a while. Clemson is a likeable team. Congrats to them. I'm guessing both teams will be back in the playoff next year.
Matt LaFleur named Packers head coach
Eight teams were looking for head coaches. Now only seven are. That's because the Green Bay Packers have found their new head coach. It's Tennessee Titans offensive coordinator Matt LaFleur. Now you might be wondering, how as the Titans offense this year? It wasn't bad, but it certainly wasn't great. LaFleur was on Sean McVay's staff in Los Angeles last year and he definitely knows a thing or two about offense. He's worked with a number of quarterbacks, but none are as good as the quarterback he will be working with going forward in Aaron Rodgers. Oh yeah, LaFleur is just 39 years old. He's a good offensive mind, but can he lead the Packers to the playoffs consistently and win another Super Bowl before the end of the Rodgers era? That's where I have my doubts. He wasn't the biggest name out there, but he is certainly more than capable of coaching. We'll just see if he's able to do it in Green Bay.
College basketball thoughts from the weekend
It was not a good weekend for ranked teams over the weekend, especially if they played on the road. Arguably the most stunning loss was previously unbeaten #6 Nevada getting absolutely trounced in The Pit by New Mexico 85-58. Nevada is still really good and I think this is more just a blip on the radar and nothing to get too concerned about, but maybe they were getting a little too confident in themselves.
Elsewhere, #5 Kansas got destroyed in Ames by Iowa State 77-60. It's time we take the Cyclones seriously. This is a good team that I will need to watch more of to see just how dangerous they are come March. With the injury to Azubuike (more on that in a moment) for Kansas, they look more vulnerable.
#9 Florida State did not look good in their 65-52 loss to #4 Virginia. Don't let the final score fool you. This game was not that close. This Virginia team, dare I say it, feels different than last year's team. I don't know if I can get fully invested with them, but I am slowly buying into them being a true Final Four contender.
#15 Kentucky lost to Alabama 77-75. The Wildcats are having trouble defending the three point line. That's not good. I don't think Alabama is a tournament team, but wins like the one over Kentucky will certainly help their cause.
Other scores of note…#8 Michigan State beat #14 Ohio State in Columbus 86-77. Tom Izzo's squad is looking awfully tough, but they are not the best team in their own state. That belongs to #2 Michigan who beat Indiana soundly on Sunday. Now that college football is done, our focus and attention can go squarely to college basketball.
Kansas star Azubuike out for season
I mentioned it above regarding Kansas, but they have lost a very key player on their team for the rest of the season. Udoka Azubuike is out for the season after suffering some ligament damage on his hand that will require surgery. The loss is big to Kansas. Azubuike is a big player and a star player on the team. Teams can now shift their focus to Kansas' other players which means they will have to step their game up. Kansas still has the potential to make it to Minneapolis in April, but their road just got significantly harder and I would not hitch my horses to the Kansas-is-Final-Four bound wagon yet.
Coming up later this week: NFL Divisional Playoff picks
---