"The Stack" 1-9-19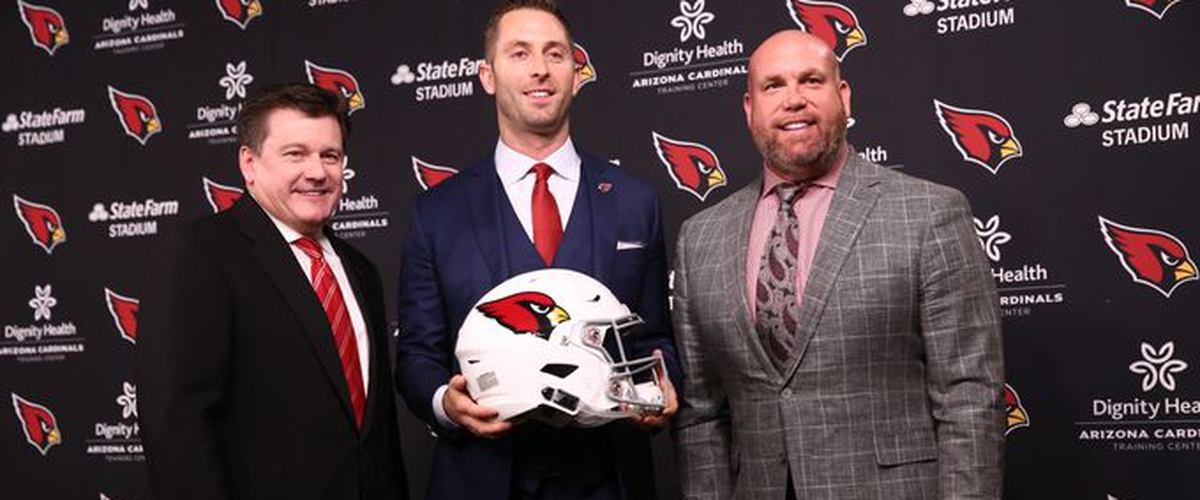 One of the more surprising head coaching hirings took place on Tuesday when the Arizona Cardinals named former Texas Tech head coach Kilff Kingsbury their new head coach. He has had success with quarterbacks, but at the collegiate level. Will he be ready for the pros?
The Stack is back today and I just couldn't pass up a post with all of these head coaching jobs getting filled. Yes, there were plenty of upsets in college basketball like #17 Houston going down for the first time this season, losing 73-69 on the road to Temple and #16 Ohio State losing on the road at Rutgers 64-61 and #11 Auburn losing on the road at Ole Miss 82-67. And what about that shot at the end of regulation between #21 Marquette and Creighton that forced the game to overtime? Great job by Marquette. They would ultimately win 106-104 in overtime. Yes, college basketball is alive and well and we will devote plenty of attention to it here over the next three months, but now, it's all about these NFL head coaching vacancies that have gotten filled so let's get right to "the stack" for today, Wednesday, January 9th:
Kliff Kingsbury takes the Cardinals
When last we left you, only one head coaching vacancy had been filled, that being the Green Bay Packers and Matt LaFleur. Since then, five more teams have hired head coaches. The first one after LaFluer was the Arizona Cardinals making the somewhat surprising move of hiring former Texas Tech head coach Kliff Kingsbury to be their new head coach. It is a pretty surprising move. Yes, Kingsbury had a lot of success in college with quarterbacks. He coached Patrick Mahomes after all and he worked with the likes of Baker Mayfield and others, but defense was a huge problem for him. Also, he didn't have a winning record at Texas Tech. That could be seen as a problem. As he puts his staff together, will they be college coaches or guys from the pros? No doubt he has a brilliant offensive mind. Multiple teams were trying to get him on their staff even though he was the offensive coordinator at USC. Now though, he is tasked with turning around the worst team in football, but he has a good young quarterback in Josh Rosen. We'll see if Kingsbury can wield his magic.
Bruce Arians takes the Buccaneers head coaching job
Late Tuesday, it became official that former Arizona Cardinals head coach and current NFL on CBS analyst Bruce Arians was the new head coach of the Tampa Bay Buccaneers. All season long, Arians said that the only job he would want to get was the Cleveland Browns job. Well that never materialized and Arians must have gotten a large enough itch that he would expand his pool to additional teams. Bring in the Bucs. Arians has a relationship with franchise quarterback Jameis Winston and he thinks he can win with him. How about eliminating some of those interceptions first? Arians has already brought Todd Bowles on as his defensive coordinator. The credibility of Arians and Bowles on the Bucs is substantial in my opinion. They have vaulted past the Carolina Panthers and may be competing with the Atlanta Falcons for second in that division.
Freddie Kitchens staying in Cleveland
In a move that leaves some people perplexed, others saying "Same old Browns" and others thinking the right move was made (count me in on the last option), the Cleveland Browns announced Wednesday that Freddie Kitchens would be their new head coach. Interim head coach and defensive coordinator Gregg Williams has been let go. Kitchens was named offensive coordinator after Todd Haley got fired along with Hue Jackson during the season and the results were impressive. The Browns offense was tremendous and the relationship between Kitchens and quarterback Baker Mayfield was and is great. That was the determining factor I believe for the Browns I think and they made the right move. This will at least provide a little stability, but Kitchens was never a coordinator prior to last year and now he is the new head coach. Hopefully the Browns know what they are doing. It may have made more sense to keep Williams on as head coach and Kitchens the offensive coordinator. The Browns obviously thought otherwise and now we'll see if that move pans out.
Vic Fangio goes to Denver
Chicago Bears defensive coordinator Vic Fangio said last week that he hadn't lined up any visits to teams with head coaching vacancies as he was focused on trying to help the Bears beat the Philadelphia Eagles. With that out of the way now and the Bears losing, Fangio had some time to set up visits, one of them being the Denver Broncos. John Elway must have loved what he heard, because Fangio is now the new head coach of the Broncos. This shouldn't come as a surprise. Given how the Bears defense looked during the season, Fangio was going to get a job. In Denver he'll inherit a defense that has several key parts including Von Miller and Bradley Chubb. The key will be the quarterback position and if the Broncos stay with Case Keenum or go in a different direction. Fangio is a great coordinator and this is his first head coaching opportunity. In a division with Mahomes and Rivers, it's going to be tough to make up ground, but with a defensive mind like Fangio, the Broncos can catch up quickly.
Meet Adam Gase, new New York Jets head coach
Word was that former Packers coach Mike McCarthy was focused on landing the New York Jets head coaching job. It was that or nothing. It will apparently be nothing this year, because the Jets have hired a familiar face to be their new head coach. That would be former Miami Dolphins head coach Adam Gase. Gase is an offensive mind and he will be a good coach to work with for Sam Darnold. It's interesting that they would hire a coach who was just fired from their division rival, but the Jets will be able to use Gase's familiarity to their advantage…maybe. They have a long ways to still catch the Patriots and maybe even the Buffalo Bills. This was a bit of a surprising move too.
So the only openings left are Cincinnati and Miami. Will the Bengals go internal for their new head coach? Quite possibly. Will Miami land a Harbaugh? That's the goal. I doubt it will happen, but we shall see.
Coming up Friday: NFL Division Playoffs previews and predictions
Listen to this week's "The Sports Block" podcast here.
---